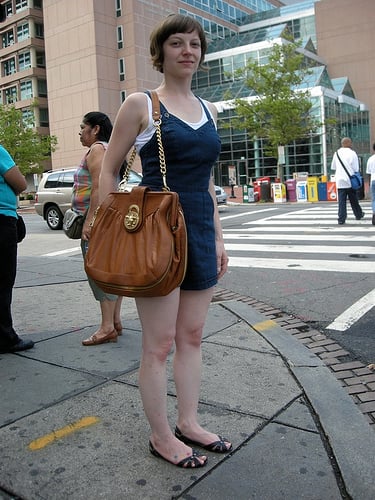 Megan Breaks, 27
Management associate, Tiffany & Co.
Where's the romper from? "The label is Habitual, and it's from Century 21 in New York—I just moved here. The bag is Steve Madden. My mom was going to give it to me for my birthday, but she wanted me to have it now."
When's your birthday? "November. I have the greatest mom!"
What are you coveting over at Tiffany? "Oh, everything. Anything diamonds!"
Where do you like to shop? "I love American Apparel. I think it's funny that one of their stores is opening next to the Junior League in Georgetown."
What do you think of the romper? "I love them! I have about four. Some are terry cloth. Some are vintage, and some are new. They're comfy."
Rachel Says: Now that summer is finally here, I find that I want to wear the easiest and most comfortable thing possible. The romper is a great option, and there are tons of high-low options out there.
Weigh in on Megan's look!
We post Sidewalk Styles every Tuesday morning. Check back next Tuesday to place your vote on another Sidewalk Style outfit.
Related:
Sidewalk Style: Maxing Out
Sidewalk Style: Stylish Swede
All Sidewalk Styles
More>> Shop Around Blog | Style | Find a Spa