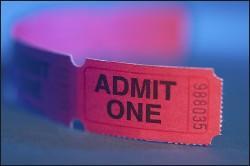 If you still can't get enough Pearl Jam after its show at the Verizon Center last month, frontman Eddie Vedder returns to DC while on his solo tour for two nights in a row, beginning Saturday, August 16, at the Warner Theatre. Tickets go on sale Friday at 10 AM for $77, and while there are two shows (Saturday and Sunday), you should get your tickets fast—earlier this year, he sold out other tour dates within 15 minutes.
After a short run on the Warped Tour earlier this year, pop/electronica musician the Secret Handshake (real name: Luis Dubuc) brings his Summer of Love tour to Baltimore's Sonar on Friday, August 8. Tickets are $10 and go on sale Friday at 10 AM.
Another band fresh off the Warped Tour, the Aggrolites, describes its sound as "dirty reggae," but it brings a funky, soulful vibe to its Los Angeles-based music as well. The Aggrolites perform at the Black Cat on Tuesday, October 21, for $13; tickets go on sale Friday at 5 PM.
Check out the Allman Brothers Band and Phil Lesh & Friends at Merriweather Post Pavilion on Tuesday, September 30, if you're looking for an outdoor show where you can relax and enjoy classic-rock jam sessions from these bands. Tickets range from $35 to $75, and you can purchase them beginning this Friday at 10 AM.
Hip-hop lovers can look forward to a more raw show at Sonar next month, Speakerboxin', presented by underground hip-hop record company Brake Fast. The show is a freestyle competition of sorts, held Saturday, August 23. Categories are Freestyle Battle for Emcees, Producer Battle, DJ Battle, and B-Boy Battle. There's a $200 top prize for each category; call 301-325-0215 to register or click here for more information. There's no competition entry fee aside from the $10 ticket to the event for spectators and competitors, available beginning Friday at 10 AM.
Friday, August 15 is a good night for local music lovers if you're into the Fairfax band JunkFood or DC's the Speaks, who have lined up a joint show at 9:30 Club. JunkFood, known for its high-energy pop/rock shows, has been performing in the Northern Virginia area for years and was voted Best Local Band by Washington City Paper readers this year and by Washington Post readers in 2005. Alternative-rock band the Speaks also has had its share of competition successes, including first place in DC101's Last Band Standing competition in 2004. Needless to say, both of these bands have huge followings in the area, and tickets for their show went on sale this morning for $15. Additional acts include newer local bands, Sterling Park's Rude Buddha and DC's Rome in a Day.
More>> After Hours Blog | Arts & Events | Happy Hour Finder | Calendar of Events