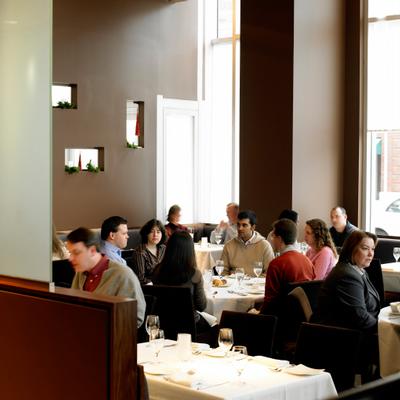 Update: Get Details on Restaurant Week Menus
Ladies and gentlemen, start your OpenTable clicking. Today, the Restaurant Association Metropolitan Washington announced the dates and details for DC's next Restaurant Week, which will take place from August 11 to August 17. That's when you can score a three-course lunch for $20.08 and a three-course dinner for $35.08 (a $5 jump from last year) at nearly 200 participating restaurants.
On the list this summer are Hook, Poste, Charlie Palmer Steak, Equinox, Farrah Olivia, PS7's, the Oval Room, the Prime Rib, and Vermilion. Conspicuously absent from this round of Restaurant Week is the newly relocated Corduroy, which was known for giving RW diners full run of their regular menu. The best deals have always tended to be at the spots that let diners do just that. In the past, these have included Circle Bistro, Kinkead's, Ceiba, Mendocino Grille, Tabard Inn, Bistro Bis, and Vidalia.
So make those reservations fast! But check back here on the Best Bites Blog too—we'll have more details in the coming days on what each restaurant is offering.
What are your favorite spots to dine at for Restaurant Week? Let us know in the comments!
Related:
What's on the Menu for DC's Summer Restaurant Week?
Winter Restaurant Week Insider
Todd Kliman's 2007 Restaurant Week Picks
More>> Best Bites Blog | Food & Dining | Restaurant Finder