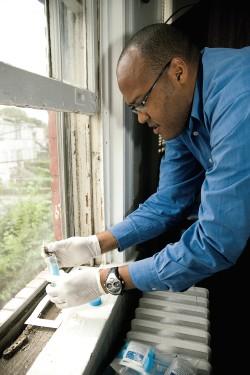 Lead is this country's biggest environmental-health hazard for children. If kids are exposed to too much lead, it causes irreversible harm to developing brains.
Even at very low levels once thought to be safe, lead can result in diminished IQ, school failure, and behavioral disorders.
Two studies published this spring reaffirm the finding that adolescents and young adults are far more likely to commit crimes and be violent if they tested positive for lead in early childhood. In fact, early lead poisoning may be a more reliable predictor of antisocial behavior than the socioeconomic factors usually cited as underlying causes of crime.
As adults, lead-poisoned children are at greater risk of stroke, Alzheimer's disease, high blood pressure, and premature death, according to a study by Ellen Silbergeld of Johns Hopkins and Mark Lustberg of the University of Maryland.
Like kids everywhere, most Washington-area children are lead poisoned when they come in contact with deteriorating lead-based paint from walls, floors, and ceilings of homes built before 1978, the year the federal government outlawed lead in residential paint. One estimate is that three-fourths of DC dwellings were built before 1978. Children under age two are at highest risk. Many toddlers are poisoned when they put their fingers in their mouths after crawling on a dusty floor.
Although lead's hazards have been recognized for many years, the District government—through a combination of bureaucratic indifference and ineptitude—has long failed to protect children.
Children are still poisoned by lead every day in the District, sometimes in the same houses where other children were poisoned. In August 2006, The Washingtonian published a major article about how area children, especially in the District, are being poisoned by lead. In August 2007, the first year of Mayor Adrian Fenty's administration, a Washingtonian story reported that little was being done to protect DC children. This year there is evidence that the District is finally moving to protect children from lead poisoning.
Because of many uncertainties, including unreliable recordkeeping, it is unknown how many of the District's 40,000 children under age six have been lead tested. In 2007, 11,958 were tested, according to DC's Department of Health. Eighty-three were found to have lead levels of ten micrograms per deciliter (mcg/dl) or greater—the "action level" designated by the federal Centers for Disease Control and Prevention (CDC). Another 658 were found to have blood-lead levels of five to nine mcg/dl. Evidence strongly suggests that blood-lead levels of less than ten mcg/dl also can seriously harm children.
A seminal study in 2003 by Dr. Bruce Lanphear, director of the Cincinnati Children's Environmental Health Center at the Cincinnati Children's Hospital Medical Center, found that blood-lead levels below the CDC action level caused enough harm to result in developmental delays. Other studies have confirmed Lanphear's findings, and there is evidence that developing brains can be harmed even at blood-lead levels below five mcg/dl. It is now widely accepted that there is no safe lead level for children.
Over the years, thousands of District children have been exposed to enough lead to cause brain damage. This is one likely but largely unrecognized reason why 12,000 District students are in special education and 86 percent of DC fourth-graders cannot read at grade level.
When the Fenty administration took office in January 2007, it promised to move on DC's lead-poisoning problem in the first 100 days. It did not. But in recent months it has begun gearing up on several fronts.
"I have a lot of hope about what the District government is doing right now, and I could not have said this two years ago," says Ralph Scott, community projects director for the Alliance for Healthy Homes and longstanding member of the Lead Screening Advisory Committee. "The first step in fixing something as broken as the city's child-lead programs is to have people in charge who have a genuine wish to solve the problem and have the intelligence to know how to do it, and we now have that."
One big problem with DC's child-lead programs is that parts of it were scattered among agencies that often failed to coordinate and at times were openly hostile to one another. In some cases, different components of child-lead programs in the same agency failed to coordinate. As a result, child-lead cases that first came to the attention of DC's Department of Health (DOH) ran into a bureaucratic snarl when they were transferred to the new District Department of the Environment (DDOE) for home lead-paint-risk inspections. If an inspection found lead hazards, enforcement rested with the Department of Consumer and Regulatory Affairs (DCRA), which sometimes acted and sometimes did not. If a home needed remediation to rid it of a lead-paint hazard, this information went to the Department of Housing and Community Affairs (DHCA), which had US Department of Housing and Urban Development (HUD) grants for this purpose. As recently as a year ago, cases fell through the cracks so often that HUD threatened to quit funding the program because the DHCA wasn't using it enough.
Moving a child-lead case through "the system" was like sending a steel ball skittering through a pinball machine. The chances it would hit the jackpot and win inspection and remediation of a lead-paint problem were slim. The chances that anything positive at all would happen were not much better.
District agencies that once seemed antagonistic to one another now talk regularly. They are sometimes joined by a private-sector group of child-lead advocates that includes pediatricians and members of the public-health and nonprofit communities. The DDOE issues a twice-monthly report about what's going on in the different agencies regarding children and lead. An epidemiologist has been hired to clean up and clarify the statistics on child-lead testing, and regular updates on test results are included in the reports.
"Having the test results published is a very positive step because there was always a lot of confusion over the numbers," says Linda Lewis, a nurse and chair of the Lead Screening Advisory Committee. "We often couldn't make much sense of them."
According to DDOE director George Hawkins, the man Mayor Fenty has designated the city's lead coordinator, "Everyone in the different agencies involved with child lead now knows what is going on in other agencies as well as their own." Hawkins believes this "new transparency has transformed the longstanding culture" and allowed bureaucratic problems to be worked out.
The addition of Pierre Erville, brought in last fall to head the bureau of environmental hazards and injury prevention in the DOH, has also strengthened child-lead efforts. Erville has a long history of working effectively on child-lead issues as an advocate, a consultant to the DOH from 1998 to 2000, and more recently as the program coordinator for Lead-Safe Neighborhoods in San Diego. Many longtime critics of the District's lead efforts credit Erville with helping mesh the gears that are allowing the bureaucracy to function.
"Erville is a good manager, and he understands the issue of child lead poisoning and prevention," says Dr. Jerome Paulson, associate professor of pediatrics and public health at George Washington University and codirector of the Mid-Atlantic Center for Children's Health and the Environment. "That's why things aren't falling between the cracks as they used to."
Erville says the new interagency collaboration has been helped by "putting the right people in the right places." He says the new people he's hired have brought an urgency about child lead that did not exist before.
"The difference from before is like night and day now that there is a political will to do something," Erville says.
Another important factor has been the willingness of DC's Office of the Attorney General to bring legal cases against landlords unwilling to rid their properties of lead hazards. For years, property owners feared no legal consequences if they ignored a city order to remove lead hazards from their properties. In the past several months, more than two dozen property owners have been summoned to court and have signed consent orders to remedy lead-paint problems. The AG's office is tracking an additional 45 to 50 properties to make certain they come into compliance with lead-abatement orders, according to assistant attorney general Monique Bocock.
Jeanette Manning, chief of neighborhood and victim services in the Attorney General's office, says that bringing cases against recalcitrant landlords "is essential, and we will continue with this policy."
"The mayor has made it clear he wants an answer on this," Hawkins says, "and he's impatient about it."
The management of lead-poisoning cases should be further streamlined when the child-lead programs of the DOH are folded into the DDOE, which should happen in October. The DDOE also will be empowered to issue lead-abatement orders, once the domain of the DCRA.
While the DC government's child-lead response improves, young children nonetheless remain the city's most common lead detectors—the canaries in the coal mine—because DC has not developed a broad-scale prevention program to spare children from exposure to the toxin.
"We felt we first had to get the system working," Hawkins says, "and that's where we are now, but we need to get beyond having an effective program that responds to lead-poisoned children. We have to prevent kids from being lead poisoned at all, and we're talking right now about what those steps ought to be so we can have zero lead-poisoned children in this city."
The most important step, most everyone agrees, is passage of a law requiring that properties be inspected for lead hazards before children are exposed.
"We need to have a primary-prevention-based lead law that doesn't rest on waiting until a child is lead poisoned," Erville says.
A draft of a proposed lead-poisoning-prevention law has been floating around the DC government for months. Some child-lead advocates are concerned that the draft lacks the prevention-based muscle it needs and contains at least one provision that would set back current antilead efforts.
"One of the biggest problems with the proposed lead law is that it makes it the landlord's responsibility to hire a company to perform a risk assessment of their property if a child living there has an elevated blood-lead level," says Harrison Newton, program director for the nonprofit LeadSafe DC. "In the past this responsibility has been the city's. How can you trust the results of a risk assessment that a property owner has paid for? The risk assessor knows it is to the property owner's benefit if they find the property was not the cause of the poisoning. So there is a huge conflict of interest when the property owner pays the person evaluating his property.
"The provision actually weakens the city's ability to respond to the most serious cases," Newton says. Child advocates say any provision in the law that allows landlords to hire their own risk assessors when a child has been lead poisoned would be a deal-breaker. "All the advocates have said that we will not support the bill if this provision remains," Scott adds.
The DC Lead Screening Advisory Committee has also urged there be a speedy risk assessment whenever a child is found to have elevated blood-lead levels. The committee contends that it's critical to the child's health that the DC government perform a risk assessment no more than three business days after a child is found to be poisoned by lead.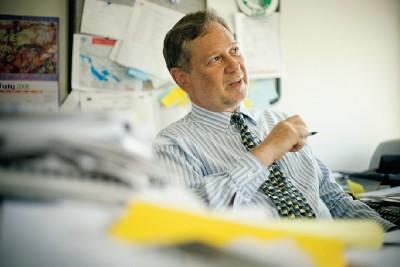 Recently the District government took steps in child-lead prevention by contracting with LeadSafe DC to perform some prevention functions. LeadSafe staff members now go to any home where a child has been found to have a lead level of five to nine mcg/dl. They examine the home visually and perform a "dust-wipe test," where dust is collected by wiping it up and sealing it in a sterilized container.
The dust wipe is sent to a lab, and if it is found to contain lead, LeadSafe DC returns to the home with a special EPA-approved vacuum that picks up lead dust and particles and does a wet washing to remove any residual dust. Staffers show family members how to control the dust and give them a Swiffer, a moplike device that holds an electrostatic cloth that picks up lead-paint dust. It's far short of a lead-hazard rehabilitation, but Newton says these simple steps can reduce the risk for children. LeadSafe DC also advises parents, with pediatrician approval, to give kids calcium, iron, and vitamin C, all of which help block lead absorption.
Before LeadSafe began making these visits, children with levels below ten mcg/dl flew under the District's radar. Families were seldom if ever contacted or counseled by any DC agency because the lead exposure was below the action level that triggered a lead-risk assessment. Only if a child was exposed to the point of lead poisoning did the District do anything.
LeadSafe DC has broadened its prevention efforts by linking with prenatal clinics and the Health Services for Children with Special Needs (formerly the Hospital for Sick Children) and other city health programs that work with high-risk children in an effort to protect babies and unborn children from lead exposure.
"What's happening with prevention now is a very important first step for DC because it has never before gone out to find lead hazards before kids are harmed," Scott says. "But much more is needed."
Newton agrees: "As much as we try to do, we can't replace a governmental, city-wide, systemic effort that has the force of law to ensure that homes where children live are lead-safe."
Dr. Muriel Wolf, senior pediatrician at the Children's Health Center at Children's National Medical Center, points out a loophole in existing law that endangers children and undermines prevention efforts. "I've been approached three times in the past few months by people who were buying older homes in Northwest DC and were told that the seller was not aware of any lead hazards in the house," Wolf says. "The problem is, if a seller or landlord simply says they aren't aware of any lead hazard, that ends it."
The people Wolf advised at least knew the potential for household lead problems. "A lot of people are simply unaware of lead hazards in their home because we haven't educated them enough about it," Newton says.
Newton says his organization has been involved with children from middle- and upper-class homes who suffered lead exposure. He cites a lawyer who purchased an expensive home near Dupont Circle and did major renovations that exposed his young child to lead dust. A doctor's toddler turned up with elevated blood-lead levels after a contractor did renovations in the home.
There is broad agreement that the District needs a prevention-based child-lead law that focuses on housing. One suggestion is to include a "turnover" provision in the District's law similar to that in the Maryland lead law. This requires owners of older properties who rent or sell a dwelling to have it inspected for lead hazards.
"The time a property is turned over is ideal for inspection," says Janet Phoenix of the Coalition for Environmentally Safe Communities in Falls Church. "It's less intrusive because the property is usually empty, and it makes it more cost-effective for landlords if a property needs to be made lead-safe."
Erville and Hawkins also favor some form of turnover provision. "We need legislation that requires action by property owners prior to children being exposed to lead hazards," Erville adds.
Antilead activists also advocate a system for inspecting high-risk housing. "We need some kind of periodic, proactive inspections of properties that may present a lead hazard," Scott says. "Housing that has prior code violations or has visible peeling paint or is in the same building or neighborhood where kids have already been lead poisoned—these are reasonable guidelines for determining the properties to inspect."
One impediment to broad-based lead-risk inspections is that District law requires that inspections—even the taking of a dust-wipe sample—be performed by a certified lead inspector.
Child-lead advocates want to remedy this by simplifying the process required to do dust-wipe sampling.
"Current DC law presents a major hurdle for prevention, and we're trying to word the new legislation so inspector technicians"—including those who routinely check houses for purchasers—"can check to see if there are any lead hazards in a house," says Lewis.
To perform dust-wipe inspections, Newton and one of his LeadSafe DC staff members had to become certified lead inspectors. This required a three-day course at an environmental lab in Baltimore that had a manual "bigger than the Bible."
Newton says the course covered dust-wiping techniques in a very brief time; the rest was spent training people in the use of an x-ray fluorescence instrument, which uses radiation sources to check for lead in walls and ceilings, something Newton has no intention of doing. The course and the certification fees paid to the District totaled about $600 a person, Newton says: "When you add it all up, it is laughable to spend all this time and money to do something you can train someone to do in a couple of hours."
Cities such as Baltimore and Philadelphia allow people who attend a brief training course and pass an exam to perform dust-wipe lead testing. In Philadelphia, college students home for the summer undergo a brief training session before fanning out into the city to perform the tests. The federal Environmental Protection Agency offers a short training program for dust-wipe sampling. The Alliance for Healthy Homes has trained people in cities to dust-test homes; half of the homes it tested were found to have lead hazards.
After decades of failure, the District now stands on the threshold of doing something meaningful about child lead poisoning. If the DC Council enacts a strong prevention-based lead law, the idea of virtually ending lead poisoning of the city's children will not be the dream it was a year ago.
The lead bill currently is in the hands of councilmember Jim Graham, chair of the committee on public works and the environment. Graham has yet to introduce the bill, but associate legislative director John DeTaeye says it is a "top priority." The strength of the new law will be the true test of how committed the District government is to ending child lead poisoning.
Erville is optimistic. "The federal government has declared 2010 as the year to end lead poisoning of levels ten and above," he says. "We're well on our way to meeting that goal. I'm not guaranteeing we'll meet it, but at least we're now in a position to try."
Next year we'll tell you if the District is both trying and succeeding.
Have something to say about this article? Send your comment to editorial@washingtonian.com and it could appear in our next issue.
This article first appeared in the August 2008 issue of The Washingtonian. For more articles like it, click here.