Trend Watch
Craft cocktails are hot, and the Tuesday Cocktail Sessions at Bar Pilar on DC's 14th Street are one of the best ways to enjoy them. The sessions, from 5 till closing, are when bartender/owner Adam Bernbach unleashes his zaniest flights of alchemy. Take the McGlock-lin, a potent mix of single-barrel bourbon, amaro, whiskey-barrel-aged bitters, Earl Grey bitters, and orange zest. Unlike the regular bar menu—which leans toward sidecars, martinis, and the like—these creative drinks ($11) are one-night wonders. To nab a stool at the bar, arrive early or during the 10:30-to-11:15 lull.
Space Wars
In the beginning, there was Adamstein & Demetriou, the design team behind nearly every high-concept new DC restaurant. A recent challenge to the duo's hegemony came from onetime A&D protégé Griz Dwight, who launched GrizForm (PS7's, Proof, Black's Bar and Kitchen). Now both are being taken on by Eric Gronning, an architect with no ties to either. Gronning did the exposed-brick-and-tin-ceiling interiors for Hank's Oyster Bar, Marvin, and Cork. He's working on CommonWealth, the gastropub expected to open this month in DC's Columbia Heights, as well as a new Mocha Hut and a new Pizzeria Paradiso. Question: Who will rise up to take on Gronning?
Chuck E. Cheese for Grownups II
Stroll into the new Glover Park basement hangout Breadsoda (2233 Wisconsin Ave., NW; 202-333-7445)—brought to you by the guy behind Bourbon—and you might think you've wandered into a citified version of Dave & Buster's, a.k.a. Chuck E. Cheese for grownups. Here, along with roast-beef-and-Maytag- bleu-cheese sandwiches and pints of Delirium Tremens, you'll find not only pool tables, sand shuffleboard, and Ping-Pong but also a Nintendo Wii with games like bowling and tennis. Co-owner Steve Teague isn't worried about Wii-inspired drinking games or virtual-McEnroe-style bar fights, but he is wary of flying controllers, such as the one that nearly smashed a 52-inch plasma TV screen at Adams Morgan's Bedrock Billiards. Solution: He's shielding his 42-incher with Plexiglas.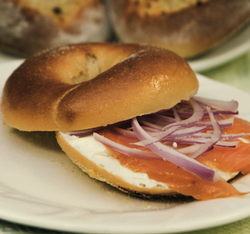 Filling a Hole
The best bagels in DC are where you might least expect them—piled atop the wooden farm table, Sundays from noon to 4, at the Cleveland Park pizza restaurant 2 Amys (3715 Macomb St., NW; 202-885-5700). Owner Peter Pastan has been making not only bagels and bialys but also the cream cheese and smoked salmon that come with them. What gives the dough its wonderful tanginess? Instead of water, the sourdough is moistened with whey left over from making the cream cheese; the bagels and onion-stuffed bialys are then baked in the pizza oven. The deadpan Pastan calls the bagel baking an attempt "to alleviate boredom more than anything else."
More Moorenko's
If you love the creamy French-custard-based ice cream at Moorenko's (we're big fans), good news: You can now buy pints at Whole Foods and My Organic Markets. The local ice-cream maker, with shops in McLean and Silver Spring, is a favorite source for area restaurants, which commission custom flavors. There's plenty of variety for us in the pints, which retail for around $5. Our favorites: Red Hot Chocolate (intense and spicy with cayenne and crushed chili peppers), White Chocolate Mint Chip (blitzed with bits of white chocolate), Cherries With the Works (with silky chunks of dark chocolate and pine nuts), and Rice Pudding (imagine a frozen version of the homey dessert). Moorenko's isn't about to do battle with Ben & Jerry's or Häagen Dazs, but the quirky flavors and reliable creaminess ought to ensure a faithful local audience.
This article appeared in the August, 2008 issue of The Washingtonian.