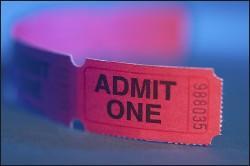 For those of you who can't afford tickets to this weekend's Virgin Mobile Festival featuring Bob Dylan, Kanye West, the Foo Fighters and more, here's something you can afford: the free Virgin Mobile Festival After Party at Sonar this Saturday night, August 9, at 9. Taxlo DJs and Dave Nada are a couple of the DJs scheduled to play, and you must be at least 18 to enter. If you're still contemplating going to the festival at Baltimore's Pimlico Race Course, tickets are available, but they don't come cheap; for general admission, two-day passes cost $175, and single-day passes are $97.50.
There's another free show later this month, this time at 9:30 Club, in celebration of the 50th anniversary of DC restaurant Ben's Chili Bowl. Ben's is known for its half smokes and chili dogs, and the concert is 50 years to the day it opened in 1958. Several bands will play including local hip-hop/funk groups Poem-Cees, Trouble Funk, and Mambo Sauce. The show is Sunday, August 24, at 2pm.
Calling all Obama supporters: Dallas-based alternative-rock group the Old 97's have organized a Rock Obama fundraiser in support of the presidential candidate on Monday, September 8, at Sonar. General admission is $25, and VIP tickets are $100. VIPs are granted priority entry to the Old 97's show as well as a reception and acoustic show by Rhett Miller and Murry Hammond in Sonar's Club Room. Tickets are on sale Friday, August 8, at 10 AM. All proceeds will go toward Obama's campaigning efforts in Ohio.
Robin Williams embarks on his first comedy tour in six years this fall, titled "Weapons of Self Destruction." The comedian and actor describes election years as "Christmas for standup comics," so it's fitting that he'll make a tour stop near the capital. He comes to Baltimore's Lyric Opera House Thursday, October 23. Tickets ($67 to $92) go on sale Friday at 10 AM.
Longtime fans of the indie band Built to Spill can hear them perform their 1997 album, Perfect From Now On, in its entirety on Tuesday, September 23, at the 9:30 Club. Meat Puppets open the show, and tickets are $25; sales began this morning at 10.
The 9:30 Club is also hosting the official birthday party for DC's own Chuck Brown, better known as the godfather of go-go, who turns 74 this year. Tickets went on sale this morning for the show, slated for Saturday, August 30. The 14-member Afrofunk band Chopteeth will also perform; tickets are $25.
More>> After Hours Blog | Arts & Events | Happy Hour Finder | Calendar of Events