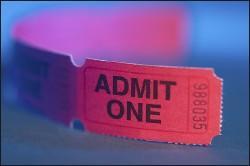 Owning an Xbox and the Rock Band video game can turn a gamer into a rock star. The game's most dedicated followers just might get their chance in the spotlight during the Rock Band Live concert at the Patriot Center this Halloween, Friday, October 31. Performers will include Panic at the Disco and Dashboard Confessional with openers Plain White T's and the Cab (sans video-game guitars), and concertgoers will get a chance to compete in a Rock Band competition onstage, making it a truly interactive show. Tickets go on sale Friday at noon for $29.95 to $39.95.
Hip-hop and R&B queen Mary J. Blige is on tour with Robin Thicke this fall, and they'll be at 1st Mariner Arena in Baltimore on Wednesday, October 8. They're also performing at Nissan Pavilion on September 20; tickets for that went on sale earlier this month. Tickets for the Baltimore show ($57.75 to $97.75) go on sale Saturday, August 16 at 10 AM.
The Fab Faux, a Beatles tribute band, has been performing hits for fans for more than ten years. The five-man band includes Will Lee, bassist on The Late Show With David Letterman, and Jimmy Vivino, a member of the Max Weinberg Seven on Late Night With Conan O'Brien. They'll perform at the Warner Theatre on Saturday, May 2. Tickets are $47 to $102 (yes, you read that right) and go on sale Friday, August 15 at noon.
Folk musician Ray LaMontagne is following up on the success of his first two albums with the fall release of Gossip in the Grain. He'll perform with opener Leona Naess, who also joins Ray on a couple of the album's songs, at the Music Center at Strathmore in North Bethesda on Tuesday, October 14. Tickets ($40) go on sale Friday at 10 AM.
Also coming to Strathmore is Citizen Cope, who will perform a solo acoustic show on Wednesday, October 15. He doesn't fit into one genre; jazz, R&B, hip-hop, and alternative sounds can all be heard behind his soulful voice. Tickets ($40) go on sale Friday at 10 AM.
Another crooner, Michael Bublé, continues to reach a wide fan base by performing classic songs by Eric Clapton and Gamble and Huff, among others. Check out his jazz-infused show at 1st Mariner Arena on Wednesday, October 1; tickets ($49.50 to $85) go on sale Friday at 10 AM.
Coldplay describes its music as "heavy soft rock," and after the release of its highly anticipated album Viva la Vida, it looks as though the band's Halloween show at the Verizon Center on Friday, October 31, is going to be big. Sales begin Friday at 10 AM; tickets start at $49.50 but go as high as $97.50.
Singer/songwriter Ben Folds (formerly of Ben Folds Five) kicks off his US tour on Wednesday, September 24, at DAR Constitution Hall. His new album, Way to Normal, is set for release shortly afterward, on September 30. Tickets to the show go on sale Friday at 10 AM for $39.
Martha Wainwright continues to show that she's not just Rufus's sister with the release of her recent album, I Know You're Married but I've Got Feelings Too. She tours with KT Tunstall this month but will headline her own show at the 9:30 Club on Wednesday, September 10. Tickets ($15) went on sale this morning.
More>> After Hours Blog | Arts & Events | Happy Hour Finder | Calendar of Events