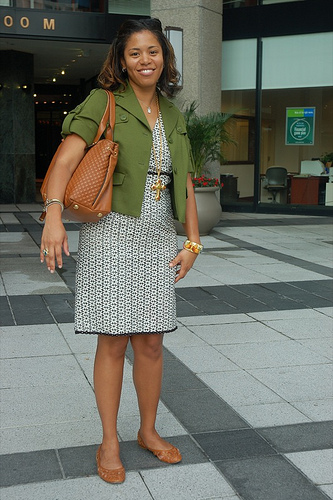 We spotted Daria Harrison in front of her M Street office building in a look just right for work. Read on for her time-tested secrets for personality-infused office chic.
Daria Harrison, 31

Business acceptance manager, Zuckerman Spader



What she's wearing: An embroidered sheath dress from Macy's, Ann Taylor cropped jacket, Marc Jacobs bag from Bloomingdale's, and tan Michael Kors flats. Her three-stone ring is David Yurman, her silver flower bracelet is John Hardy, and the beaded cross necklace is from a vintage shop in South Beach.

Do you find dressing for work a challenge? "I think it takes a while to figure out how to look good and still look like yourself. I know that when I first started, I imitated a lot—I looked around to see what everyone else was wearing. But it wasn't quite me. What's really smart is to buy things you can wear with different outfits and during the weekend. I can wear this jacket with skirts and pants."Secrets for looking good at work? "I really like to find unique pieces of jewelry, and I've figured out what colors I like. And a handbag can really make your look. I'm a handbag junkie."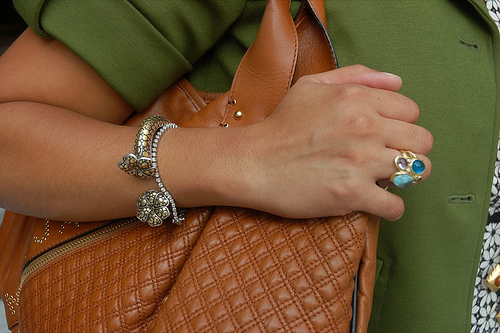 What do you have your eye on for fall? "If I can treat myself, I want a purple handbag. I really like the Hysteria bag from Gucci."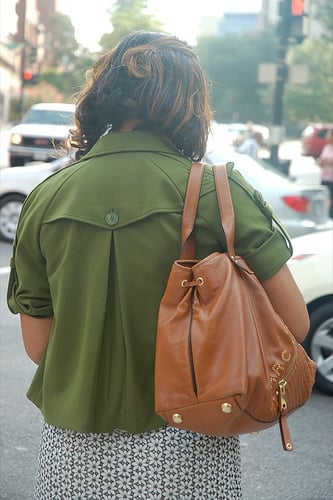 Weigh in on Daria's style!
What do you think of this week's Sidewalk Style outfit? Leave your thoughts and opinions in the comments below!
Related:
Sidewalk Style: Grrrr-unge!
Sidewalk Style: Euro Preppy
See All Sidewalk Styles
More>> Shop Around Blog | Style | Find a Spa