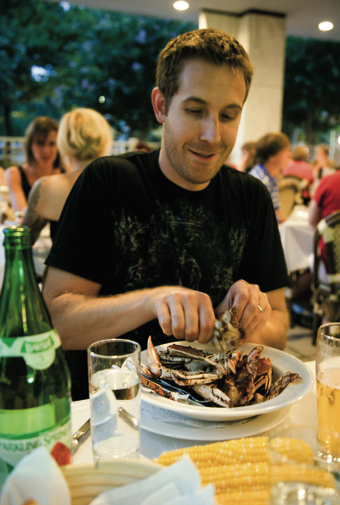 Last, Best Crabs of the Season
Crab feasts used to be a ritual for a lot of Washingtonians; these days, with a bushel costing upward of $200, it's an indulgence. It doesn't have to be, thanks to a superb new dish at Johnny's Half Shell (400 N. Capitol St., NW; 202-737-0400)—barbecue crabs, on the menu every Friday through September. The preparation is simple if slightly heretical to native ears: Four large hard-shell crabs are cleaned and cut in half—then deep-fried and coated in a mixture of Gulf Coast spices. The dish pays homage to the original barbecue crabs concocted four decades ago by the legendary Sartin's in East Texas. The meat, though twice cooked, is succulent and sweet. This is eat-with-your-hands-and-
let-the-spices-fall-where-they-may eating,
and it's worth every penny of the 25 bucks.
More Sizzle
Add Michael Mina to the growing roster of celeb chefs to hit town. The San Francisco–based chef, who owns four restaurants in Las Vegas, takes over at Georgetown's Four Seasons later this year. He joins Eric Ripert, Wolfgang Puck, Spike Mendelsohn, and Alain Ducasse, all of whom set up kitchens this year. The biggest reputation belongs to Ducasse, who has more Michelin stars (14) than any other chef in the world. He debuts at downtown DC's St. Regis this month. Any chance Ducasse will be a presence at Adour? The master chef, his publicist says, has no permanent residence and travels around the globe popping in on his restaurants in Tokyo, Paris, New York, Las Vegas, and now DC. He plans to be here as much as anywhere else.
Crying Foie!
Takoma Park's city council has voted to oppose foie gras—the gourmet foodstuff was outlawed, then made legal again, in Chicago—and may pass an outright ban. Has it occurred to anyone on the council that no restaurants in Takoma Park actually serve foie gras and no markets there sell it? Or is this like when the city proudly declared itself nuclear-free?
Chefs Get Quacking
Forget quail eggs, the beloved playthings of trendy restaurants and sushi bars; the egg of choice among the city's top toques these days is duck.
Duck eggs have made appearances at Corduroy (1122 Ninth St., NW; 202-589-0699), where chef/owner Tom Power uses them in his duck-egg-and-duck-leg salad and in a lush crème brûlée on the dessert menu, and at Westend Bistro (1190 22nd St., NW; 202-974-4900), where chef/owner Eric Ripert and chef de cuisine Leonardo Marino are presenting a fried duck egg over green beans, walnuts, and bleu-cheese dressing.
How to tell a duck egg from a chicken egg? The duck egg has a brilliant yellow yolk and is prized for its intense flavor. It's also larger in diameter. So if it looks like a duck egg and tastes like a duck egg . . . .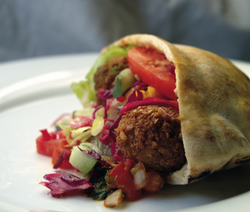 You Don't Have to Be Jewish
Ordinarily we don't recommend a restaurant for only one good dish. We'll make an exception in the case of Max's Kosher Cafe (2319 University Blvd., Wheaton; 301-949-6297). The dish is falafel, and it isn't just good—it's great. Run-out-and-grab-a-stranger great. If you're accustomed to the dense, overspiced balls that too often constitute falafel, then the version at Max's will open your eyes. We doubt you could get anything fried to be lighter than this.
Nothing Succeeds Like Excess
"That's evil!" Tony Bourdain enthused, chowing on the latest cholesterol buster from Eamonn's (728 King St., Alexandria; 703-299-8384) while taping an episode of No Reservations. He was enjoying the Chip Butty, a toasted bun slathered with Kerrygold butter and stuffed with chips. Yes, a French-fry sandwich. It's an homage to the Bacon Butty popularized on the Britcom Keeping Up Appearances. The lower-class brother-in-law of social climber Hyacinth Bucket (pronounced "Bouquet") waved them around while watching the races on TV.
Eamonn's isn't alone in flouting the notion of moderation. The new Spider Kelly's in Clarendon (3181 Wilson Blvd., Arlington; 703-312-8888) proudly proclaims of its half-pound Spider Kelly burger: "This burger contains pork fat—YES!"
Neither spot approaches the excess of the nine-pound burger at the Burger Joint (4827 Fairmont Ave., Bethesda; 301-358-6137). The king of cholesterol busters, it comes not with fries but with a bottle of Maalox.
This appeared in the September, 2008 issue of The Washingtonian.
More>> Best Bites Blog | Food & Dining | Restaurant Finder