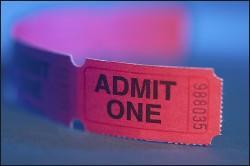 Everyone's favorite indie folk-rock storytellers, the Decemberists, have lined up a show at Rams Head on Saturday, November 8. Tickets—which will probably go fast—are $28 and go on sale Saturday, September 6, at noon.
Folk musician Bob Schneider (who kind of reminds us of Ray LaMontagne, or maybe it's the beard) released a new album, When the Sun Breaks Down on the Moon, earlier this year. On his Web site, he claims he will "rock your ass off." Find out for yourself at the Birchmere on Wednesday, November 12. Tickets go on sale Friday, September 5, at noon.
The Trans Siberian Orchestra embarks on its winter tour in a couple of months and performs its holiday-themed rock opera at the Verizon Center on Sunday, December 14. Tickets ($39 to $49) go on sale at 10 AM on Monday, September 8, for the 3 PM and 7:30 PM performances. You can also catch the group at the 1st Mariner Arena on Thursday, October 6; tickets ($37 to $47) also go on sale Monday at 10.
Tickets to see The Nutcracker performed by the Washington Ballet go on sale Friday at noon. The ballet is one of the holiday season's most popular performances. Tickets cost $29 to $83; performances are December 11 through 28 at the Warner Theatre.
Hawthorne Heights, fresh off this summer's Projekt Revolution Tour, will tour on their own this fall. You'll hear emo at it's finest when the band plays the Recher Theatre in Towson on Friday, November 28. Tickets ($18) go on sale Friday at 10 AM.
The PNC Tennis Classic comes to the 1st Mariner Arena on Friday, November 21. Players include Baltimore native Pam Shriver, who was playing the US Open final at just 16 years old. Tickets ($25 to $110) went on sale this morning at 10 AM.
DC-based indie group Exit Clov recently performed at Fort Reno and the 9:30 Club, and now it's coming to the Black Cat with opener Cloud Cult as part of a weeklong tour this November along the East Coast. The show is Monday, November 10; tickets ($12) go on sale Friday.
This year's Hip Hop Live Tour features socially conscious hip-hop artist Talib Kweli, Mississippi-based rapper David Banner, and 19-year-old rapper B.o.B., all of whom will be backed by funk and Afrobeat-influenced band the Rhythm Roots Allstars. The tour comes to the 9:30 Club on Monday, October 20. Tickets ($25) went on sale this morning.
Conor Oberst, best known for his work with the indie band Bright Eyes, has found a new role—frontman for the Mystic Valley Band. The group plays the 9:30 Club on Monday, November 10; tickets go on sale Saturday at 10 AM.
More>> After Hours Blog | Arts & Events | Happy Hour Finder | Calendar of Events