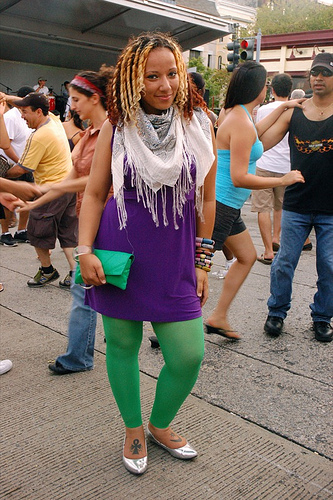 We snapped this week's subject at the lively (and hot) Adams Morgan Day Festival. Once the sun went down, the temperatures rose as festivalgoers salsa-danced to Orquesta La Leyenda. Our subject's bright style reflected the mood of the event.
Natalie Mitchell, 27

Director, Acelin Learning Solutions

What she's wearing: A homemade tunic-style top, tights from Topshop in London—"I came here when I was 17 for school, but I go back to see family all the time"—silver flats from Shelley's, also in London, scarf from Target, bracelets from a market in Brooklyn.
Describe your style. "Well, definitely bright and purposeful. I never just throw anything on because I like my clothes to reflect my mood. I have a very optimistic view on things, so I guess that's why everything is bright and colorful."


Do you make a lot of your own clothes? "I make about 50 percent of my clothes. I'll get together with friends and they'll say, 'Did you make that this morning?' Right now I'm working on a wedding dress for a friend."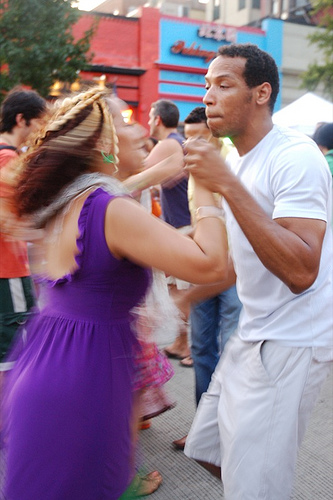 Who carries clothes that you like? "Pink November. I go there for inspiration and then go home and make it. I like Anthropologie, and I'll buy things on sale. I get fabric at G Street Fabrics."
What are you looking forward to wearing in the fall? "Purples and autumn orange, and this sorta burnt-mustardy yellow that I wore a lot last year. And chunky knit tights to transition summer skirts and dresses."
Rachel says: I was really attracted to Natalie's bright, funky look because it matches the mood of the crowd so well. She was this awesome bright swirl of color and fringe and curly hair. I love her row of bracelets, and now I'm completely inspired to learn to sew!
Weigh in on Natalie's style!
Related:
Sidewalk Style: Officially Chic
Sidewalk Style: Grrrr-unge!
See All Sidewalk Styles
More>> Shop Around Blog | Style | Find a Spa