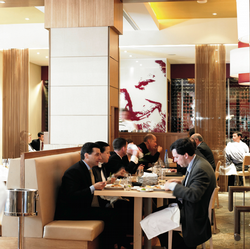 • There are plenty of celebrity chefs setting up shop in Washington, and at the same time, DC's big-name toques have plans in other cities. Michel Richard already has a Citronelle in Carmel and a restaurant in LA but says he'd like to expand even further. In an interview with Wine Spectator, the impish French chef reveals he's been scouting locations for a branch of his James Beard award-winning bistro, Central, in New York, and he hopes to open it in the next two years. Just don't forget about our burger joint, Michel!

• You might think the seemingly everywhere José Andrés would have his hands full with seven area restaurants (Minibar, Zaytinya, Jaleo, etc.), his PBS cooking show, Letterman and Today appearances, and his next cookbook, but no. His long-planned, Philippe Starck-designed restaurant in Beverly Hills, the Bazaar, opens in the SLS Hotel in November. According to a long profile in the Los Angeles Times, it'll be "an exuberant experiment in dining," with a Minibar-ish menu and different sections—a raw bar, tapas area, and a "roving streetcart" hawking foie-gras cotton candy—scattered throughout the hotel's lobby. "I want people to be able to move around, not feel chained at a table," he says.

• Saveur's new breakfast issue is out, and one online piece takes an exhaustive look at what DC boldface names eat for breakfast. The magazine surveyed everyone from Marion Barry (oatmeal, eggs Benedict) to Andrew Sullivan (gingersnaps) to Maureen Dowd (nada). Bill Press gives props to the Brick at Market Lunch, and Dana Milbank likes the Chevy Chase Diner. But our favorite might be Nancy Pelosi, who admits to getting her day going with chocolate ice cream.

• Last weekend, Don Rockwell alerted us that there'd be a shakeup in the kitchen at Westend Bistro, Eric Ripert's Ritz-Carlton restaurant. Chef de cuisine Leo Marino—who'd been with Ripert at New York's Le Bernardin and was making a name for himself here in DC—is out, as are Rob Berry and Ricky King. The Washington Post's Tom Sietsema talked to Ripert, who cited "behavior problems" and the kitchen's "boy's club" environment as the reason for the departures. Another Le Bernardin alum, Joey Palma, replaces Marino.

• Celebrity chefdom is double-edged for former Top Chef contestant Spike Mendelsohn, whose Good Stuff Eatery on Capitol Hill was smacked with a host of health-code violations in early September. The news not only was covered locally but also made its way to E! Online. At first, Mendelsohn denied any offenses, although he copped to them when WTOP presented him with the report. Among the bad moves: storing meat in the back alley—manager Mike Colletti says it was simply in the process of being stored—and failing to keep cutting boards clean. A follow-up inspection noted that the problems had been corrected.

More>> Best Bites Blog | Food & Dining | Restaurant Finder