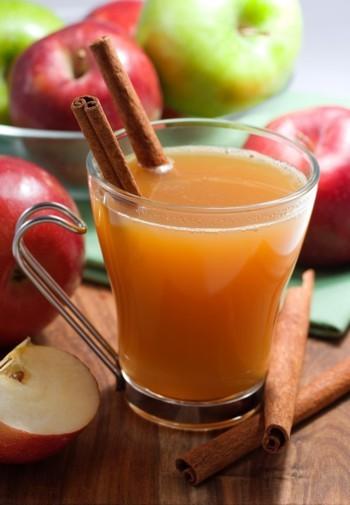 Central Michel Richard (1001 Pennsylvania Ave., NW; 202-626-0015). Whiz-kid bar manager Justin Guthrie is at it again mixing and brewing—this time with his Agave Coffee. Served in a tall glass, it's Mexican-inspired (hence the tequila) but not spicy. It's pretty much a straightforward nightcap but topped with whipped cream sweetened with agave nectar—no humdrum sugar here. $11.
Equinox (818 Connecticut Ave., NW; 202-331-8118). Four boozy apple drinks are on the menu, all cold and available daily. Fridays from 5 to 7, however, is cider happy hour, running through December. From 5 to 7, chef Todd Gray walks around with trays bearing mini-cups of carrot-ginger soup, venison chili, or whatever else he feels like making, and the snug bar fills up with mmmm-apple scent. Most drinks are made with Laird's applejack liqueur—such as the Apple Pillar (citrus aftertaste), Falling Leaves (real lemongrass in there), and the Brown Mary (with manzana-pepper-infused rum). Then there's the Pumpkin Cobbler for those who didn't binge on enough pie over Thanksgiving. It's made with cinnamon-infused rum and pumpkin-spice liqueur. Think spiked pumpkin juice—if there were such a thing. $10 to $11.
Hank's Oyster Bar (1624 Q St., NW; 202-462-4625). Cocktails might not be the first things that come to mind when you think of this cozy Dupont seafood joint. But pull up a stool at the small bar and ask the bartender for the Jingle Tingle. Available through December, it packs a subtly sweet punch without being cloying, as so many winter drinks can be. It's made of ginger-infused rum, light crème de cacao, hazelnut and cinnamon liqueurs, and coffee—and topped with a generous dollop of whipped cream. You may drink it so quickly that you end up with a whipped-cream mustache, but trust us, you won't mind. $10.
Open City (2331 Calvert St., NW; 202-332-2331). Just over the Duke Ellington Bridge from Adams Morgan, this has quickly become Woodley Park's "it" place. Try the brewed cider, but be forewarned—it's the virgin kind. They'll quickly fix that, though: Just walk over to the bar. Cider $3.30, plus extra for shots.
Round Robin Bar (Willard InterContinental, 1401 Pennsylvania Ave., NW; 202-628-9100). Maybe Charles Dickens and Nathaniel Hawthorne used to booze here, but did the Willard's Winter Therapy drink exist back then? Served in a big wine glass, it's creamy and decadent—made with Godiva syrup, peppermint liqueur, and hot water. If the Starbucks Peppermint Latte had a little something-something inside, it might taste like this. The drink menu also includes a Sugarplum Toddy, made with fancy 10 Cane rum, Framboise (raspberry liqueur), and white-cranberry juice. $14.What's your favorite winter drink? Share them with us in the comments.