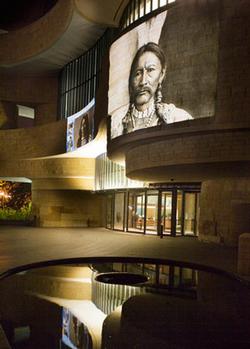 If you happened to be strolling around the Mall Thursday night near the National Museum of the American Indian, you might have noticed something unusual dancing across the building's multi-story facade: A slideshow of photographs playing in cinematic magnitude.
The display is part of FotoWeek DC—the first-annual celebration of regional photographers that kicks off tonight—and the visual outdoor presentations, dubbed NightGallery DC, will continue through next week across the walls of some of Washington's institutions, from the Corcoran Gallery of Art to the Newseum to the United States Holocaust Museum.
The idea to have FotoWeek came from Theo Adamstein, owner of Georgetown's Chrome Imaging. He was thinking about photography when two things hit him: "One was that Washington photographers have never been awarded for their city work," he says. "And two, since living here since 1992, there's never been a citywide show of local photographs." So he gathered a team of volunteers and launched a photo contest. After a huge response from the community and 5,000 entries, the festival exploded. National Geographic came on as a sponsor and is hosting a gala on November 22, and a youth contest was created in partnership with the Washington Post. For NightGallery DC, the idea was simple: The Smithsonian paired Adamstein with Marc Herring, executive producer and designer of Herring Media Group—the guys behind Al Gore's Live Earth concert last year who will also be responsible for a massive display for January's Inauguration. Adamstein explains, "One of our ideas was, wouldn't it be great to light up the city?"
Washington has never before seen a spectacle quite like NightGallery DC. Over the span of the eight-day festival (November 15 to 22), eight establishments will be hosting a total of 21 visual presentations, accompanied by the appropriate music for each (last night's opener had native American drumming issuing from the speakers). Each museum is curating its own show, while Georgetown's EastBanc will host a slideshow of work by FotoWeek contestants. Speaking from last night's presentation, Herring remarked, "I'm standing here below a three-story projection of Sitting Bull, and it's hard not to be intimidated by this guy, even though he's 200 years old. Now I'm looking at Geronimo and he's looking right back at me." The Newseum will feature Pulitzer Prize-winning work by photojournalists on its 75-foot wall where the First Amendment is scrawled, and visitors to the Smithsonian American Art Museum will see contemporary photographs focused on the American landscape.
"To work with these great cultural institutions is what's really great about this particular show," Herring says. "It shows that they're being progressive in their approach to communicating with the public." Looking ahead to 2009, Adamstein already has a number of ideas to make the festival grow, from expanding Web content to going international. For now, though, he just needs to get through the next week. "It's interesting," Adamstein says with a laugh, "early on, as we started adding different pieces and more galleries got involved, even some of our core group would ask, 'You know, Theo, how are we going to pull this off?' We just let it grow organically. Obviously at this point there are a lot of pieces here, and we just have to perform, I guess. I hope everyone will be delighted and find that what we are presenting has real substance and value, and that's yet to be seen."
A full NightGallery DC schedule can be found here. All events are free and open to the public.
More>> After Hours Blog | Arts & Events | Happy Hour Finder | Calendar of Events