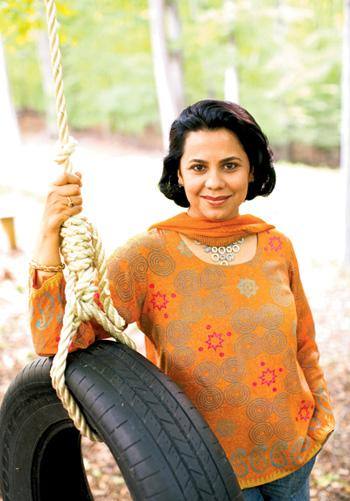 Our flight touched down at Reagan National Airport three years ago, bringing us back to Washington after 15 years in Geneva, Bahrain, Paris, and Houston.
Diplomacy and law had taken us abroad; the pull of family had brought us back. As soon as my husband, son, daughter, and I left the baggage area, a dozen family members engulfed us with hugs. My heart smiled with the contentment you feel when you know you're home, really home. As I settled into the back seat of my in-laws' car, nestled between our children, all I could think of was how different it had been when my family came to America nearly 35 years ago.
"Where you wanna go? Where you wanna go?" I don't think my father understood a word the cab driver said.
"This is our first time in New York," he told the cabbie at JFK Airport in his heavily accented Indo-Pak-London English. "Please take us to a neighborhood that would be suitable for my family."
The cabbie shrugged as he tossed our suitcases into the trunk. We had left our country, our home, our sense of belonging—and now our fate rested in the hands of a New York cab driver from China.
We didn't know anyone in New York. We had little idea of life in America. All of our belongings—some clothes, a few books, a Rosenthal tea set my father had bought in Germany—was in the twine-tied trunk of a yellow cab.
"Which is a safe neighborhood for my family? Where can I buy discounted furniture? What schools would you recommend for my children?" My father lobbed question after question at the cabbie, trying to gain some understanding of where to go and what to do.
My mother cried in the back seat. My brother and I—too scared to cry, too intimidated to speak—looked out the window. For a seven-year-old girl more used to seeing rickshaws than cars and who had never seen a tall building, this place seemed as far away from home as the moon.
Home had been Dhaka in East Pakistan, now Bangladesh, where I was born. Our house, leased from the Coca-Cola Company, where my father worked, was cozy and inviting. Situated in the Coca-Cola compound, it didn't have much of a backyard. But I remember chickens and ducks in the front garden and parrots in round cages on the veranda. My days were filled with walks with my aya (nanny), riding a tricycle around the grounds with my brother, and getting my dolls ready for adventures. My older brother would spend his days chatting and playing with the workers at the Coca-Cola factory, chugging bottles of Coke right off the conveyor belt.
My parents had a circle of friends, an active social life, and lots of family all around. It seemed like an ideal childhood. It would come to an end after my fourth birthday.
The beginnings of civil war between East and West Pakistan were evident in early 1971. Businesses would shut down at noon; curfews were imposed nightly; people stayed behind locked doors. My parents decided to leave Dhaka before things got worse. We sold our car, our furniture, and most of our belongings to buy airline tickets. The airport was closed for days at a time, and the number of people desperate to get out grew as political unrest increased. Months earlier, my father had applied for a green card to allow us to emigrate to the United States. Meanwhile, he had an offer to work for Pepsi in Jeddah, Saudi Arabia, so that's where we headed first. We were lucky. We had a way out.
My mother, brother, and I camped at the airport for two days and two nights before we got on a plane to Lahore, West Pakistan. My father stayed behind to sort out our affairs and figure out what to do with our new house, which he had designed and which had just been finished—a labor of love he'd planned to fill with the finest furniture, china, and linens from Europe.
After two years in Jeddah, my father accepted a job with Bechtel Corporation, one of the world's largest construction companies, which brought us to America. Home now became a two-bedroom apartment in Flushing, Queens, the neighborhood our Chinese cabbie had suggested on our ride from JFK.
Flushing was an immigrant community, primarily Asians, with decent public schools by New York standards and a direct train into Manhattan. As with our decision to live in Flushing, everything we did those first months, such as apartment hunting, was arbitrary. We would walk down Main Street in Flushing for hours, and if we happened to see people who looked like us—women in saris, men with turbans—we would follow them to see where they lived. That's how we found our first apartment. With the one-month hotel allowance from Bechtel that my father had saved, we bought a sofa, three beds, a TV, and some household items from Woolworth's.
My father would take the train to work in Manhattan. But five weeks into his job, there was a stop order on the project he was working on. Fearing being laid off, he volunteered to take any assignment anywhere. For the next four years, he lived and worked in Louisville, Boston, Memphis, and Irvine, California, coming home one weekend a month. We would join him during the summers.
During that time, my mother kept it all together. She tells me now how disoriented she felt. In Dhaka, she'd had a cook, a cleaning lady, a nanny, a gardener, and a big network of family and friends. In New York, she did the household chores, worked full-time in Manhattan as a bookkeeper, took care of us, and didn't know a soul.
Mom figured out the neighborhood, where to buy Indian spices and halal meat (meat slaughtered in a way prescribed by Muslim law). She would prepare our favorite traditional foods each night—chicken curry for me and a meatball stew for my brother—and somehow the smells and tastes of home would take the edge off our difficult days.
My brother and I tried to negotiate the public-school system. I didn't speak English, looked different, was shy, dressed oddly, and had no clue about American culture. I started in second grade, my brother in fourth, at PS 20 on Barclay Avenue, five blocks from our home. Before the morning bell, each class would line up on the blacktop enclosed by high wire fences. And then it would start: "Hey, you . . . ." You can fill in the blank with every taunt known to street-hardened eight-year-olds. Every morning I prayed to God to help me get through another day; each night I prayed to return home to Pakistan.
The classes were especially hard because I had no idea what the teacher was saying. I was determined to learn English if only to understand all the things kids were saying. I asked my teacher to stay after school to tutor me, and I was a quick study.
Every day that first month, my brother would come home with bruises and a battered ego. While I decided to take the studious route, he quickly learned that his salvation lay in sports. Heavily built and with an aptitude for anything involving a ball, he got the hang of baseball and basketball. He made friends easily, too, with his outgoing personality and quick wit.
But my brother wasn't the bravest of latchkey kids. Each day when we returned home from school and waited for our mother, he calmed his fears by watching Gilligan's Island, while I read the Koran to keep us safe from the evils that he convinced me lurked outside. Apparently, God listened to the prayers of girls faster than those of boys—or so my brother told me.
Our family spent our Saturdays exploring the Big Apple. We took the subway all over the city. Our big treat was seeing a Broadway show. Because we couldn't afford the $40 tickets, we would wait until the show was just about to start and slip the usher a $20 bill to allow us to stand in the back of the theater.
Sundays were reserved for religious school. My parents felt that my brother and I should maintain our Pakistani and Muslim identity and that the best way to do that was to interact with other Pakistanis. Every Sunday morning, we took a bus to a rundown office building on College Point Boulevard where Pakistani families would gather to socialize and teach their children about their religion and culture.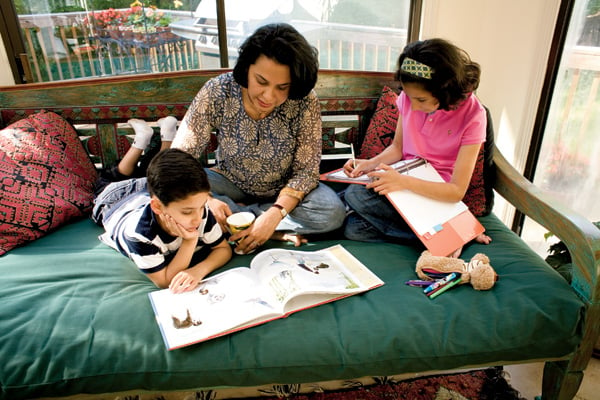 Salma Ali's children, Zayd, 6, and Saanya, 12, take pride in their heritage even as they lead typical suburban lives here, enjoying everything from swim team to Miley Cyrus.
My parents made some of their best friends during those Sunday get-togethers: the Ahmads, the Amanats, the Bezaars, and the Usmans. These families became a support network as they all struggled to raise children in a foreign culture.
While we adopted many American customs, we also held onto Pakistani traditions. My mother insisted that we have dinner together each night. Some days we ate in silence, but we were there. Because my brother and I both chose to live at home and commute to college, the tradition continued until the day I got married.
We slowly settled into a comfortable American groove. After four years in the city, we bought our first house in suburban Tenafly, New Jersey. By then, my father had landed a good job with a large multinational in Connecticut. My mother commuted to Manhattan to work for an electronics company. We had a Chevy station wagon, an active social life, and a growing savings account. We were living the American dream.
It has been more than three decades since we landed at JFK. Now my children are about the ages my brother and I were when we arrived in America. Saanya, 12, and Zayd, 6, are happily ensconced in our Bethesda/Potomac community. They have many friends, a cat, play dates, too many activities, a trampoline—but not a Nintendo DS yet.
I spoke Urdu as a child; they know more words in Spanish than in our family's native tongue. I grew up watching my parents pray five times a day; though it's my goal, I fall short some days. For me, Eid—the day of celebration at the end of Ramadan—was the biggest thing since naan bread; our son still wonders why Santa doesn't visit our house.
I never learned to swim because the idea of wearing a bathing suit in public didn't sit right with me; our daughter lives in her River Falls swim-team one-piece all summer.
For my brother and me, a vacation meant driving to Syracuse to visit our aunt and uncle; our kids have visited some of the most exotic locales in the world. My brother and I started out attending some pretty rough public schools; our daughter goes to an all-girls private school, our son one of the best public schools in Maryland.
The parenting challenges my mother and father confronted as new immigrants were, in many respects, more straightforward than those my husband and I face today. They were guided by a cultural and religious compass set by their upbringing in a uniformly Muslim and predominantly Pakistani society.
In the United States, they created their own little Pakistan. Outside of office parties, they socialized only with Pakistanis. Vacations involved visiting family or traveling back to Pakistan. Weekends meant watching Pakistani dramas. Even now, their favorite programs are broadcast by satellite from Pakistan.
My husband and I have spent most of our lives in the United States and Europe; have traveled around the world; have friends from every part of the globe; eat Italian, Thai, or Malaysian food as frequently as we do Pakistani; and often have to read the subtitles to enjoy a good desi (South Asian) movie.
The way we are raising our children is not as clear-cut. Saanya, who had visited nearly 20 countries by the time she was five, loves listening to Native Deen, a Muslim hip-hop group, but also Miley Cyrus. She can do the traditional luddi dance with as much rhythm as she can the latest Western dance craze.
Zayd craves satays, dumplings, mac and cheese, and his grandmothers' traditional recipes. His favorite movie is Cars, closely followed by the Bollywood-style films Lagaan and Bride and Prejudice.
It takes little effort to be a cross-cultural parent in the Washington area. There's a large Pakistani-American population here, providing not only a social network but also restaurants, shops, and services that cater to the community. You can eat kebabs and biryani, buy halal meat and every variety of spice and lentil, get your eyebrows threaded and your hands decorated with henna, and buy an entire wedding trousseau, all within 20 minutes of downtown DC.
You can even throw an eight-day, 12-event, Pakistani-style wedding—with a Punjabi dhol player, a Muslim comedian, sitar and tabla musicians, and rice pudding in traditional clay pots—like the one we recently attended.
In the past several months, we've attended a performance by a Pakistani dancer at the Shakespeare Theatre Company, a National Geographic–sponsored concert by Pakistan's biggest rock star—known as the Bono of Asia, he's also one of the guys I went to Sunday school with in New Jersey—a play about Pakistan's kite festival at the Kennedy Center, and discussions about Pakistan's political future at the Johns Hopkins School of Advanced International Studies and the Brookings Institution.
Our children experience a variety of cultures. At Holton-Arms School, where almost 40 percent of the girls are students of color, Saanya says it's exciting to share her customs with friends and learn about their traditions.
At Carderock Springs Elementary, Zayd has enjoyed performances by African Maasai villagers, Maori dancers, and Chinese opera singers. During "mosaic" and international nights at their schools, students have dressed in traditional clothes and showcased their culture while learning about those of classmates from Senegal, Russia, Ecuador, Italy, Korea, and elsewhere.
Saanya and Zayd take pride in their identity, something that friends and family in other parts of the United States tell us is harder to do in their communities.
It also has been easy to continue with our children's religious education. We started at the All Dulles Area Muslim Society Sunday School in Sterling, where our children learned the basic tenets of Islam, read stories of the prophets, and memorized verses from the Koran. We later decided to take a break from Sunday school and hire a Koran teacher who could come to our house.
Our Koran teacher, a warm and friendly woman who grew up in Syria, works as a tax accountant by day and an Arabic teacher in the afternoons. Every Tuesday, Saanya reads the Koran with her in Arabic, pausing after a few sentences so she can ask questions and understand what she has just read, a different approach from the way I learned to read the Koran.
Growing up, my brother and I would be dropped off at the local mosque, where a maulana made us read and memorize the Koran—no questions asked, no explanations given. While I could read the Koran in Arabic by the time I was six, it was only when I took a class on Islam in college that I understood what I'd been reading.
Now when I hear Saanya telephoning her grandparents to ask them to pray extra hard before an important test or when Zayd reminds me to say our nightly prayers together, I realize that our children get the same sense of comfort, security, and peace saying their prayers as I did growing up.
In the aftermath of September 11, it has become more important to my husband and me that our children understand what it means to be an American Muslim.
When I was growing up, my brother and I tried to blend in and not call attention to ourselves. This is no longer an option. As a friend of mine studying at Georgetown University says, "September 11 put our lives into overdrive. I went from being a nameless, peculiar student to center-stage Islamic poster child."
My cousin and I were recently talking about the impact that 9/11 has had on raising our children—how we brace ourselves for questions that come up during school presentations on the connection between Islam and terrorism, how we fear that classmates may associate our children with what they hear on the news about Muslim extremists, how we feel it is our obligation to represent Pakistan at school international nights to teach our neighbors about the country's culture and counter the images they see on television.
Salma Salma and her husband, Arif, met at Columbia University and decided to take matters into their own hands, even though in Pakistani culture, meetings between a young man and woman are arranged by family or friends. The Alis know they'll have to make decisions about how much freedom to allow their children when it comes to dating and marriage.
"When the only reference to your religion in the media is negative, you cannot avoid being affected," says my cousin. "This is a burden our kids have that we did not. I feel I have to censor the news that my children listen to. We listen to music rather than NPR, and I quickly recycle newspapers with articles on Guantánamo and suicide bombings on the cover before the kids see them."
Many Muslims returned home after 9/11, fearing reprisals. Others stayed but did all they could to hide their Muslim identity. The majority, for whom America has become home, recognized that taking part in the mainstream of life culturally, socially, religiously, and politically was the best way to overcome negative stereotyping.
So now there are book groups, business organizations, and networking opportunities that help connect Muslims and provide support; there are cultural and social events that showcase aspects of Muslim culture. And there are Muslims running for and getting elected to political office, such as Minnesota representative Keith Ellison and Maryland delegate Saqib Ali from Pakistan.
I know that bigger parenting challenges lie around the corner. Ranking high on the list: dating and marriage. While all parents worry about the pressures of the teenage years, the anxiety is especially acute in traditional Muslim families where dating is not part of the culture, drinking is forbidden by the religion—I've never tasted alcohol and pray that our children never do, either—and drugs are an absolute taboo.
Some families reject any mingling before marriage. In other families, teenagers are free to date. Most parents fall somewhere in between—allowing their children to meet in groups or chaperoned environments or trying to make the first introductions and then encouraging the young people to get to know one another through phone calls and e-mails.
For one of my Pakistani friends, dating is out of the question: "I have told my children that they are not allowed to date. Period." Another family has a more nuanced approach: "A date at the local pizza parlor is acceptable. There are plenty of people around, so there's little chance that anything inappropriate will happen."
"While they're living in our house, they're not allowed to date," says another Pakistani friend. "What they do in college is up to them."
A few of my friends' children defy their parents, but most abide by their family's traditions, with some kids even more conservative than their parents.
I don't remember my mother talking to me in great detail about dating or marriage. But it was clear that dating was not part of our culture, and I accepted that.
My parents had an arranged marriage—they saw each other for the first time on their wedding day. I knew this wouldn't be the case for me. Beyond that, I tried not to focus on it too much.
It wasn't always easy. I remember not being able to go to my high-school prom. My classmates questioned my school spirit, particularly because as a class officer I was expected to go. My mother said I could go with my brother. I preferred to stay home.
During my senior year in high school, my parents started getting inquiries from friends asking about their intentions regarding my marriage. I remember hearing about a Stanford graduate with a Porsche and the younger brother of a family friend who was a doctor. My family hadn't met any of these young men or their families, but the families had heard about us through the grapevine.
This is typically how it works in Pakistani culture. Once you reach a certain age, usually in your late teens or early twenties, the network of aunties and family friends gets to work. If both parties agree, a meeting is arranged, typically a tea, at the home of a mutual friend or family member. These get-togethers are usually awkward. The girl and boy get only a few minutes to chat and decide whether they want to pursue things further.
My aunt has been arranging such "tea parties" in and around Washington for many years. "My role is just to introduce; then it's up to them to see if there's any chemistry," she says. "After all, it's all in God's hands."
I met my husband in college. We decided to "arrange" things ourselves and avoid all the drama. We met at a dinner organized by Columbia University's Organization of Pakistani Students. I was not outgoing—I was much more comfortable around books than around boys. But because I was new on campus, I went to the dinner hoping I might meet a Pakistani woman to befriend.
The year I entered Columbia was the first year that the college admitted women, so there was a disproportionate number of guys to girls. The other Pakistani women at the dinner were happily enjoying the odds. I stood in a corner sipping a Coke. Arif approached me immediately—and stuck. In his blue blazer, bow tie, and spectacles, he looked like he was straight off the set of Dead Poets Society or Chariots of Fire; all of the other guys were in jeans and university-logo sweatshirts. He had just arrived from London and had not figured out American college attire.
He was as talkative as I was quiet and spent the evening trying to impress me with his views on world politics, his travels around the world, and his ambitious plans. I wasn't the least bit interested, but I listened and nodded and excused myself as soon as it seemed polite. He called his mother, in Holland, that night to announce that he had met the girl he would marry.
Over the next two years, Arif and I ended up in several classes together. We shared interests in international relations and political theory—or so I thought. I later learned that he switched majors when he found out I was studying political science. Because I wouldn't go out with him, he figured the only way he could get to know me was if we were in classes together. Conversations revolved around politics and paper topics. We sometimes shared a Perrier and a bagel on the steps of Low Library, and our friendship developed over game theory and macroeconomics.
Two years later, he asked and I agreed. But the appropriate protocols had to be followed. A letter arrived from his parents addressed to mine. My mother and I were sitting on the top step of our staircase when she read the letter to me: "In the name of God Almighty, I am writing on a very happy but delicate matter, with high hopes," wrote my father-in-law-to-be. "May I and my wife kindly request you for the hand of Salma in marriage for Arif."
The letter included Arif's family résumé: his father's employment as a senior executive with Shell International, his maternal grandfather's appointment as chief justice of the Pakistan Supreme Court, his paternal grandfather's role as a prominent Indian politician and Muslim scholar. I put my head on my mother's shoulder and cried. She cradled my head with her hand and smiled. We both knew a new chapter was about to begin.
In a twist that only seems possible in Indian movies, it turned out that our mothers knew each other. They had attended the same school in Dhaka and had been friends. The marriage might as well have been arranged. My husband and I sometimes wonder whether it might have been.
How are we going to navigate the delicate courtship dance for our children? Will we allow Zayd more leeway than Saanya? Will we allow Saanya to go to the prom? I doubt we'll allow one-on-one dating, but I could envision letting our children go to dances and socials in group settings. I think the most important thing we can do is keep the lines of communication open and instill in our children the values and traditions that will enable them to make good decisions—and pray really hard. I also have a trump card: 21 members of our immediate family dispersed throughout the Washington area.
Raising children with so much family around is a blessing. Family and close friends are central to Pakistani culture. My parents, who live three hours away in New Jersey, visit us frequently and stay for weeks at a time. "You can come over anytime you need a break," my non-Pakistani friends tell me, imagining that such a long time with parents could only be burdensome. My in-laws, who live 35 minutes away in Leesburg, never come just for the day. They usually spend the weekend and always have clothes and essentials in their room in our home.
It's during these visits that our children absorb aspects of our culture that can't easily be explained—for example, the respect for grandparents and elders. When my parents, in-laws, or aunts and uncles come to visit, our children know they must stop whatever they are doing to greet them at the door with "Assalamalaikum," make sure they're comfortable in our home, and stay and chat with them respectfully. ("Assalamalaikum" has become such a customary greeting for our son that even the pizza delivery person and telemarketer are greeted respectfully in Arabic.)
During these family times, our children learn about their heritage—about their great-grandmother and her legendary biryani; about their great-grandfather, once the mayor of Calcutta, who marched alongside Mahatma Gandhi in the struggle for India's freedom; about their grandparents who survived three civil wars, lived in more than a dozen countries, and finally made America their home.
On the occasion of her first fast during Ramadan, Saanya received an heirloom pendant that had belonged to her great-grandmother's grandfather, a pearl-and-diamond merchant in Rangoon in the late 1800s. The American "melting pot" is richer by virtue of our knowing who we are and where we come from.
A recent Saturday night was typical of life in our family. My parents, brother, sister-in-law, and nephews were visiting from New Jersey, and my cousin and her husband joined us for dinner. We sat around a table in the sunroom chatting—eight adults around a table more suited for four. Conversation ranged from the crisis of democracy in Pakistan and strategies for empowering women in high-conflict areas to guessing what cheeses were in the stuffed shells we were eating.
Then came a knock on the door—my aunt, uncle, and cousin from Fairfax stopping by for a visit. It was around 7:30. We moved to the family room. Half an hour later, another knock—my cousin and his wife in town for the weekend from Boston. We put the tea on, grabbed some floor cushions, and continued our chatter. Then another knock—two more cousins stopping by because they had heard everyone else was here. We pulled up some chairs, passed around a bowl of tangerines, and discussed preparations for an upcoming family wedding. Then another knock—my cousin and her family and her visiting parents.
By 11:30, there were 23 of us, ranging in age from 3 to almost 80, sitting on armrests, along the fireplace ledge, on pulled-up dining-room chairs, and strewn across the Bahraini carpet. The kids vied for our attention, the dads opined on politics in Pakistan, the cousins debated the US elections, the moms exchanged news about family health issues, and I mixed another bowl of my famous Asian salad.
No planning get-togethers weeks in advance, no "Is it okay if . . . ?" In a word, no takalluf (formality). At most, a call from a cell phone as you pull up in the driveway and a sense that the chai is always on.
This article first appeared in the December 2008 issue of The Washingtonian. For more articles from that issue, click here.