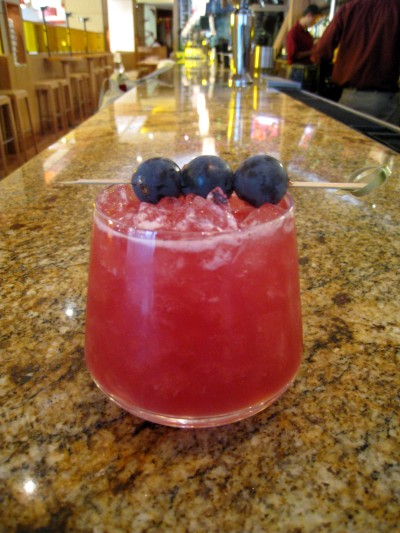 Grape Caipirinha at Central.
Master mixologist Todd Thrasher of Alexandria's Restaurant Eve and DC's fashionable PX Lounge has been experimenting with a new squash cocktail. A few months ago, he infused butternut squash with cinnamon, allspice, star anise, and brown sugar, then soaked it in vodka, and now it's ready for use. To prepare the cocktail ($12.50), he'll combine the squash water, as he calls it, with rum and more spices, then serve it straight up in a coupe glass. "Squash water tastes good," Thrasher says, "and so does rum. It won't be an overly sweet cocktail, but when you smell it, it's going to smell like Thanksgiving."
At Central Michel Richard, Justin Guthrie has taken advantage of the short Concord-grape season with a special cocktail ($11) created in the flavorful fruit's honor, which he says tastes like grape jelly. The drink is a Concord-infused leblon cachaça with fresh lime and powered sugar, garnished with grapes.
In Penn Quarter, PS 7's has three new seasonal cocktails sure to please those who have grown to love the restaurant's modern spins on classics. Order an Apples to Oranges and receive a drink made with Honeycrisp-apple-infused vodka, orange-ginger syrup, and Regan's orange bitters. The American in Paris cocktail includes Jim Beam black bourbon infused with pear. The Indian Summer combines Snow Queen vodka with a splash of cranberry juice, crème de cassis, and a pomegranate reduction. All are $13.
Eve's Plum Rocked Adam's Apple, or EPRAA ($9), is the new flirty cocktail at Nage. House-made apple-and-plum cider is mixed with a healthy dose of red wine, Captain Morgan spiced rum, a dash of orange-lemongrass bitters, and tarragon. Champagne is added for fizz, and the creation is garnished with an apple rosette.
Speaking of apple cocktails, there are three at the Park Hyatt Washington's cozy Blue Duck Tavern. The White Apple Sangria is made from Big Apple Wine, white cranberry juice and elder flower syrup, and Tito's vodka and garnished with fresh apple slices. An Apple-Pie Bellini includes apple juice, Yazi ginger vodka, spices, and apples from the Shenandoah Valley. The Cran-Apple Collins, both tart and sweet, uses apple juice infused with cinnamon, cranberry juice, ginger ale, rosemary, and vanilla vodka. All are $16.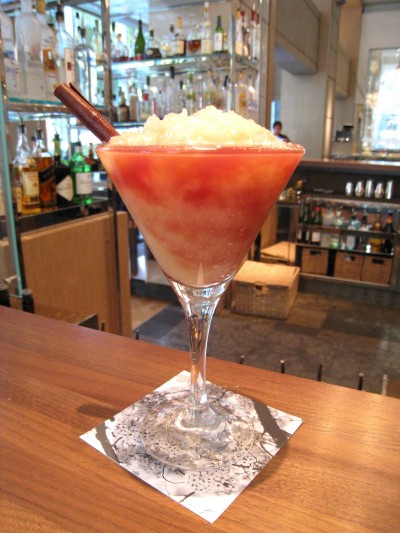 Apple Pie Bellini at Blue Duck Tavern.
Tom Brown at Logan Circle's Cork wine bar made a fall sangri ($12)—not to be confused with sangria, a drink that primarily consists of wine, 7-Up or soda water, and fresh fruit. Sangri is also wine-based, but Tom uses red wine, brandy, Velvet Falernian liquor (a hard-to-find spiced sugarcane liquor from Barbados), and lemon juice. Cinnamon, cardamom, and bay leaves add a fall spice.
Gina Chersevani of Arlington's casual EatBar says her fall cocktails are inspired by the many root vegetables and colors of the season. "I think it's time to go from the ground up," she says. "I'd put them all into a glass if I could." Her Pumpkin Spice and Everything Nice contains a juice made from sweet heirloom pumpkins, cardamom, cinnamon, star anise, sugar, and vanilla. The liquid is reduced down and passed through a coffee filter, then mixed with Mount Gay rum. Heirloom baby beets are the central ingredient in the Beetiful Cocktail, which has a cava-beet reduction cooked with vanilla and finished with a candied beet chip. The colors of the beets—red, gold, and white—create a rose-petal-like design in the glass. Both are $10.
Georgetown's worldly lounge Mie N Yu offers a spiced-gin cocktail this season called Eastern Promises ($10). It's a mixture of Hendrick's gin, lime, simple syrup, star anise, cinnamon, cardamom, clove, ginger root, and a splash of club soda.
Poste buys apples every Thursday at the Penn Quarter farmers market and uses them in three cider cocktails. The Kentucky Cider uses a simple syrup made from apple cider and balsamic vinegar, which Poste's bartenders say cuts through the drink's bourbon for a velvety finish. The Everything Nice is made with cinnamon-and-tea-infused Absolut vodka topped off with apple cider, and the Captain Who combines a mulled-cider reduction, rum, and a splash of ginger ale. All are $10.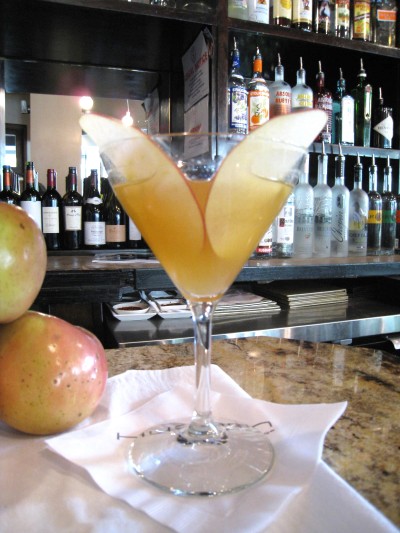 Caramel Apple Cocktail at Hudson.
At Dupont Circle's Hudson Restaurant & Lounge, locally grown Granny Smith apples take center stage in a caramel-apple cocktail ($12). Created by bar manager Dennis Asaka, the drink's base comes from an apple-infused tequila blend, which is joined by butterscotch Schnapps, apple cider, and fresh lemon juice.
At Firefly, another Dupont Circle hot spot, Alice Gaber has put together a hazelnut-and-apple-spice martini garnished with cinnamon-spiced crushed almonds on the rim of the glass. A rose sangria has seasonal fruits such as pear and apple, with brandy, apple liqueur, and hard apple cider. Both are $12.50.
Cleveland Park's Italian Dino Restaurant evokes the autumnal spirit with spices. The Spiced Chianti Fizz ($10) includes Italian Chianti, an orange-flavored grappa, orange bitters, Fever Tree bitter lemon soda, and warm spices such as cardamom, star anise, cinnamon, clove, nutmeg, and ginger. The Ginger-Pear Sidecar ($11) also makes use of ginger, both in the drink and as a garnish around the rim.
Downtown DC's posh hangout Skye Lounge proves that candy apple is more than a pretty color for a convertible. A martini by general manager Barry Feiz, called Candy Apple ($10), mixes white and red cranberry juices with Stoli Cranberi and a splash of sour-apple pucker.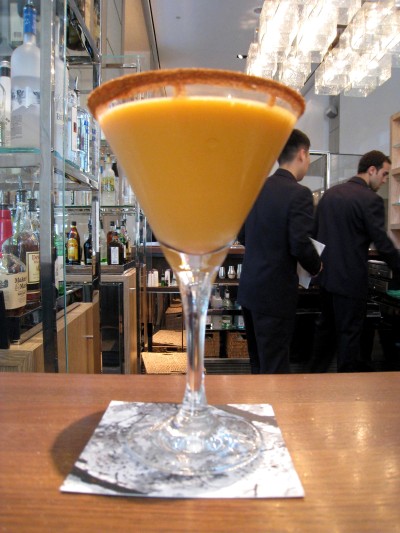 Pumpkin Spice Cocktail at Blue Duck Tavern.
Restaurant 3 mixologist Ria Freydberg says that working with fall ingredients is fun but adds, "I'm curious to see how winter goes as we start running out of area seasonal veggies!" For now, however, she's made a few cocktails that will last to the colder months. Inspired by farm-to-table creations, Ria has started Farm-to-Glass, a special cocktail created by whatever fresh local ingredients the restaurant gets each week. This week's is called Concord Grape, a sweet mix of mulled Concord grapes from Terrapin Station Herb Farm with brandy, Chambord, sour mix, and cranberry juice. Or you could try Caption Applejacks, made from Captain Morgan, peach Schnapps, and a house-made roasted caramelized-apple purée, or the Beets Me, which combines roasted beets puréed with fresh lime juice and simple syrup with Hendrick's gin. All are $10.
Looking ahead, the bartenders at Penn Quarter's swank Indebleu are eagerly anticipating the release of Hanger One's spiced pear vodka, the first fall-inspired vodka the distillery has produced. As soon as it becomes available, likely by the end of the month, the bar-restaurant promises to have a new cocktail prepared that will be between $10 and $12.
Related:
Happy Hour Finder
Bottomless Brunches
Our Favorite Margaritas
Cozy Bars in Washington
Have you had a tasty autumn cocktail recently that we missed? Tell us in the comments!
More>> After Hours Blog | Arts & Events | Happy Hour Finder | Calendar of Events