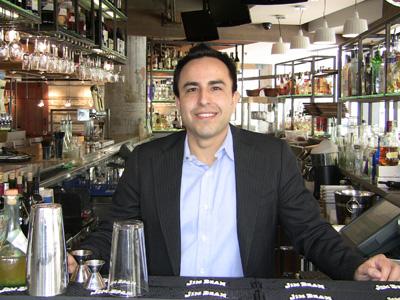 Founding Farmers' Web site calls Jon Arroyo its "executive bar chef." The title might cause some rolling of the eyes from those already suspicious of the term "mixologist," but, as Arroyo explains, there is truth behind the advertising.
"Spirits are an extension of the culinary world," says the Arizona native, who prior to his involvement in the restaurant business spent some years working as an actor in Los Angeles. "One of America's first contributions to the culinary arts was the American cocktail. People tend to forget that."
Not so at Founding Farmers.
The restaurant's cocktail menu boasts a collection of 15 drinks made with all-organic spirits and fresh produce, such as the Organic Cucumber Delight ($12), which combines the vegetable with Square One vodka and cantaloupe. Arroyo describes the cocktail as "freshness in a glass." Also on the list: an assortment of staple drinks of yore, such as the old fashioned ($8) and the Sazerac ($13).
"Cocktail menus are about delivering a message," says Arroyo. "What story do you want to tell your guests? For me, it was about reintroducing classics and making them approachable, while also enforcing the restaurant's concept of 'true food and drink.' "
To do such a thing, Arroyo says, he experimented with at least 50 cocktails before settling on his current list. In the process of putting together the concept for the cocktail menu, Arroyo rubbed elbows with some boldface names from the cocktail world, including the "king of cocktails," Dale DeGroff, and Imbibe! author David Wondrich.
"As an actor, I've seen my share of celebrities," says Arroyo. "I don't tend to get shocked or nervous."
His encounter with DeGroff, however, was different.
"The man is a cocktail genius," he says, buzzing with excitement. "When I had to shake a cocktail next to him, I could barely hold on to the shaker."
Arroyo's enthusiasm about DeGroff is part of his—pardon the pun—thirst for knowledge on the matter of spirits. Recently, Arroyo set his sights on absinthe, the highly alcoholic, anise-flavored spirit once banned in the United States. The liquor was made legal last November and has consistently been showing up more and more around Washington bars.
"To me, absinthe is not a fad," says Arroyo. "If you look back at cocktails in the pre-Prohibition era, 60 to 70 percent of them were made with absinthe. It was the premier spirit of the world. I'm fascinated and want to make it approachable—it doesn't have to be this Bohemian rhapsody."
So just what is the cocktail-making process like for Arroyo? He says there's no master plan; most of his creations spring out of necessity or bursts of creativity—such as the Clementine, a clementine-infused tequila drink he made specifically for this occasion.
Check out Arroyo making the Clementine below and make sure to get the recipe! The Clementine
Jon Arroyo, Founding Farmers
1¼ ounces clementine infusion (recipe follows)
¾ ounce benedictine
¾ ounce lime juice
¾ ounce lemon juice
¾ ounce pineapple juice
¾ ounce agave syrup
Place all ingredients in a mixing glass. Add ice and shake vigorously. Strain into a sugar-rimmed Champagne coupe. Garnish with a flamed orange twist and a few drops of Delmaguey Crema de Mezcal.
For the infusion:
Bottle of Siembra Azul Reposado
3 to 4 clementines (poke 20 small holes in each)
2 to 3 Fresno chilies (poke 10 to 15 holes in each)
Force the clementines and chilies into the Siembra Azul and let the infusion sit for 24 hours. Remove chilies and let sit for another 5 to 6 days.
Related:
Buzzed: Rico Wisner's Mr.s Know-It-All
Buzzed: Alice Gaber's Opal
Buzzed: Gina Chersevani's Georgie Rickey
Buzzed Justin Guthrie's Whiskey Sour
Buzzed: Chantal Tseng's Sazerac
More>> After Hours Blog | Arts & Events | Happy Hour Finder | Calendar of Events