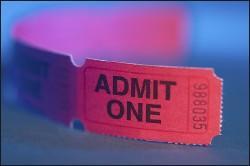 Get into the inaugural spirit the weekend before the big day with the Songs for Presidents show at the Sixth & I Historic Synagogue on Saturday, January 17. The show will benefit Bands for Lands, a nonprofit that encourages conservation and sustainability. Artists will perform songs from Of Great and Mortal Men: 43 Songs for 43 U.S. Presidencies, a compilation album released last September, and acts include These United States, Denison Witmer, Jukebox the Ghost, and more. Tickets ($16) go on sale Friday, December 19, at 10 AM.
Cute is What We Aim For, a power pop band from Buffalo, New York, is headlining next year's Take Action tour, which helps young people get involved in charitable action. Other artists on the tour include Meg and Dia, Breathe Carolina, and Every Avenue. The tour comes to the 9:30 Club on Sunday, February 22; tickets ($16) went on sale this morning. The tour also stops at Baltimore's Rams Head; tickets ($16), go on sale Saturday, December 20, at noon.
Southern rock band the Drive-By Truckers will play two shows at the 9:30 Club this February, the first on Friday, February 20, followed by a show on Saturday, February 21. Tickets ($25) went on sale this morning.
Celebrate Wu Year's Eve—er, New Year's Eve—with hip-hop group Wu-Tang Clan in the main room at Sonar on Wednesday, December 31. There will be a Taxlo dance party in the club room and a Champagne toast at midnight. Ticket prices vary: $55 for the Wu-Tang show only, $65 to also enter the dance party, $95 for open-bar access, and $150 for VIP access and a lounge with a buffet. Tickets went on sale this morning.
British rockers the Pretenders are heading out on their first North American headline tour since 2003 in support of Concrete, the band's ninth album. Rolling Stone called it "the best Pretenders album in years." Hear the band perform its new material on Monday, February 2, at 9:30 Club. Tickets ($45) went on sale this morning.
Jon McLaughlin is performing in Norfolk tonight, and he'll be back in Virginia in about a month to play another show at the Birchmere in Alexandria on Wednesday, January 28. Tickets go on sale Friday, December 19, at noon.
More>> After Hours Blog | Arts & Events | Happy Hour Finder | Calendar of Events