In this era of pork-belly BLTs, it's nice to know that some things never change. Take that old bistro staple the grilled ham-and-cheese sandwich, which has mostly remained immune to the deconstruction (and reconstruction) that chefs can't seem to resist these days. And although trendy restaurants like Poste and Westend Bistro serve well-sourced renditions of the classic croque monsieur (ham and cheese with bechamel sauce) or croque madame (the same sandwich topped with a fried egg), the homely version at the Diner delivers warm, cheesy comfort. Let's start with the haute:
Poste (555 Eighth St., NW). French Laundry chef Thomas Keller inspired the recipe—or at least the choice of house-made brioche for the croque madame served mornings at this bustling Penn Quarter brasserie. The Virginia-ham-and-Gruyère sandwich is slathered with Mornay sauce (béchamel loaded with Gruyère and Parmesan), pan-fried in butter, and topped with a sunny-side-up egg.
Westend Bistro (1190 22nd St., NW). The croque monsieur that Eric Ripert serves at Le Bernardin in New York may be dolled up with smoked salmon and caviar, but the sandwich at his more relaxed bistro in downtown DC's Ritz-Carlton harkens back to the one he grew up on in Andorra, with ultrathin layers of Gruyère and French truffled ham.
Rustico (827 Slaters La., Alexandria). The lunchtime sandwich at this upscale pizzeria marries New Hampshire maple ham and sharp aged cheddar with tangy balsamic-roasted onions. Instead of the traditional side of fries, this one comes with a wannabe-responsible salad.
Cork (1720 14th St., NW). This wine bar gives the croque madame a dolce vita twist with prosciutto and fontina cheese, but the runny egg and crispy brioche are thoroughly French. It's the perfect midnight snack, especially after a few glasses of good wine.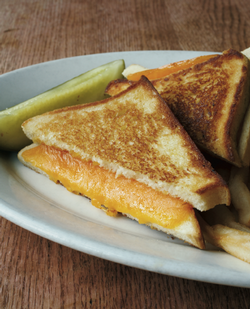 Cheesetique (2411 Mount Vernon Ave., Alexandria).With about 200 cheeses to choose from at this wine bar/fromagerie, you'd think the grilled sandwich would be stuffed with something cave-aged and esoteric. But though the regular grilled cheese gets a layering of triple-crème Brie and Prima Donna Gouda, the pressed panino, filled with bresaola and apples, oozes a simple Irish white cheddar.
The Diner (2453 18th St., NW). Adams Morgan's 24/7 diner serves not only a croque monsieur and an egg-topped croque madame but also a "croque and dagger," with two eggs, Gruyère, bacon instead of ham, and a generous drenching of béchamel.

This article appeared in the December, 2008 issue of The Washingtonian.
More>> Best Bites Blog | Food & Dining | Restaurant Finder