Looking to eat out to ring in 2009? Here's our guide to what restaurants are serving on December 31st.
Some people prefer a low-key New Year's Eve celebration at home, sitting by the fire watching the ball drop on TV. That's nice and all, but we prefer a party. And that's what we've got in our annual roundup of some of the best New Year's Eve parties and galas going on in Washington. We even found some alcohol-free, family-friendly events. Read on to plan your December 31st.
Hotel Parties | Big Bashes | Concerts | Family-Friendly | Free/No Cover
Downtown Countdown
This New Year's Eve gala, in its 12th year, will be held at the newly renovated Grand Hyatt, Washington DC. Guests can enjoy a five-hour open bar and hors d'oeuvres; entertainment including bands, DJs, and comedians; and a midnight balloon drop. DC101's Elliot in the Morning and the Class will broadcast live from the party. Ticket prices will increase as the event nears, and VIP tickets—which include a separate entrance, complimentary coat check, and a longer open bar—are also available. Regular tickets $109, VIP $175; 8:30 to late; 301-652-7712.
New Year's Eve Extravaganza
Celebrate with Big Night DC's New Year's Eve Extravaganza at the Gaylord National Resort & Convention Center at National Harbor. Enjoy open bars, 12 themed party areas; dancing; party favors; performances by Carbon Leaf, Flip Like Wilson, Mr. Greengenes; DJs; and more. Two ticket options are available: An all-inclusive main-event ticket that includes food, drink, and access to nine ballrooms or a VIP ticket that includes drink and food upgrades, a private casino lounge, exclusive ballrooms, and seating areas. Main-event tickets cost $119 and VIP tickets are $200, but prices will increase over time. 9 PM to 2 AM.
Inner Caucus New Year's Eve Gala
Inner Caucus and WHUR 96.3 invite you to L'Enfant Plaza Hotel to celebrate. The main ballroom will showcase jazz from Spur of the Moment and a selection of R&B, hip-hop, and funk by DJ Swing. Head to the Solarium Room for reggae and calypso, the Executive Room for '70s and '80s music, soul, the Lobby Lounge for neosoul, and the Hospitality lounge for hors d'oeuvres. Ticket price includes hors d'oeuvres, a Champagne toast, and party favors. Before Christmas $65, December 26 through December 30 $70, December 31 $75; 8:30 PM to 3 AM.
Licensed to Thrill Thunderball at Hilton Alexandria Mark Center
Euronet International hosts this year's James Bond-themed gala. Party in the casino atmosphere with James Bond look-alikes, Bond girls, exotic cars, and martinis. Dinner and dessert buffets will be available as well as Champagne, themed cocktails, and open bars. The hotel will be decorated to visually transport you to Bond locations throughout the world such as Russia, Montenegro, England, Iceland, and Brazil. The party starts at 6:30 for VIP and Presidential ticket holders and at 8:30 for regular-admission guests. Tickets prices will increase as the event nears. General admission $139 to $179, VIP tickets $189 to $250, Presidential tickets $275 to $500; 703-861-8075.
New Year's Eve Global Gala
Things to Do DC invites young professionals to celebrate the New Year in nine cities and countries without leaving the District. At the Marriott Wardman Park, visit New York City, Chicago, the Kentucky Derby, Las Vegas, Havana, Dublin, Montego Bay, Tokyo, and France (or rather, rooms decorated to look like those locations), and sample food and entertainment unique to each spot. VIP tickets include a full dinner, balcony seating, and other amenities. Regular admission $190, VIP $250; 9 PM to 2 AM.
Passport to the World Gala: Cities of Virtue and Vice
Professionals in the City hosts this international extravaganza at the Hilton Washington. Celebrate in Amsterdam's red-light district, enjoy Latin fusion in Rio de Janeiro, take Bollywood-style dance lessons in Bombay City, and more. Black-tie attire is optional, and guests can eat from a buffet, drink from an open bar, attend four-minute dates, sing karaoke, or enjoy an optional VIP dinner. $119 to $169; 9 PM to 2 AM.
Spirit of Washington
Cruise the Potomac for the Spirit of Washington celebration. Enjoy four hours of cocktails, a DJ, a boarding photo, a dinner buffet, party favors, and more. $164; 8:30 PM to 12:30 AM.
Hooray for Hollywood Gala
Celebrate like old Hollywood to benefit the Weinberg Center for the Arts. This black-tie event will include hors d'oeuvres and desserts, an open bar, party favors, and entertainment by a ten-piece band, Round Midnight. Guests can also view classic films in a private screening room or dabble in the Monte Carlo casino room. Tickets can be upgraded to include a stay at the Marriott Courtyard hotel in Frederick, limo service to and from the event, and a breakfast the following morning. $150 per person, $500 VIP; 8 PM to 1 AM.
Fourth Annual Clarendon Ballroom New Year's Eve Gala
Clarendon Ballroom hosts its fourth annual gala, which will offer a buffet of hors d'oeuvres, seven drink tickets, a Champagne toast, and a balloon drop at midnight. Entertainment will be provided by the bands Liquid A and Lost in Paris, with a DJ spinning tunes between sets. The gala is black tie optional. $85 to $115; 8 PM to 2 AM.
New Year's at the Reef
Party on the Reef's heated roof deck, or stay inside to dance to tunes spun by DJ Sinbad on the main floor. The open bar includes all beer, wine, and liquor; hot and cold hors d'oeuvres will be served throughout the evening. At midnight, toast to the new year with a glass of Champagne. Guests who prove they're residents of Adams Morgan can receive 10 percent off. Dress is semiformal. $100 before December 15, $125 after; 9 PM to 3 AM.
Odyssey Cruise
Take a New Year's Eve cruise, and pamper yourself with bottomless drinks, dancing, and entertainment. The event includes a plated dinner, a dessert table with a chocolate fountain, party favors, and memento Champagne flutes. Each couple will receive an Odyssey boarding photo. $199.90 to $230.90 per person; 8 PM to 1 AM.
p.i.n.k. & Black New Year's Eve Bash
Head to the Tortoise & Hare for an open bar with drink tickets, a Champagne toast at the stroke of midnight, party favors and p.i.n.k. vodka promotions. The dinner buffet will be open until 1 AM. $100; 8:30 PM to 2 AM.
K Street Celebration
The high-class atmosphere of K Street requires fashionable attire to party there on New Year's Eve. From 10 PM to 12:30 AM, enjoy a top-shelf open bar and a midnight Champagne toast. Table reservations (for six people) include two bottles of liquor, shooters, and Champagne. Individual tickets $85, table $1,000; 9 PM to 3 AM.
McGinty's Public House
Those who ring in the New Year at McGinty's Public House will receive party favors, and there'll be a Champagne toast at midnight.Trademark and Eddie Pasa will provide the tunes. $20; 9 PM to 2 AM; 301-587-1270.
New Year's Eve at Fur
Hot 99.5 will broadcast live from Fur. Cocktail attire is required to dance the night away on four dance floors. The ball drop will be broadcast, and guests can enjoy a Champagne toast at midnight. VIP tickets are available upon request. General admission $25, open bar $80; 8 PM to 2 AM; 202-842-3401.
Masquerade Ball at MCCXXIII
Don a mask to celebrate the New Year at MCCXXIII. Don't worry if you don't have a fancy Carnivale mask: Free ones will be handed out at the door along with party favors. Complimentary hors d'oeuvres will be offered until 10, and an hourlong open bar will start at 9. Call ahead to make a table reservation ($500 to $1,000); 8:30 PM to 3 AM; 202-403-4343.
18th Street Lounge
Dress to impress, grab a seat on a comfy couch, and party with young professionals at the 18th Street Lounge. Enjoy an hourlong open bar until 10:30 while listening to DJs Mark Rae and Thomas Blondet spin hip-hop and funk or Donvonte McCoy and Mavis Waters spin jazz in the upstairs bar. Individual, group tickets (eight or more), and table reservations are available. Groups $40 before December 22 and $50 after, individual $50 before December 22 and $60 after; 9:30 PM to midnight.
Lucky Bar Champagne Gala
Dance into 2009 at Lucky Bar. Ticket price includes an open bar until 1 AM, a buffet, and a Champagne toast. $80; 9 PM to 1 AM.
New Year's Eve at Rock & Roll Hotel
Nouveau Riche, BrightestYoungThings.com, Garitachi, and Durkl are hosting the Rock and Roll Hotel's New Year's Eve bash. A variety of acts will perform upstairs and downstairs throughout the night. General admission gets you free Red Stripe from 7:30 to 9, silver-ticket holders have access to a rail-drinks open bar from 8 to 1, and gold-level ticket holders can choose from the top shelf for open bar from 8 until last call. At midnight, everyone toasts with Champagne. General $30, silver $50, gold $80; 7:30 to 2.
A Vegas New Years
The Park at Fourteenth will transform in to Las Vegas for the night, with each floor representing a Vegas hot-spot. Black tie attire is suggested. Open bar will last from 6:30 to 11:30, party favors will be provided and a dinner spread will be available until 9:30. General admission $100, VIP $200; 6:30 to 12.
Eyebar
Count down to the new year with two floors of entertainment at Eyebar. Dance to hip-hop and top-40 hits on the first floor and house music on the second. Party favors will be passed out. VIP tickets include a two-hour premium open bar, and all ticket prices will increase on December 10. Semiformal attire is required. General admission $35, VIP $70; 9 PM to 3 AM.
New Year's Eve Extravaganza at Recessions
Enjoy an open bar, noisemakers, party hats, and a midnight Champagne toast at Recessions. Leave the jeans, sneakers, and T-shirts at home and come out to dance for six hours. $70 in advance, $80 on December 31; 8 PM to 2 AM.
Shadow Room
Dance to house, hop-hop, international, and top-40 music spun by DJ Childsplay at the Shadow Room. The private social club Absolute Addiction will host the event. Purchase your ticket early and get free Champagne at midnight. Table reservations are also available. $50; 9 PM to 3 AM.
Tuscana Lounge
Music from the '80s and '90s will flood Tuscana Lounge during its celebration. Ticket price includes a bottle of Champagne (for every two people), chocolate-covered strawberries, and party favors. $45 in advance, $55 at the door; 11 PM to 3 AM.
Ultra New Year's Eve
Head to Ultrabar for three floors of music and dancing. The main floor features hip-hop, dance, and top-40 hits, the second floor will showcase hip-hop and old-school music, and the basement will feature house music. Admission includes a Champagne toast at midnight and complimentary party favors. Table reservations are available for $600 to $1,500 and include a bottle of Champagne. Before December 20 $30, after December 21 $35; 8 to 2.
Jazz New Year's Eve
Grammy-winning New York Voices and the Dizzy Gillespie All-Star Big Band will perform at the Kennedy Center Terrace Theater. After the performance, you can gain access to the grand foyer with your ticket stub and dance until the midnight balloon drop. $65; 7:30 to midnight.
Last Train Home New Year's Show
For the tenth year, Last Train Home will take the stage at Iota to ring in 2009. Justin Trawick Group will open the show. More details will be released as the event nears. $40; 8 to late.
New Year's Eve Ball
Peaches O'Dell and her orchestra will perform swing and Latin music from the 1930s and '40s at the main stage of the Black Cat. DJs will be spinning dance music on the backstage. Tickets include both stages. $25; 8 PM to 2 AM.
'80s Retro Dance Party
Rock a side ponytail, put on some leg warmers (come on, you know you have them), and join the Legwarmers at the State Theatre to ring in the new year to hits from the '80s. $30; 7 PM .
New Year's Annapolis
The city of Annapolis rings in the new year with a family-focused, alcohol-free event. Guests can celebrate with arts, music, dance, and street performers on the City Dock and along Main Street. Two fireworks displays will take place: One at 7:30 for families with children, another at midnight. $10 to $15, children age five and under free; 3 PM to midnight.
First Night Alexandria
With events for the whole family, First Night Alexandria promises to be a safe environment for New Year's Eve fun. The event kicks off with a one-mile road race on King Street (limited to runners with an eight-minute mile or less), then families are invited to enjoy 70 performances throughout the city. Free shuttle buses will be available to the venues. The night closes with a fireworks display. $12 to $20, ages 12 and under free; 5 PM to midnight.
New Year's Eve Swing Dance
Spend the evening learning how to swing-dance to the tunes of the Tom Cunningham Orchestra at Glen Echo Park's Spanish Ballroom. Tom and Debra of Gottaswing will kick the night off with beginner's lessons. Party favors, desserts, and sparkling cider will be available. Adults $25, ages 5 to 13 $10, ages 5 and under free; 8 PM to 1 AM.
First Night Talbot
The details haven't yet been ironed out for Talbot County's First Night event, but like every year, there'll be live performances and activities for children and parents. Adults $8 to $10, students $4 to $5, ages five and under free; 6 PM to midnight; 410-820-8822.
New Year's Eve Spectacular
Celebrate with music and fireworks at Baltimore's Inner Harbor. Mayor Sheila Dixon will count down the minutes to midnight, which will trigger an 18-minute fireworks show choreographed to music. 9 PM to 12:30 AM.
Rhodeside Grill will have a midnight toast and party favors with no cover charge. DJ Sala will provide the entertainment.
Cheap Date performs at Ri Ra in Arlington, and Oneside will perform at the Bethesda location, both starting at 10. There won't be a complimentary toast, but hey, you get in free.
Spend New Year's Eve with DJ Meistro at Wonderland Ballroom. The party starts at 10.
Get a complimentary Champagne toast and party favors with a drink purchase at 51st State Tavern.
Buffalo Wing University will offer a free buffet of wings and appetizers with no cover charge.
The kitchen will stay open late at Tune Inn, and a Champagne toast will be offered at midnight.
Mr. Smith's of Georgetown will have a Champagne toast and party favors at midnight and piano music courtesy of Jon Adelson.
Continental Modern Pool Lounge will feature drink specials all night long.
Arrive before 11 to get in to Eleventh Street Lounge with no cover.
Enjoy live music, dancing, dinner specials, and a Champagne toast at Fish Market in Alexandria.
Piratz Tavern will have drink specials, Champagne toasts and, of course, pirates.
Head to Garrett's Restaurant & Railroad Tavern in Georgetown for a cash bar and no cover charge.
Summer's Sports Bar will have dancing and a Champagne toast.
DJ Brian will spin tunes at Jimmy's Old Town Tavern. There's no cover, but if you want a table, make a reservation.
Enjoy Stetson's usual happy hour from 5 to 8 and 25 cent wings all night long. A free champagne toast will take place at midnight.
There is no cover charge to ring in the new year at Bar Pilar, but there also won't be any food or drink specials.
More>> After Hours Blog | Arts & Events | Happy Hour Finder | Calendar of Events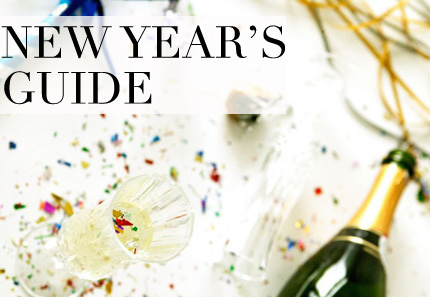 Want to ring in 2009 in a big way? We've got the goods. From restaurant dinners to parties to the best ways to cure those inevitable hangovers, here's our guide to New Year's Eve in Washington.
–New Year's Parties, Galas and More

–Guide to Eating Out on New Year's Eve

–What's Your Best Hangover Cure?

–A New Year's Eve-Worthy Outfit—for $100

–Bottomless Champagne and Mimosa Brunches