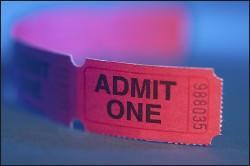 In 2006, Rolling Stone magazine said the Whigs "may well be the best unsigned band in America." Nearly three years later, the rock trio from Athens, Georgia, is touring with Kings of Leon and Band of Horses before embarking on its own slew of shows in March. The band's headlining tour kicks off on Wednesday, March 4, at the Black Cat. Tickets ($12) go on sale Friday, January 2, at 5 PM.
Mos Def is an all-around entertainer: He's a poet, he's performed on Broadway, and recently he played the part of Chuck Berry in the film Cadillac Records. But what he's most known for are his MC skills, and he performs at 9:30 Club on Monday, February 23. Tickets ($35) went on sale this week.
Primal Scream released its ninth studio album, Beautiful Future, in July and will tour throughout the UK in early 2009. However, the alternative-rock group will be also playing shows in the United States and is scheduled to perform on Friday, March 27, at 9:30 Club. Tickets ($25) went on sale this week.
Check out the Australian electronic duo the Presets at the 9:30 Club on Wednesday, April 1. Julian Hamilton and Kim Moyes are the ones behind the successful duo, who won Album of the Year and Best Group in 2008 from the Australian Record Industry Association for their second album, Apocalypso. Tickets ($18) went on sale this week.
More>> After Hours Blog | Arts & Events | Happy Hour Finder | Calendar of Events