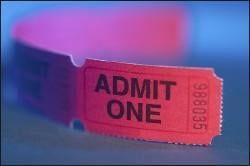 The fast-approaching inauguration will bring more than just droves of people to Washington—it'll also bring a couple of good shows. First up is "Change? Let's Start With Dancing . . . ," the 9:30 Club's inauguration kickoff party with Moby behind the turntables for a DJ set on Sunday, January 18. Tickets ($35) went on sale this morning.
The next night, January 19, Jay-Z performs at the Warner Theatre. The theater is probably one of the more intimate venues the hip-hop mogul has played, which may be the reason behind the obscene ticket prices—$100, $375, and $500. The official ticket sales begin Friday, January 9, at 10 AM, but you can purchase tickets through the Live Nation presale tonight until 10. The password is "piano."
Thievery Corporation had three shows lined up at the 9:30 Club from January 27 through 29, and each sold out quickly. Before you check Craigslist for overpriced tickets, try to score them for one of the band's two newly added shows on Friday, January 30, and Saturday, January 31. Tickets ($40) went on sale this morning.
Folk-rock singer Lucinda Williams, who released her album Little Honey in October, comes to the 9:30 Club on Tuesday, March 3. Buick 6 opens the show; tickets ($40) went on sale this morning. According to Williams's Web site, she'll perform at the 9:30 Club again on Wednesday, March 4, but tickets for that aren't yet available.
Glasvegas, an indie-rock quartet from Glasgow, Scotland, will perform at the Black Cat on Thursday, March 26. Tickets ($15) go on sale Friday, January 9 at 5 PM.
Australian singer/songwriter Missy Higgins begins her US tour next month, and she makes her way to 9:30 Club on Monday, March 2. Justin Nozuka opens; tickets ($25) went on sale this morning.
More>> After Hours Blog | Arts & Events | Happy Hour Finder | Calendar of Events