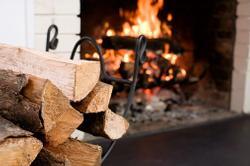 It's easy to be romantic when you have a fat bank account, but this year's Valentine's Day will find most of us feeling the effects of the worst economic climate in 80 years. If you don't what to run up more credit-card debt at a fancy restaurant—but you still want to do something special for your sweetheart—now's the time to work with what you have.

Anna Kahoe, who owns Good Wood antique store, says that Valentine's Day at home is an opportunity to do what you can't do at a restaurant: Put your own twist on things. "That way, you aren't going to notice that you are missing out on a fancy Valentine's dinner at a restaurant," says Kahoe. You can show that it's a special occasion by creating a beautiful table setting. "The things that matter are the details: Do the salad plates, the beautiful tablecloth, and the cloth napkins. Polish the silver, or borrow your grandmother's silver," says Kahoe.
Taraneh Dadmarz, owner of the English Rose Garden floral shop in Georgetown, says an inexpensive way to set an inviting tone for a special night in is to light dozens of candles and carefully place dramatic, high-impact flowers around the room. She recommends red and pink amaryllis and tulips and warns against using especially fragrant flowers on the dinner table, which can interfere with the flavors of the food. She also says that home cooks can set a sophisticated-looking table by placing different vases and containers in a line down the middle, with one bloom in each vessel. "It will make a huge impact," she says.Allison Jackson, an event planner with Pineapple Productions, says to tailor your dinner plans to the space you have, rather than trying to shoehorn a fancy restaurant into your apartment. And if you have a fireplace, use it! Jackson suggests placing your coffee table in front of a toasty fire, and setting out big, comfy pillows for sitting.
She adds that toiling away in the kitchen—and leaving a heap of dirty pots and pans to deal with later—need not be part of the experience. If you go for take-out from a local restaurant, you can spend your time on the room instead. "Don't even think about slaving to make a decadent meal—nothing is less romantic than a sweaty and stressed-out host," says Jackson.
For table decorations, Jackson says the biggest money-saver is creativity. She suggests clipping stems short on big bunches of inexpensive flowers, like carnations, and pushing them into Styrofoam balls, which can be purchased at craft stores. The result is a beautiful, professional-looking floral ball. Jackson also likes to fill glass containers with cinnamon sticks, star anise, lemons, and clementines and intersperse them with votive candles. "Go to the spice and produce sections of the grocery store for easy inspiration," she says.
And, although it may be tempting to fill your home with hearts, cupids, and other Valentine's tchotchkes, don't forget to edit yourself. The idea is for you and your significant other to feel comfortable and relaxed—and there is nothing relaxing about a giant stuffed bear that says "I love you" when you hug it.
"Acknowledge tradition, but don't be a cliché," says Kahoe. "Buy red Gerber daisies or red tulips—just not red roses."


Shopping

→ Budget Gift Guide: Under $20

→ Gift Guide for Her

→ Gift Guide for Him


→ Gifts to Warm Your Home

→ Valentine's Day: Beyond Red Roses

Dining
→ Tables for Two: Valentine's Day Menus in Washington


→ Looking for Valentine's Chocolate? How About a Mojito Truffle
Activities
→ Beyond Chocolates and Roses: Ten Quirky Things to Do on Valentine's Day

→ Heart-to-Heart Getaways: Valentine's Day Hotel Packages


→ Valentine's Romance at Home