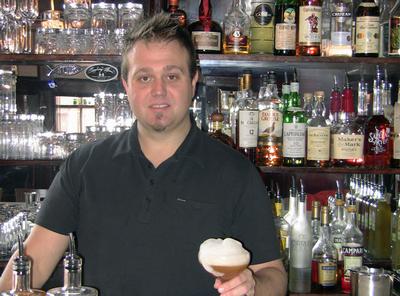 Todd Thrasher is a name many New York City bartenders won't be forgetting anytime soon.
"How does a hick bartender from Virginia come up to the big city and knock off 9 New York City Bartenders? Shameful!" reads the bitter comment left by someone posting as HoofHearted on New York's Web site after the magazine's foodie blog, Grub Street, posted news of Thrasher's victory at the regional semifinals of the Domaine de Canton Bartender of the Year Competition back in December.
One can only imagine what HoofHearted's reaction would be upon learning that Thrasher beat New York City's finest with an eight-year-old recipe. Or that he wasn't even supposed to be competing in the first place.
"I was on vacation when a friend from New York City contacted me about entering this contest," says Thrasher. "But I've always been petrified of contests—and I'm not a good loser."
Thrasher politely passed on the invitation. When the friend asked for a recipe that used the Domaine de Canton ginger liqueur, Thrasher, not thinking twice about his friend's intentions, passed on a cocktail he'd come up with during his time as sommelier at Café Atlántico.
Once back from vacation, Thrasher was surprised by an e-mail announcing that his recipe had won him a spot in the semifinals.
"I called them to clarify I hadn't entered any contest," he says. "But they read me my recipe over the phone."
So he was off to the Big Apple with enough bottles of simple syrup for 150 cocktails. Thrasher had been told to plan on having enough for 100 people, but nerves had made him extra cautious.
"I was scared to death," he says. "I'm the only guy not from New York standing in this room in Buddakan, and I'm thinking, 'There's no way I'm going to win this.' "
Then something odd happened: He ran out of drinks. All 150 of them.
"People were coming back to get a second cocktail," says Thrasher. "It was nuts. To go to New York City—which is the center of cocktail culture right now, with so many great bartenders such as Tad Carducci and Joaquin Simo from Death & Co.—and win is amazing."
Next up for Thrasher is the island of Saint Martin in March for the final round of the bartender competition. At stake—$10,000.
"They're not telling us what the format of the competition will be, but I heard some rumors it might be like an Iron Chef thing," he says. "Basically, all we've been told is to bring our shakers."
In the meantime, we caught up with him at PX, the speakeasy bar above Eamonn's in Old Town Alexandria that he helped open 2½ years ago. There, he shared his latest concoction, the Number 6, which combines orange-based rum with vermouth, orange bitters, and orange soda. The drink is garnished with a mix of orange soda and soy lecithin that's blended to the point of foam, which Thrasher calls "orange air."
Watch our video of Thrasher making the Number 6, and make sure to get the recipe.
Number 6
Todd Thrasher, PX
¼ ounce Creole Shrub orange-based rum
1 ounce Clement dark rum
1 ounce house-made orange syrup
¼ ounce house-made vermouth
Liberal dash of house-made orange bitters
2-ounce topper of house-made orange soda
1 spherical chunk of ice
Orange air*
*Orange air is a combination of house-made orange soda and soy lecithin blended together until it becomes 'orange air,' or the consistency of sea foam. The air is used as a garnish to the drink and is optional, so don't fret if you don't have soy lecithin at home or a special blender like Todd's.
Mix both rums, syrup, vermouth, and bitters together in a shaker. Give a rough shake. Pour through a double strainer into a martini glass.
More>> After Hours Blog | Arts & Events | Happy Hour Finder | Calendar of Events