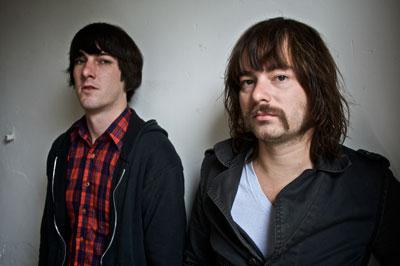 The Points are classicists at heart. The band's sound centers around raw and distorted guitars, slurred vocals, and manic drumming—ingredients representative of traditional and minimalist punk rock. The Ramones are an influence that comes to mind, but the Points' music has a much darker tinge. Big riffs and generous spacing during intros and bridges give many songs a spacy, almost psychedelic feel. And by psychedelic, we mean head-banging until your brain goes numb.
Singer and guitarist Geo White and drummer Travis Jackson, who have been playing music together since high school, started the Points four years ago with keyboardist Rebecca Dye. The trio established a reputation for raucous performances both onstage and as the house band for the Shaw neighborhood's Fight Club skate park.
The band's self-titled debut, released in 2008, is a 30-minute exercise in everything beloved about punk music: attitude, a pedal-to-the-floor pace, and choruses and hooks catchy enough to stick in your head for days. White's lyrics are hardly welcoming, whether he's addressing a girl ("I don't like you, don't care what you say") or himself ("No girl's gonna wreck my brain, no girl's gonna make me insane"), but his simple melodies and singing style come across as an honest and magnetic combination. Add Jackson's unrelenting hammering on the drum kit and the band's newly fleshed-out lineup and the Points are a rollicking mess of a force.
If you missed the Points last night at the Black Cat, make sure to check them this weekend when they play a string of shows in Virginia.
We chatted with drummer Travis "Cobruhhh" Jackson about vinyl records, the theremin, and the band's new lineup.
Name: "Cobruhhh."
Age: "29."

Hometown: "Fredericksburg, Virginia."
First song that made you want to play music:
"Rocket from the Crypt's 'On A Rope.' It was the biggest sound I had ever heard and in return got me into a lot of other punk rock. They are the only band I still listen to from my youth."
First instruments:
"I pretty much put my hands on any instrument I could touch. Guitar, drums, keyboard. Never messed around with the brass too much, but I tried."

Local spot to seek inspiration or write music:
"FCDC. It's cold and mean."

Best local venue:
"Black Cat. The staff there is really nice."

Best bar to hear music:
"Black Cat. The staff there is really nice."

Favorite local band other than your own:
"Aquarium is rad. For real."

Best thing about Washington's music scene:
"People coming to shows and not being afraid to get a little messy."

Worst thing about Washington's music scene:
"Promoters. They know what's going on."

Craziest tour memory:
"Me and Geo getting choked out (not at the same time) by some marine asshole in Virginia Beach before we played. That guy sucks."

Finish this sentence: "When not making music, you can find me . . ."
". . . drinking at Vinnie's pad, listening to the Nerves."

Rolling Stones or the Beatles?
"Stones."

Digital download or hard copy?
"I'm a vinyl guy. There is nothing better than the vibrating grooves of an LP or 45. The sound is warm and is never the same each time you play it. I still communicate with the Google at 56K, so downloads are not happening."

Rolling Stone or Spin or. . .?
"Spin does a pretty good job selling Matador Records. Horizontal Action was a great zine. They covered bands I cared about, like the Mummys, Lost Sounds, Clone Defects, and whatever trashy punk-rock sleezebags that put out seven-inch singles at that time."

Club show or festival?
"We can't do festivals. Darko burns easily."

The Points have an impressive live reputation. Is there anything special you do to get ready to perform?
"Beer."

You were the house band at Shaw's Fight Club skate park. What was that like?
"We still are. It closed for a while, and a lot of people still think it is closed. It always had a sense of danger and mystery. It's not like any other place in this country, and it's been a total blast being a part of it."

What's your lineup like these days? More specifically, what's a theremin?
"Currently we are a four-piece. Danny Darko is on bass, which we've never had before, and Chad Middleton of VCR is on organ. A theremin is a box with an antenna and this other metal bar thing that when you wave your hand around the antenna, it bends radio signals and you get this spacey, UFO-sounding noise. Or something. I don't really know—our theremin player couldn't get it to work most of the time. We experimented with theremin early, and it was a lot of fun, but we don't really write songs that need that treatment anymore."

When introducing your music to someone for the first time, what song do you play?
"Whatever is newest. From our latest record, I would say 'It's the End.' It's raw, broke-down rock and roll. It's mean yet a dirty-sounding pop song that's inviting and hard to get out of your head. We are constantly writing and getting ready for our next record, so we have a handful of new songs we are already playing live, and that's the stuff we are most proud of currently."

Favorite musician or band that sounds nothing like you?
"Blowfly, a.k.a. Clarence Reed. The inventor of the Miami sound. Original dirty rapper. Dude is like 70, still rapping about tits. That's pretty cool."