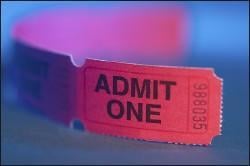 Robin Thicke and Jennifer Hudson have teamed up for a tour this year, and they've got two dates lined up for our area. The first show is at the Lyric Opera House in Baltimore on Saturday, April 4; tickets cost $47.50, $57.50, and $67.50. The following night, Thicke and Hudson will bring their show to DAR Constitution Hall; tickets cost $64 and $74. Tickets for both shows go on sale Friday, February 27, at 10 AM.
Music legends Elton John and Billy Joel will perform at Nationals Park on Saturday, July 11, as a part of their Face to Face tour. It's the first music concert at the new stadium since it opened last year. Tickets ($56.50 to $182) go on sale Saturday at 10 AM.
Kathy Griffin is one of the most successful D-list celebrities we know; the comedian and television star reportedly just landed a $2 million book deal. She'll bring her standup show to Merriweather Post Pavilion on Thursday, June 25. Tickets ($35 to $75) go on sale Friday at 10 AM, but you can purchase presale tickets until tonight at 10 using the password "dlist."
Tickets to the TV on the Radio show on Monday, June 8, at the 9:30 Club sold out quickly, and now another show has been scheduled for the following night. Tickets ($25) went on sale this morning.
Keane is touring in support of Perfect Symmetry, the English group's third album. Catch the band's live show, with opening acts Mat Kearney and Helio Sequence, at DAR Constitution Hall on Tuesday, May 19. Tickets ($44) go on sale Friday at 10 AM.
Leonard Cohen, who was recently inducted into the Rock and Roll Hall of Fame, will embark on his first US tour in 15 years. It includes a stop at Merriweather Post Pavilion on Monday, May 11. Tickets ($40 to $250) go on sale Friday at 10 AM.
The M3 Rock Festival will be held at the Merriweather Post Pavilion on Saturday, May 30. Two stages will be set up for performances by 16 bands, including Twisted Sister, Ratt, and Extreme. Tickets ($35 to $75) go on sale Saturday at 10 AM.
Country-music fans, start saving, because six of the most popular country stars will be performing on various Saturdays throughout the summer at Nissan Pavilion. Acts include (in order of their performances) Rodney Atkins on May 9, George Strait with Blake Shelton and Julianne Hough on June 13, Rascal Flatts with Darius Rucker on June 27, Brad Paisley with Dierks Bentley and Jimmy Wayne on July 25, Kenny Chesney with Miranda Lambert and Lady Antebellum on August 29, and Toby Keith with Trace Adkins on September 12. Live Nation is running a promotion where you can get tickets to all six shows for one price. Four packages are offered, the most inexpensive of which is the $170 Lawn Package—not a bad deal for six concerts. Ticket packages go on sale Saturday at 10 AM.
Indie rockers Band of Horses will perform at Rams Head in Baltimore on Friday, June 12. The Baltimore-based band Arboretum opens the show; tickets ($25) went on sale this morning.
The pop/punk band Sum 41 recently announced on its Web site that it's planning on taking a break from recording its new album by playing a few small club shows that will be cramped but fun. One of them is at Baltimore's Sonar on Saturday, May 2. Tickets ($12) go on sale Friday at 10 AM.
Kevin Rudolf just announced his Let It Rock tour, named after his hit single with rapper Lil Wayne. The final show on his tour is at Sonar on Friday, May 8. Tickets ($15) go on sale Friday at 10 AM.
More>> After Hours Blog | Arts & Events | Happy Hour Finder | Calendar of Events