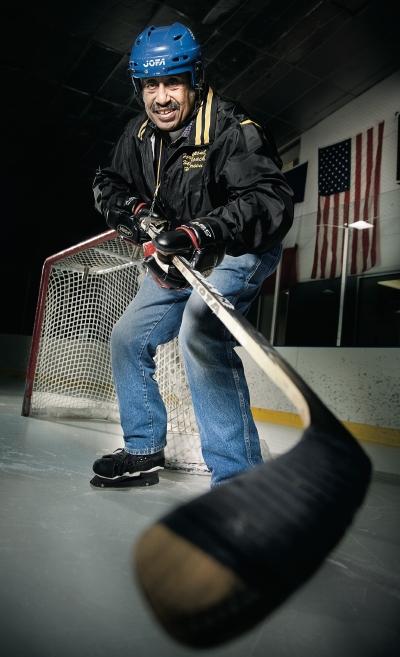 That many of his players' complexions resemble the puck more than the ice is irrelevant to Neal Henderson. During his 33 years at the helm of the Fort Dupont Ice Hockey Club, he's coached thousands of kids, some of whom have become doctors, teachers, and police officers. They're all, like Henderson, hopeless hockey addicts.
What started on the frozen driveway of his home in Springdale, Maryland, has evolved into one of the oldest clubs in the National Hockey League's Diversity Program. None of his players has made the NHL, but some have played in college. More important, he's changed kids' lives one slap shot at a time.
When did you start playing hockey?
I was born in St. Croix, and my dad was in the merchant marine. His port of call was Ontario, Canada. Palling around with the kids in the neighborhood, I learned to skate and play hockey.
What about the game captured you?
The game is intoxicating. You're doing about six things at one time. It takes dedication and determination.
What's the club's mission?
To make good citizens, to teach self-esteem and sportsmanship. Teaching kids how to have a feeling of responsibility, how to work as a team.
What won't you tolerate?
You must maintain a C average. Anything below, you sit with your hockey equipment on and do your schoolwork.
How are you moving around the ice these days?
Great. I'm 71 years old, but my mind is at 16. I'm still doing the things I did at 16, only a little slower.
What joy do you take from doing this?
Seeing the smiles on their faces, knowing they have accomplished something and that they believe in themselves.
Are there success stories you are particularly proud of?
We had one young man who went on to become captain of the Naval Academy team. One young man played for Clemson University, and he's a lawyer now. We don't have too many troubled kids; if they're troubled, they become untroubled with me.
This article first appeared in the March 2009 issue of The Washingtonian. For more articles from that issue, click here.