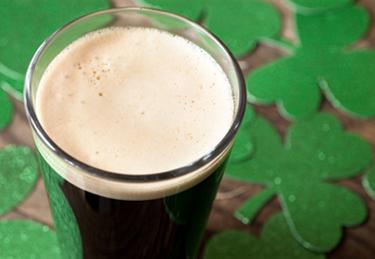 Related Links:
The luck of the Irish comes to Washington this St. Patrick's Day in the form of parades, Irish films, drinks, and more drinking. So what if it's a week night (Tuesday, March 17)? Here's your guide to some of Washington's shamrock-related events.
Fadó Irish Pub & Restaurant, March 13 through 17
Fadó is touting its festivities as "The Biggest St. Paddy's Day Party in DC," and it's hard to argue against that when its celebration spans multiple days. At noon on Friday, March 13, shave your head to raise money for St. Baldrick's Foundation, which is dedicated to finding a cure for children's cancers. Starting at 8:45 AM on Saturday, watch live rugby and soccer games, and from noon to 3 PM, eat brunch and listen to traditional Irish music. On Sunday, enjoy live music at 2:30 PM after DC's annual St. Patrick's Day parade, and on Monday at 8 PM, play Fadó's special St. Paddy's Day pub quiz. On the actual holiday, Irish food, pints, live music, and more will be on hand. That's still not all: Fadó is offering a chance to win a free five-day trip to Ireland. Check out the details on its Web site.
Ireland's Four Courts, March 13 through 17
This Arlington pub is hosting several St. Patrick's Day events, starting the Friday before the holiday. Food and drink specials will be available from 4 to 8 PM on March 13, with live music from Sanford Markley. On Saturday listen to music all day from William Decke and Sanford Markley, while on Sunday, enjoy a traditional Irish brunch featuring Shepherd's pie, corned beef and cabbage, Irish bangers, and rack of lamb. To make reservations for the brunch (recommended) call 703-525-3600. On Monday, an Irish-themed pub quiz starts at 7:30 PM, and on Tuesday, enjoy a traditional Irish lunch, from 10 to 2, then head outdoors to the heated tents and satellite bars for five music performances until midnight.
The Irish Inn at Glen Echo, March 15 through 18
It's not Ireland, but it's close, says this Glen Echo pub and restaurant. From 11 to 2:30 on Sunday, March 15, listen to folk guitarist Jim Turner and from 5:30 to 8, the Brooks Tegler Jazz Group. On St. Patrick's eve, catch some live music from 7 to 10, and on the day itself, enjoy the band the Irish Inn Mates, from 3 until closing. Lunch and dinner restaurant reservations are still open. The day after St. Patrick's Day, nurse your hangover by listening to Irish duets from Caolaidhe and Megan Davis.
The Dubliner, March 17
What better way to celebrate the holiday than with live Irish music and access to copious amounts of alcohol? Three bands will be on stage at this Irish pub, and all seven bars on the two floors will be open, although there won't be any drink specials. A St. Patrick's Day special food menu will be available. Expect dishes such as shepherd's pie and corned beef and cabbage.
Duffy's Irish Restaurant and Pub, March 17
Duffy's opens at noon on the big holiday, and the first 100 guests will get a free Guinness T-shirt. Between noon and 2, enjoy half-off Smithwick's Irish ale, and stick around all day for Irish dancers, pipers, and Irish-inspired mixes from the DJ. The full kitchen will not be open, but corned beef and roast-turkey sandwiches will be on hand. No credit cards or reservations will be accepted.
Ireland's Four Fields, March 17
Doors open at 10 AM, and live music starts at 10:30 and goes on all day. A $10 cover charge gets you an all-day pass.
Ireland's Four Provinces, March 17
"If you're lucky enough to be Irish, you're lucky enough" is the slogan for this year's St. Patrick's Day party at the Four Provinces. Well, if you're lucky enough to make it to this Falls Church pub, then you're very lucky. Doors will open at 8 AM for kegs and eggs, and the pub will be serving three-course lunches and dinners throughout the day. Specialties include homemade potato-leek soup, corned beef and cabbage, shepherd's pie, and a white- or milk-chocolate tulip cup filled with Bailey's Irish cream and fresh berries. Live music from the Dirty Pints, Don Cobert, and others will accompany each two-hour meal seating.
Irish Channel Restaurant & Pub, March 17
Drinks will be served outdoors in tents and on the patio for this pub's St. Paddy's day celebration. Enjoy live music all day, giveaways, and a special menu of Irish dishes, including chicken pot pie, corned beef and cabbage, and bacon-and-cabbage dishes. There is a $5 cover.

James Hoban's Irish Restaurant and Bar, March 17
Start the party early at this Dupont Circle establishment: Doors open at 8 AM, when guests can check out the outdoor tent and enjoy kegs and eggs while dancing to DJ mixes. After 11 AM, a menu will be available with Irish favorites such as fish and chips, bangers, and Irish stew. There will also be raffles and giveaways.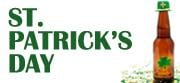 McGinty's Public House, March 17
Last year's party sold out, and the Silver Spring pub is hoping to recreate the magic this year for its third annual St. Patrick's Day party. Stop by for acoustic music, Irish dancing from 4:30 to 6 PM, traditional Irish music band Pete Moss and the Bog Band, and the 40 Thieves from 9 PM on. Beef-and-Guinness stew, fish and chips, and corned beef and cabbage will be offered as part of a special menu. Bonus: The pub promises to have its very own leprechaun.
Nanny O'Briens, March 17
Starting at 10 AM, there'll be live music at this neighborhood pub, voted Best Irish Bar by the Washington City Paper in 2008. There'll also be giveaways and prizes. There is a $10 cover.
The Old Brogue Irish Pub, March 17
Some folks make St. Patrick's Day at the Old Brogue an annual pilgrimage. The Great Falls Irish pub will have three separate rooms for its annual St. Paddy's party. The Snuggery Dining Room will provide an Irish breakfast ($25) from 8 to 11 AM with musician Jody Marshall, lunch ($30) from 11:45 AM to 1:45 PM and 2:15 to 4:15 with singer Sarah Croker, and dinner from 4:45 to 6:45 ($35) and 7:15 to 9:15 ($40), also with Sarah Croker. The pub and its patios will open at 10 AM with limited seating and live music all day, and the standing room-only party tent opens at 9 AM with an Irish Red Bull bar and limited food. Both the pub and the tent have a $10 cover.
Pat Troy's Ireland's Own, March 17
For a $10 cover, listen to live music (standing room only) at this Alexandria restaurant, and enjoy breakfast, lunch, and dinner in its heated outdoor tent. Breakfast is at 9 AM; lunch at 11 AM, 1 PM, and 3 PM; and dinner at 5, 7, and 9 PM. Contact the restaurant to make reservations: 703-549-4535.
UPDATE
Rock N Roll Hotel, March 17
This DC nightclub is hosting a "party 'til you puke" (hey, at least they're being honest) with drink specials and free swag all night. Specials include $3 PBRs. Doors open at 7 PM, and the event is free.
Rumors, March 17
Beat the clock and show up early to this St. Patrick's Day party hosted by Coors Light and Lindy Promotions. "Shamrocks & Shenanigans" begins at 3 PM with $1.17 Coors Light for the hour (prices increase throughout the night), food specials, a bagpiper, and, of course, DJs and dancing. Show off your Irish spirit for the best Irish garb and Irish jig contests. Cost is $5.