Related Links:
Great Irish Pubs
Where to Party for St. Patrick's
Half-Price Wine Nights
Great Sports Bars
Thursday, March 12: Haven't been yet to Punch Club at the Warehouse Theater? Tonight's your last chance before they stop this weekly series. It's a night of cocktails, and, well, punch, conjured up by bartender Dan Searing of the Looking Glass Lounge. Head over from 6 PM to 11 PM to get your fix.
Looking for love in all the wrong places? Looking for a liberal to date? Then the Arlington Young Democrats charity date auction tonight at the Clarendon Grill might be just the spot. $5 gets you a raffle ticket and the chance to bid on a the date of your Democratic dreams. The group's also asking that you bring an item of canned food. 7 PM.
We're not going to lie: We don't know much about band Airborne Toxic Event except they have that one really, really awesome song, "Somewhere Around Midnight." But sometimes, one really, really awesome song is all you need. They're playing the Black Cat tonight at 8 PM; $13.
Friday, March 13: Want to celebrate St. Paddy's a bit early? Don't mind starting your drinking, at, oh, Friday at 8 AM? Then head to DC 101's annual Kegs and Eggs party at the 9:30 Club. Bands Filter, Hoobastank and Carbon Leaf will be playing. Free admission; you must be 21.
Need to wind down from the work week—or start the weekend off right? Dino, a Cleveland Park Italian restaurant, serves up happy hour Sunday through Friday from 5:30 to 7 at its cozy little bar. The cocktails are 25 percent off, and there's free food—a modest spread of meats, bread, and veggies. The no-cell-phone rule and pricey drinks (most cocktails ring up at more than $10 before the discount) mean that the bar attracts an older crowd. Get more great happy hour deals here.
This weekend is the last you'll be able to check out Guantanamo Bay: Photographs by Christopher Sims at Civilian Arts Project. The exhibit shows you what daily life at the detention center really looks like—everything from officers' quarters to bars to prison cells to the McDonald's there. Civilian is open from noon until 6 PM.
Saturday, March 14: The luck of the Irish comes to Washington this St. Patrick's Day in the form of parades, Irish films, drinks, and more drinking. Though the real St. Patrick's day isn't till Tuesday, tons of St. Paddy parties are going on tonight. Check out our guide for the full scoop.
The Black Cat continues their excellent Second Saturday series, featuring local bands, with Travis Morrison Hellfighters and Poor But Sexy tonight on the backstage. Both groups feature members of the defunct Dismemberment Plan, so it could be like one big reunion. 8 PM, $10.
The Slow Food on Film festival brings two food-related films—Cows Are Nice from Sweden and Mr. Bené Goes to Italy from Brazil—to the Phillips Collection. The screenings, which begin at 1, are free with museum admission.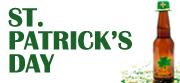 Sunday, March 15: Gearing up for some March Madness? Make sure to check out our list of some great sports bars in the area so you know where to watch.
If you don't love the song "American Boy," you have no soul. So say we. So you'll want to be sure to check out British chanteuse Estelle, who's back in the states for a gig at the 9:30 Club tonight. There are still tickets available, though we wouldn't be surprised if it sold out.
The DC Craft Bartenders Guild is certainly making a name for itself as the popularity of sophisticated craft cocktails grows in Washington (just see our Buzzed videos of bartenders). But tonight the Guild is throwing a, let's say, slightly more immature party than what they usually get up to. It's "Billy's Parents' House," a party that aims to harken back to the house parties of our high school days. The bartenders will be serving up homemade wine coolers, a "special" tequila shot, and more. 7 PM at the Warehouse; cover is free, and it's a cash bar.
The National Portrait Gallery is celebrating Lincoln's birthday with a performance by the Choral Arts Society and individual piano and solo recital by composer Alan Mandel and soprano Janice Chandler Eteme. The performance takes place in the McEvoy Auditorium at 4.to.