Clothes
An American in Paris
Try not to be put off by the crammed-to-the-rafters interior or by owner Joelle Solimano's insistence that customers not touch the sophisticated dresses, separates, and accessories (handling only the hangers keeps the well-edited inventory in pristine condition, she says). Ask for help with trying on and coordinating ensembles from such popular designers as Tibi, Black Halo, and David Meister.
1225 King St.; 703-519-8234.
Bloomers
When Bellacara, the beauty and skincare store across the street, outgrew this space, owners Kim Putens and Angela Sitilides decided to fill the small shop with underwear, loungewear, and sleepwear by Hanky Panky, Mary Green, Splendid, and Commando. Don't expect to find sexy lingerie here. Bloomers is filled with practical, comfortable sleepwear that is modest enough to wear in front of the kids.
924 King St.; 571-312-0852.
Hysteria
This gem of a boutique is a favorite among fashion-forward moms. But you don't have to own a Baby Bjorn to appreciate the collection of dresses, skirts, and tops—Milly, Diane von Furstenburg, and Tory Burch are bestsellers—and the small selection of moderately priced jewelry, handbags, and leather goods.
125 S. Fairfax St.; 703-548-1615; shophysteria.com.
Periwinkle
"Casual" and "fun" are the two words most often used to describe this charming boutique that also scores big points for its bubbly customer service. There's something for every woman here: sparkly party dresses by Nanette Lepore and Shoshanna, not-too-conservative suits and work gear by Trina Turk, and funky skirts and tops by Yoana Baraschi. The online boutique is well stocked and user-friendly.
1557 Potomac Greens Dr.; 703-519-5242; periwinkleshop.com.
Treat
Most items in this New York–style sample-sale boutique are sold at a discount of at least 50 percent. Turnover is brisk, so regulars visit the pretty rowhouse store often to stock up on such designer labels as 3.1 Phillip Lim, Abaeté, and Edward An. The one downside: Treat is open only on weekends.
114 S. Royal St.; 703-535-3294; shoptreat.com.
Shoes
The Shoe Hive
The merchandise that adorns the shelves of this small, quirky shop is heavy on swank yet short on unwelcome swagger. Shoe Hive stocks inexpensive brands (Sam Edelman, Seychelles) next to pricier ones (Diane von Furstenberg, Bettye Muller) and carries a good selection of fashionable sneakers (Gola), flats (Tory Burch), and heels (Cynthia Vincent).
115 S. Royal St.; 703-548-7105; theshoehive.com.
Beauty
Bellacara
All manner of great-smelling lotions, potions, and A-list makeup brands fill this elegant beauty shop, which feels less like the mega-chain Sephora and more like a fantasy version of your own bathroom. Kiehl's, Fresh, Bliss, and Paula Dorf—they're all here, as are such up-and-coming brands as Julie Hewett and Child.
1000 King St.; 703-299-9652; bellacara.com.
Maternity
Apple Seed Maternity & Baby Boutique
Fashionable moms-to-be will recognize the hot brands carried in Alexandria's only boutique for upscale maternity wear and baby clothing. The shop features stylish denim (Citizens of Humanity), well-made T-shirts (Michael Stars and Splendid), and better-than-average everyday wear (Olian, Japanese Weekend, and Ripe). Owners Dina Igoe and Elleni Vorvis also carry an extensive collection of transitional and nursing clothing, cute diaper bags, layette sets, and clothing for kids up to 24 months.
115 S. Columbus St.; 703-535-5446; appleseedboutique.com.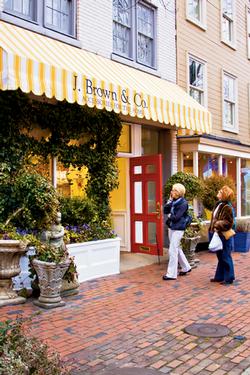 Home
Chinoiserie
This unique King Street store is a go-to spot for those who appreciate contemporary design and decor with an Asian twist. The narrow rowhouse reflects owner Peter Zia's vision of home goods and clothing for modern life. Look for hip stationery, funky women's clothing by hard-to-find designers, glossy coffee-table books about design and fashion, high-end Scandinavian dishware, and glassware.
1024 King St.; 703-838-0520.
J. Brown & Co.
These two colorful stores are three doors apart, but they have the same cheerful spirit. Amanda Brown, daughter of owner John Brown, will happily point out the shops' highlights: high-end furniture, handpainted pottery, and enamelware by MacKenzie-Childs; collectible fairy dolls from Mark Roberts; pewter-edged china by Arte Italica; and handblown glass by Juliska. Don't miss the garden in the rear of the original store.
1119 and 1125 King St.; 703-548-9010.
Red Barn Mercantile
Owner Amy Rutherford has sought out mostly American-made goods to fill her store since it opened in September 2007. Antique tables and benches found at flea markets are mixed in with Dash & Albert rugs, Cisco Brothers upholstered sofas and chairs, and Pamela Kline bedding. Unique gifts and a stellar children's-decor section are highlights.
113 S. Columbus St.; 703-838-0355; redbarnmercantile.com.
Food and Wine
Grape + Bean
This year-old rustic coffeehouse/wine bar/cheese store has garnered an almost cultlike following. Fresh bread from nearby Restaurant Eve is sold at the counter, as is a large variety of gourmet nuts, olives, chocolates, artisanal cheeses, and top-shelf charcuterie. Nearly 200 types of wine are sold; tastings are available at the wine bar, which is open from 4 to 9 pm Wednesday through Saturday.
118 S. Royal St.; 703-664-0214; grapeandbean.com.