Monica Bhide learned to cook from her Indian parents and grandmothers while growing up in Bahrain. This month, the Northern Virginia writer releases her third Indian cookbook, Modern Spice: Inspired Indian Flavors for the Contemporary Kitchen. In it, she takes an innovative approach to a cuisine often thought of as laborious and inaccessible.
Bhide relies on traditional Indian flavors to create 123 time-efficient recipes—everything from a guava bellini to a paneer-and-fig pizza to saffron-cardamom macaroons. She sat down to answer questions about Washington's Indian-food scene.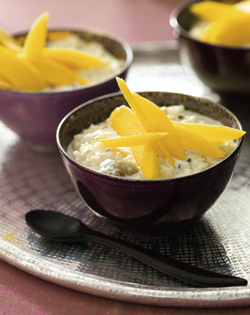 Why do you think there's more interest in Indian food, cooking, and restaurants?
Better restaurants are opening up with delicious dishes from all over India, and they also have modern interpretations of dishes. And Americans are becoming more globally aware.
What foods do you crave from growing up in Bahrain?
I miss the hummus and the khubz, a lovely baked bread. Right next to our house, there was a man who owned a bread oven and sold khubz every afternoon. I loved eating it with fresh hummus and a cold can of Coke.
What's your ultimate comfort food?
Rice pudding.
Where do you buy ingredients and spices in Washington?
I buy everything I need at Aditi Spice Depot [409 Maple Ave. E., Vienna, 703-938-3400; 600 Carlisle Dr., Herndon, 703-464-1100], but Whole Foods also has a great selection of spices.
Your favorite dish from a Washington restaurant that represents the Modern Spice style of cooking?
I would say the palak chaat—crispy spinach, sweet yogurt, tamarind, and date chutney—at Rasika. Or the tamarind margarita at Indique Heights, which is featured in the book.
While you were testing recipes, were there any kitchen disasters?
I learned that there is such a thing as too much vodka in a granita!
This interview appeared in the April, 2009 issue of the Washingtonian.
More>> Best Bites Blog | Food & Dining | Restaurant Finder