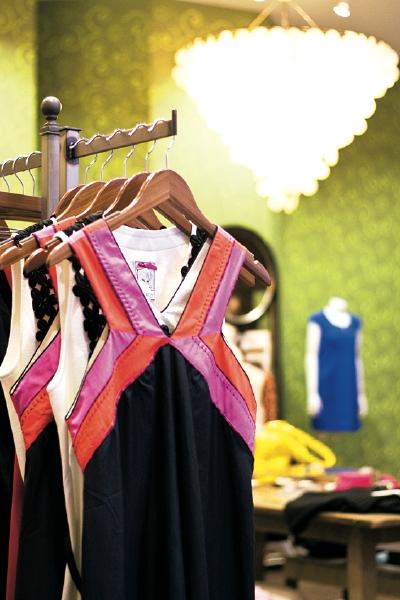 Since moving into the White House, Michelle Obama is settling nicely into her role as First Lady and fashion icon. While there have been a few small sartorial hiccups—the Mamie Eisenhower–esque National Prayer Service dress—everything Obama wears is now sliced, diced, and mostly praised. Whereas other First Ladies have come across as conservative (Barbara Bush and Laura Bush), ferociously practical (Rosalynn Carter), or merely unfocused (Hillary Clinton), Obama has shown a willingness to take fashion risks by wearing bold patterns, interesting colors, and sleeveless . . . well, everything. She also appears to be intensely loyal to her style guru, Chicago-based Ikram Goldman, owner of the chic Chicago boutique Ikram, where Obama has bought clothing by new designers such as Narciso Rodriguez, Jason Wu, and Thakoon Panichgul.
But now that the Obamas call 1600 Pennsylvania Avenue home, where could the First Lady shop locally? Here are area boutiques that cater to women—like Obama and White House staffers Valerie Jarrett, Desiree Rogers, and Mona Sutphen—who want to stand out from the Ann Taylor–clad masses:
● Relish (3312 Cady's Alley, NW; 202-333-5343). The owner of this Georgetown boutique, Nancy Pearlstein, is as worthy a Washington stand-in for Ikram Goldman as anyone. Her expert eye for choosing just the right pieces from edgy European designers such as Marni, Dries Van Noten, and Brunello Cucinelli could work for Michelle's "mom-in-chief" lifestyle and her tall, toned physique. Perfect for when she needs a dramatic, paparazzi-ready dress for Kennedy Center events.
● Muléh (1831 14th St., NW; 202-667-3440). This upscale shop is equal parts furniture store, art-installation space, and clothing emporium. It caters to the sort of stylish, hip 14th Street crowd that goes for funky yet feminine clothing (3.1 by Phillip Lim, Rozae Nichols, Ports 1961) from emerging designers. Perfect for when Michelle needs a trendy tunic and cigarette pants for a weekend at Camp David.
● Ginger (7114 Bethesda La., Bethesda; 301-664-9242). A new favorite of forward-thinking lawyer types who appreciate the store's friendly staff and inventory of fashion and accessory designers including Trelise Cooper, Yoana Baraschi, and Suzanne Somersall. Perfect for when Michelle needs a flattering skirt suit for ribbon-cutting ceremonies or staff meetings.
● Hu's Wear (2906 M St., NW; 202-342-2020). A new Georgetown boutique from the duo who own Hu's Shoes, this shop carries tailored jackets and pants by Devi Kroell, trendy separates by Veronique Branquinho, and bold accessories by Alexander McQueen. Perfect for when Michelle needs a pulled-together ensemble for weekly networking cocktail parties at the White House.
● Saks Jandel (5510 Wisconsin Ave., Chevy Chase; 301-652-2250). Still the fashion mecca for Washington's ladies-who-lunch set, this is the boutique for diplomats' wives, career women, and socialites who can afford a bit of luxury-brand retail therapy from designers such as Valentino, Yves Saint Laurent, J. Mendel, and Akris. Perfect for when Michelle needs to show French First Lady Carla Bruni-Sarkozy how it's done at a state dinner.
Where do you think the First Lady should shop? Let us know in the comments below!
This article first appeared in the May 2009 issue of The Washingtonian. For more articles from that issue, click here.
More>> Shop Around Blog | Style | Find a Spa