Paula Mendoza, 31
Jewelry designer
What she's wearing:
Vintage dress from Paris ("The price was 12 euros—I can't believe it!"), blue leather belt from a neighbor's yard sale, Miu Miu nude patent flats, a crocodile bag and jewelry from her own line.
Tell me about your style.
"Super eclectic. I wear everything from everywhere, and I like to mix everything. My friends say that I'm like a princess all the time—very cute like a doll. I like the hippie style, but it depends on my mood. I don't spend hours in front of the closet worrying what to wear."
You just came back from Paris and Brussels. What did you wear on the plane?
"I think if you're going to travel a long distance, you have to be comfortable, but at the same time you can be cool. You don't have to wear sneakers or something. On the way to Brussels, I wore skinny jeans with flats like these and a tank top, a blazer, and a big necklace. Very comfortable. On the way back, I wore something like that but with a long cardigan. And I always have socks in my bag because it's very cold on the plane."
Where do you shop in Washington?
"I love Muléh not just because I sell my jewelry there, but they also have amazing things. I like Terra. Sometimes I go to Banana Republic for something particular. I like the vintage in Georgetown, such as Annie Creamcheese—I love that place. I get a little bit bored at the big stores. I prefer cute, little stores where you can find cute things that are very unique and not that expensive."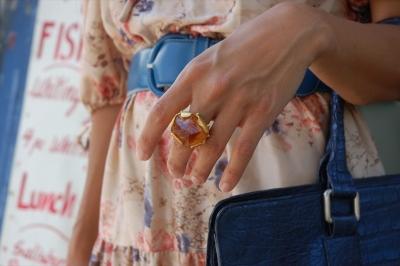 So you were just in Paris showing your new collection. Tell us about it.
"The name of the collection is Cave of Wonders. I took the inspiration from a cave in Vietnam in Halong Bay. The caverns there were magnificent. It's one of those places you go that you're never going to forget. I went there in January, and when I saw it, I knew it'd be my collection."

Rachel says:
Paula's look is proof that certain formulas always work: flowy, feminine dresses in the summertime; neutral, flesh-tone shoes for elongating; and going bigger and bolder with accessories. And a woman's shoulders, no matter her size, are a beautiful area to display. We've seen Paula looking fashionable around town before, so it was no surprise to run into her on a weekday looking as everyday-pretty as this. And to say that we're a fan of her gorgeous jewelry is an understatement. In Washington, we pine for it at retailers including Keith Lipert, Saks Jandel, Muléh, and Tabandeh in Mazza Gallerie.

Earlier:
Sidewalk Style: Flowy and Feminine
Video Sidewalk Style: Rainbow Bright
All Sidewalk Styles
More>> Shop Around Blog | Style | Find a Spa