See more from the Best of Washington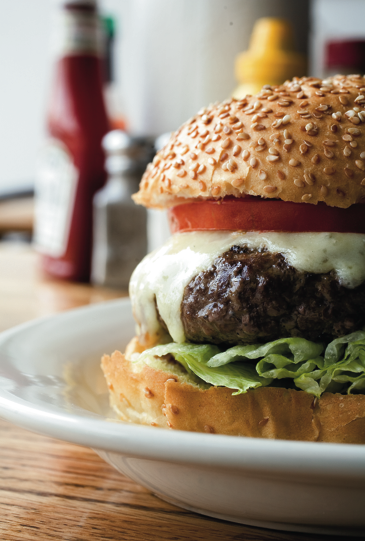 Eight Great Burgers
Best classic cheeseburger: The only fussy thing about the cheddar burger at Westend Bistro is the $16 price (without fries!). Otherwise, it's a delicious workaday sandwich—chef Eric Ripert was inspired by the Big Mac—with shredded lettuce, tomato, ketchup, mustard, and pickles in perfect proportion.
Best gourmet burgers: Frank Ruta's truffle cheeseburger on a freshly baked bun with house-made mayo is one of the biggest draws at Palena Cafe and the area's best luxe take on fast food. It hasn't been nudged off that throne, but the truffled patty melt at Inox, slathered with Comte and Cantal cheeses, rises to burger royalty, too.
Most creative burgers: The trimmings from the high-quality meats at Ray's the Steaks are put to good use at sister spot Ray's Hell-Burger. With its array of cheeses and toppings, you can go as crazy (foie gras, bordelaise sauce) or stay as tame (cheddar, tomato) as you want and usually end up with something delicious. After lots of experimenting, our favorite is an au poivre patty with blue cheese, grilled onions, and sherry-sautéed mushrooms.
Best turkey burger: Turkey burgers tend to be dry, but the avocado-topped free-range version grilled up at Good Stuff Eatery is full of juicy savor. The secret? A dollop of mango chutney in the patty.
Best lamb burger: Lamb is the ground meat of the moment, and though it'll probably disappear from menus as fast as you can say "ostrich burger," Citronelle chef Michel Richard turns it into a classic at his four-star restaurant's more casual lounge.The juicy, cumin-scented patty is accented with tomato confit, jalapeño, rich house-made mayo, and—in true Citronelle fashion—a $28 price tag.
Best bison burger: Brunch at Cashion's Eat Place has a loyal following, and so does the bison burger, finished with a runny egg, on the Sunday menu. Equally hard to resist: the breakfast potatoes with béarnaise that come on the side.
Best creative sliders: The lobster burger at BGR the Burger Joint lies somewhere between a lobster roll and a set of mini-burgers. A generous piling of fresh lobster, stuffed into three slider-size potato rolls, is lightly bound with honey-mustard mayo, then garnished with crisp lettuce. New England–bred traditionalists might be skeptical—until they take a bite.
Fabulous Fries
Splurge: The fries at Bourbon Steak—skinny-cut, sizzled in duck fat, and sprinkled with seasonings such as truffle oil or fresh thyme—have one downside. Given gratis to each table, they're so tasty that it's tough to keep from eating them until you're too full for that $145 Wagyu steak. If you're not having dinner, you can order the fries in a trio of flavors at the bar for $8.
Steal: Whether you go for classic salt or Cajun seasoning, the Idaho potato fries served in a paper bag ($2.85 for regular size, $5.49 for large) at Five Guys put other fast-food offerings to shame. At BGR the Burger Joint, the double-fried sweet-potato spears ($3.49) are winners.
This appeared as part of The Washingtonian's July 2009 Best of Washington issue, on stands now.
Related:
Best of Washington: Readers' Picks
More>> Best Bites Blog | Food & Dining | Restaurant Finder
Follow the Best Bites Bloggers on Twitter at twitter.com/bestbitesblog