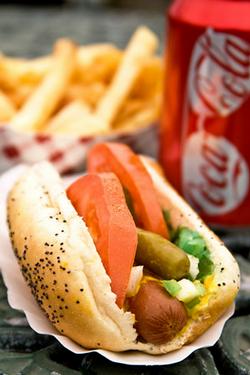 One of the last places you'd expect to find authentic Chicago-style hot dogs is the parking lot of an Ashburn nursery.
But that's where Chicago native Angel Miranda has set up shop, dispensing his hometown's street foods from a white truck emblazoned with the words windy city red hots. Besides hot dogs, which he tops with sport peppers, tomatoes, an iridescent green relish, celery salt, and other condiments, Miranda sells Polish sausages, Italian beef sandwiches with a chunky giardiniera, and pizza puffs. All ingredients are flown in from Chicago, which means the meat comes from Vienna Beef and the buns are studded with poppy seeds.
Miranda, who moved to Northern Virginia in 1998, says the idea was born of homesickness. Might another exiled Chicagoan pay the truck a visit? We wouldn't bet against it. The dogs are as close as you can get to the real thing without hopping a plane.
Windy City Red Hots, in the Blue Mount Nursery parking lot, 19413 Smith Cir., Ashburn; 703-505-6934. Open Tuesday through Saturday 11 to 5, Sunday noon to 4.
Follow the Best Bites Bloggers on Twitter at twitter.com/bestbitesblog
More>> Best Bites Blog | Food & Dining | Restaurant Finder