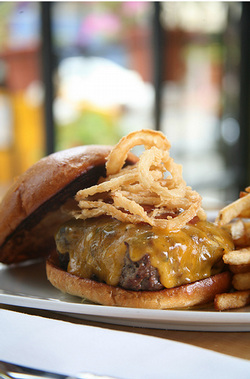 Whither the power lunch and client dinner? Determined to lure diners despite the economy, high-profile restaurants have come up with stimulus packages. Some of our favorites:
• Dino offers its menu della sera—three courses for $25, including Venetian-style meatballs, a variety of pastas, and gelato or panna cotta—Sunday through Thursday if you place your order by 7. Sunday and Monday, bottles of wine that are more than $50 are a third off.
• Every day, Lia's presents an early-bird special: From 4 to 6:30, diners can get three courses for $19.95. All day on Sunday, wines by the bottle are half price.
• At Mio, you can dig into a pizza, a plate of mixed greens, and a sorbet for $15—as long as you're among the first 20 orders at lunchtime.
• Poste and Vidalia have put together affordable three-course lunches—$20.09 at Poste, $19.90 at Vidalia—that sacrifice none of the imagination and savor of the dishes on their regular menus.
• The "lunch crush" in the bar and lounge at Proof offers a choice of six entrées—including chef Haidar Karoum's crisp shrimp burger—with a glass of wine for $12.
• Weekdays at Redwood (7121 Bethesda La., Bethesda; 301-656-5515), a two-course lunch is $15. Entrées include a Tasmanian-salmon skillet and fresh linguine with vegetables, local chèvre, and pesto.
• At 2941 Restaurant, Bertrand Chemel's rustic but refined French cooking is available in a three-course menu at the bar for $30.
• Vermilion has a three-pronged lunch program—CEO ($19), Junior VP ($15), and Intern ($11)—that offers three ways to sample Anthony Chittum's rooted, unfussy cooking. Add dessert or a glass of wine for $5 more.
• The $13.95 lunch special, an entrée from the expanded menu plus a glass of wine, at Teatro Goldoni's bar remains one of the best deals in town.
This appeared in the July, 2009 issue of The Washingtonian.
More>> Best Bites Blog | Food & Dining | Restaurant Finder
Follow the Best Bites Bloggers on Twitter at twitter.com/bestbitesblog