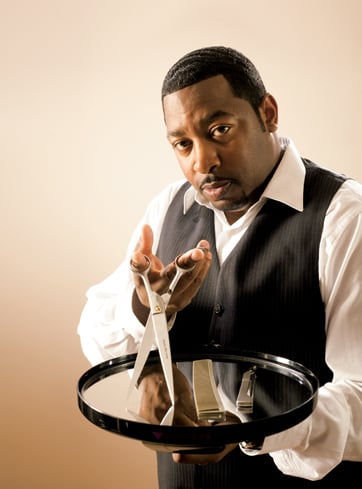 Marvin Church is showing me his thumbnail. It's a little more than an inch long—not what you'd expect on a man offering grooming advice.
But like everything in his barbershop, the fingernail serves a purpose.
Rubbing his hand along the razor's handle, Church demonstrates how he locks his nail into one of the grooves. "This way I can feel every single hair that I cut," he explains.
The 37-year-old from Maryland's Eastern Shore has been working with hair since age nine.
"I'd mess up my own cut on purpose," Church says, "and then spend hours in the mirror trying to fix it."
His friends call him Marv the Barb. Celebrities from DC to LA call him when they want to look their best. His work has appeared in Ebony magazine, and he's styled Jay-Z, Blair Underwood, Brad Pitt, and Stevie Wonder.
Church understands that a true barber is hard to come by. His mastery of both scissors and razors sets him apart. So does his wardrobe: He dresses in sharp suits and shined shoes.
He splits his time between Patrick Segui Coiffure in downtown DC and the Art of Shaving in Union Station, where crowds have been known to peer in through the store's glass window to watch him cut hair.
Says Church: "Everyone who sits in my chair becomes my star."
An appointment is a lesson as well as a service. He advises customers not to be afraid to "get ugly" while shaving, because sometimes it's necessary to distort your face to get your desired result.
"When I shave someone," Church says, "everyone just wants to feel his face afterwards. It's so smooth. And if you look like someone important, you're going to act like someone important."
This article first appeared in the August 2009 issue of The Washingtonian. For more articles from that issue, click here.