Back to School Guide
→ Greening Your Back-to-School Shopping List

→ Back to School 2.0: Gadgets for Students

→ Great First Day Clothes for Girls

→ Great First Day Clothes for Boys

→ Spicing Up Brown Bag Lunches

→ Getting In To Top CollegesNo matter what grade she's headed to, a stellar outfit is as necessary as notebooks and pencils when a girl goes back to school. Understanding the need to be noticed when she walks into a room, we found pieces that pick up on trends without losing the parental seal of approval. Look below to find classic plaid for every age group, suggestions that won't go out of style anytime soon, and fashionable compromises that will satisfy parents, teachers, and students.
Elementary School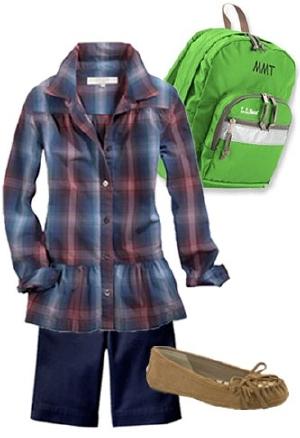 The plaid: Bright Plaid Ruffle Shirt, $34.50, American Eagle
The rest:
• Blue Stretch Twill Uniform Shorts, $14.50, Old Navy
• Jessica Simpson Vanessa Moccasin, $45, Stride Rite
• Lime Junior Original Book Pack, $22.95, L.L. Bean
Dress-code imposed outfit restrictions don't mean she has to sacrifice showcasing her bright personality on the first day of school. The navy chino Bermuda shorts will pass regulation length tests and can be worn in as many different ways as her favorite jeans. Roll up the sleeves of the collegiate-inspired tunic/button-down hybrid for a hot first day, and then pair it with leggings, boots, and a scarf when the weather gets colder—the pattern's many colors ensure that it'll coordinate well with multiple bottoms. A cute pair of fringed moccasins amplify the hippy-meets-preppy effect. And the impossible-to-miss lime of this L.L. Bean backpack—a top pick among both parents and students for its multiple pockets and padded straps—will help her stand out among her peers.
>> Next page: Middle school fashion
Middle School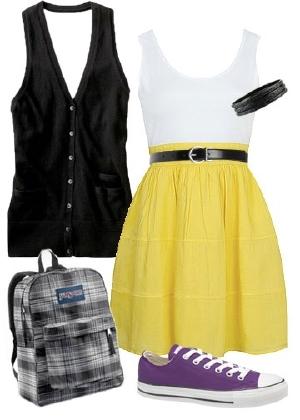 The plaid: Pizazz Plaid Superbreak Backpack, $29.99, Jansport
The rest:
• Black Jack Button Front Sweater Vest, $24.50, Old Navy
• Tiered Colorblock Tank Dress, $22.80, Forever 21
• Chuck Taylor Purple Passion All Star Specialty Converse, $45, Converse
• Charter Club Signature Reversible Belt, $32, Macy's
• Glittered Black Bangle Set, $3.80, Forever 21
With the right accessories, even a cheery yellow sundress can turn punk rock. Here, we extended the life of a big summer trend—color-blocking—by piling on black accent pieces that will help her channel her favorite rockers without going overboard. Emo-girl jelly bracelets are replaced with dressy bangles, a sweater vest—worn unbuttoned—smartens her up and covers her shoulders, and the whole ensemble gets a kick from punchy purple sneakers. The backpack's classic black-and-white color combo is versatile: It can turn punk with patches and pins or go preppy when she feels like experimenting with new identities.>> Next page: High school fashion
High School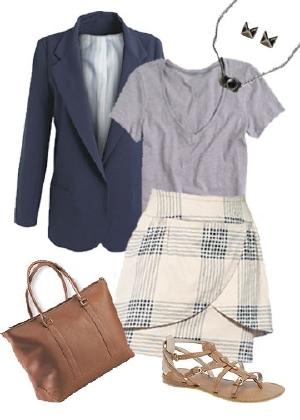 The plaid: Tulip Overlay skirt, $26.00, Tulle4us.com
The rest:
• Navy Alexandria Boyfriend Blazer, $69.50, Delia's
• Ashes Grey Goldie Slub V-neck, $16.50, Delia's
• Cognac Citrone Gladiator Sandal, $40, Aldo
• Cordovan Leather Town & Field Tote, $129, L.L. Bean
• Mixed-Metal Camera Necklace, $28, Urban Outfitters
• Metal Pyramid Stud Earrings, $12, Urban Outfitters
Budding fashionistas can embrace multiple fads while staying age- and school-appropriate in this cheeky mix-up of grays, navys, and neutrals. The relaxed fit of the boyfriend blazer, a solid investment for fall, lends a casual edge to an otherwise formal piece; plus, the extra coverage will extend the life of her summer dresses. Arty details, such as the tulip overlay of the Tulle mini-skirt, camera pendant, and gladiator sandals, keep the ensemble from looking like a school uniform. And we simply cannot say enough good things about the Town & Field tote. Nothing says "grown-up" quite like ditching the backpack for a roomy shoulder bag, and the sturdy material and make of this classic tote will carry her books well through college and her first internship. To personalize it without ruining the leather, tie favorite keychains, fabric strips, or scarves to the brass handle attachments.