>> See the full Best of Annapolis package here.
Aromi d'Italia
The pastry case at this small local Italian bakery is appealing, but it's the gelato, with its liqueur-like intensity and lush texture, that makes this a good stop. I skip dessert at most Annapolis restaurants to indulge here in a cup of the stracciatella, a tangy, creamy chocolate chip, and stroll the boardwalk along the harbor looking at the boats.
8 Dock St.; 410-263-1300; aromiditaliacafe.com.
Bagels and . . .
Other places might make a good sandwich. Or offer a more extensive selection of cream cheeses, spreads, and meats. Or conjure a more authentic deli atmosphere. But no one in the Washington area bakes a better bagel. These are light and never underbaked or doughy. I like the bialys even more, though they sell out quickly. Order them lightly toasted with a smear of cream cheese and a few slices of the lustrous belly or nova lox or with a portion of the excellent whitefish.
2019 West St.; 410-224-8686.
Cantler's Riverside Inn
This is the granddaddy of the area's crab houses—and not just because of the idyllic setting. Show up for an early weeknight dinner and you have a good chance of getting a table on the patio outside, with its view of Mill Creek and all of the boaters who drop anchor and walk up to dinner. But the big draw is the crabs, which the kitchen knows not to oversteam (you hardly have to work to extract meat) and which arrive perfectly seasoned. Don't ignore the soft-shells, which typically are dredged locally; the kitchen dusts them with flour and gives them a quick pan fry. At two for $24.99, with fries and coleslaw, they're a delicious bargain.
458 Forest Beach Rd.; 410-757-1311; cantlers.com.
Hell Point Seafood
Bob Kinkead's new venture, which opened this summer in the old Phillips Seafood space, is being dubbed "Kinkead Lite"—a catchy moniker for a streamlined version of Kinkead's, his longstanding seafood emporium in DC's Foggy Bottom. Service can be comically inept (on one visit, I waited ten minutes to be greeted; on another, a bread basket arrived after I'd ordered dessert), and a number of dishes lack the precision or oomph of the classic Kinkead's preparations. Hell Point is a work in progress, and I expect more fine tuning from the veteran chef, a stickler for detail. Nevertheless, it ranks as one of the better Annapolis restaurants, if only because its highs are higher than most. The lobster roll is nearly as good as the version at Kinkead's flagship, the soft-shells are light and delicate, and the peach tarte Tatin summons a Paris bistro.
12 Dock St.; 410-990-9888.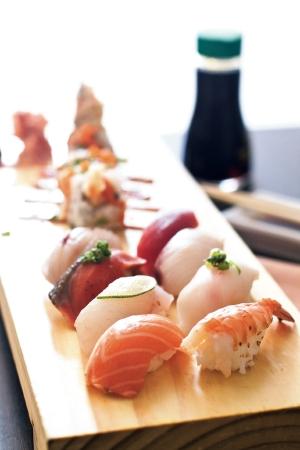 Joss
It would be hard to find a sushi bar with more personality than this one, a cramped and clamorous space where the chefs shout a welcome of "Irasshai!" when you walk in. Joss has more going for it than personality, starting with consistently fresh fish, which is fashioned into a staggering array of rolls, salads, and entrées. The better offerings are often the simplest, such as a dish of scallops, sliced thin, spritzed with lemon, and festooned with seaweed.
195 Main St.; 410-263-4688.
Les Folies Brasserie
Can you find better French food in the area? Yes. But you don't come to this French brasserie—tucked away on Riva Road just off Route 50—for gastronomic revelation. You come for the rococo charm and the ice-topped, seaweed-strewn seafood towers—including raw clams, langoustines, and periwinkles—which recall the extravaganzas at legendary La Coupole in Paris. Traditionalists will be heartened by the presence on the menu of coq au vin and bouillabaisse, two labor-intensive dishes that have fallen out of favor with younger chefs who have turned away from the classics. They're not definitive preparations, but they, too, have their charms.
2552 Riva Rd.; 410-573-0970; lesfoliesbrasserie.com.
Lewnes' Steakhouse
Many steakhouses are corporate affairs—big spaces without quirks or personal touches. Then there's this scruffy, low-key neighborhood restaurant across the bridge in Annapolis's Eastport neighborhood. Lewnes' amounts to a trip back in time, from the black-and-white photos that adorn the walls and the salty characters who populate the downstairs bar to the family-room-style space upstairs and the homey, gracious service. When the kitchen is on, the wet-aged steaks—thrust under a broiler at 1,800 degrees until they form a crust, then dolloped with a finishing touch of butter—are every bit as good as those found at more celebrated meat palaces.
401 Fourth St.; 410-263-1617; lewnessteakhouse.com.
O'Learys Seafood Restaurant
Fine dining in a lot of waterfront towns too often amounts to mediocre but expensive seafood dinners at going-through-the-motions restaurants that trade on their location. O'Learys avoids that trap. Yes, the food approaches overrichness at times (butter and cream sometimes fight to upstage the stars), and the high tabs may leave you wondering why you didn't eat at one of the area's more celebrated restaurants. But you're not going to find a more charming, more conscientious fine-dining spot in Annapolis. The kitchen shops well for its fish and seafood, and the preparations are generally smart and not too cluttered.
310 Third St.; 410-263-0884; olearysseafood.com.
Potato Valley Cafe
Whenever I recommend this tiny, daytime-only cafe to people, they invariably ask: "All they serve is potatoes?" And then: "Come on, how good can the potatoes be?" How good? I would drive out of my way for one of these perfectly roasted Idaho spuds. The crispy skin peels away from the insides, which are soft, buttery, and mineraly—the potatoes of your dreams. Some of the dozens of topping combinations are more creative than others, but a simple potato topped with sour cream and sprinkled with chives is bliss.
47 State Cir.; 410-267-0902; potatovalley.net.
Punk's Backyard Grill
There's a scene in The World According to Garp when Robin Williams, watching a small plane crash into a house he's considering buying, turns to the real-estate agent and says: "We'll take the house—it's been pre-disastered." The outdoor-themed Punk's, located outside Annapolis Mall, has been pre-chained. Everything about the place, from the umbrella-topped plastic tables to the fast-casual menu, seems to have been contrived for quick, mass replication. But that's not to say Punk's isn't worth it. The burgers are made with Vande Rose Farms beef and come on a fresh brioche bun, the ice cream is from Gifford's, and the Tempranillo-based sangría is made fresh daily. Organic and local seldom come cheaper.
2188 Annapolis Mall; 410-571-7744; punksbackyardgrill.com.
The Rockfish
This newfangled fishhouse gets a lot of things right, beginning with its space, a cool room full of clean lines. The best dishes on the menu hew to the same less-is-more aesthetic, such as the Thai-style wings, a platter of oysters with mignonette, and the simply grilled fish of the day with lemon and herbs. The more ingredient-intensive plates are iffier. They also tend to be main courses. Solution: Build a meal around appetizers and spring for a well-priced bottle of wine from a surprisingly good, if small, list that includes a snappy Pinot Gris from Oregon's Adelsheim Vineyard.
400 Sixth St.; 410-267-1800; rockfishmd.com.
Squisito
At the height of the afternoon lunch rush, you can smell the garlic from outside—for some, an inducement even stronger than the bargain prices. This is a simple Italian diner, the kind that dots the landscape in Philly and New York City but that you seldom find in Washington, where the best Italian restaurants are elegant affairs. The pizza makes no big claims for itself, but it's more rewarding and consistent than many places that trumpet their sourcing. It's particularly good by the slice, when it's put back into the oven until the crust becomes nice and crispy. Subs and calzones are good, too.
1007-A Bay Ridge Ave., 410-990-9800; 2625 Riva Rd., 410-266-1474; squisitopizzaandpasta.com.