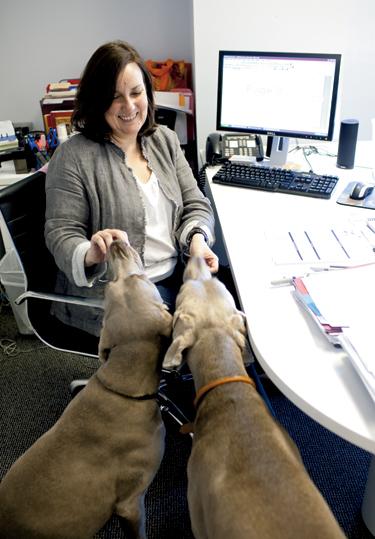 Weimaraner puppies fill Joan Carrese's office computer screen. "These are my grandchildren," she says. Glancing over at Tru, the 90-pound show dog sitting next to her desk, she adds, "He's had 16 so far."
Tru and his companion, Sophia, a Weimaraner rescue dog, are regulars at Zcomm, a public-relations firm in Bethesda. Today they're joined by three other dogs and a guinea pig.
Bo Obama isn't the only office dog in Washington. Some local businesses allow employees to bring pets to work, a practice that staffers say helps reduce stress.
"Instead of gathering around a water cooler, you can gather around a pet dish," says Tim Casey, Zcomm's chief operating officer, as he gives a carrot to his guinea pig, Lulu. "It's a good opportunity to talk and get to know each other."
Zcomm has no formal pets policy. Someone's dog is in the office fairly often, and "pet days" take place once or twice a year—a cats-only day is in the works—when staffers' dogs wander from cubicle to cubicle. Carrese's clients fawn over her dogs—she and a few of her clients e-mail one another photos of their pets.
Attorney Hillary Collyer brings her Shih Tzu mix, Lady, to work with her at an Alexandria law firm every day.
"She likes to be around people. For her, it's very natural to come to the office," says Collyer, who keeps a small bed and dog toys under her desk at DiMuroGinsberg. She's the only one in the office who brings a dog—she asked for special permission—though others bring dogs in on weekends. Lady sleeps most of the day; Collyer's coworkers stop by to give her treats.
While smaller businesses are more likely to allow pets at work, larger companies such as Google are also giving it a try, says Jennifer Fearing of the Humane Society. Fearing, who cowrote a book called Dogs at Work, led the initiative for such a policy at the Humane Society's corporate offices across the country three years ago.
In her research, Fearing found that having pets at work boosts morale, makes it easier to work longer hours—and costs employers nothing. "In these tough economic times, people might think this is frivolous, but I think it's the opposite," she says.
Humane Society attorney Jessica Culpepper wouldn't have adopted her sheltie mix, Zuba, if she hadn't been able to bring him to the office.
"We don't have to be concerned about how they're doing at home alone or getting them to doggie daycare or having strangers come in your house and walk them every day," she says.
The Humane Society has rules: Each office must have a baby gate; kitchens and bathrooms are "dog-free zones." Employees go through a six-week trial period and post signs on their doors explaining their dogs' level of approachability; dogs are allowed only if everyone in the office is comfortable with them. Staffers bring their dogs at least three days a week so the animals can adapt.
"At 5 o'clock, he starts looking at me," says Mila Zain, a Humane Society attorney, of her mutt, Raai. "He's got some wonderful internal clock I'd like to follow. He's a total 9-to-5 dog."
This article first appeared in the October 2009 issue of The Washingtonian. For more articles from that issue, click here.