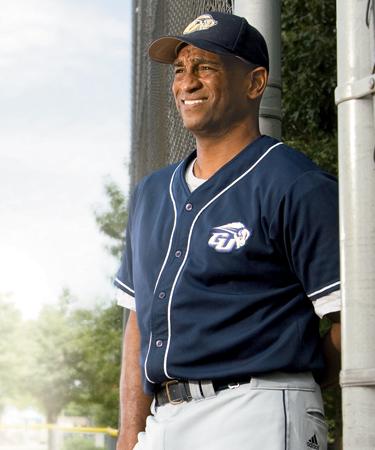 Curtis Pride didn't hear the 46,000 cheering fans when he stepped to the plate. It was the bottom of the seventh, and Pride's Montreal Expos were trailing 7–4 with runners on first and second. On the first pitch from the Philadelphia Phillies' Bobby Thigpen, Pride hit a two-run double. It was the first hit of the 24-year-old's major-league career. The crowd erupted into a five-minute standing ovation.
Pride, now 40 and the head baseball coach at Gallaudet University, recalls the moment, but he still doesn't know how the crowd sounded. That's because he was born deaf. When he was nine months old, Pride's parents discovered he had lost 95 percent of his hearing from rubella, which his mother had contracted during pregnancy.
Pride played his first T-ball game at age six: "It was a way for me to be involved in activities with other kids." Rather than learn sign language, he became a lip reader and learned to speak through voice lessons—skills that helped him graduate from Silver Spring's John F. Kennedy High School with a 3.6 grade-point average.
At the time, baseball wasn't his best sport. As a first-team All-American soccer player, he'd landed a spot on the US National Team that played in the Junior World Cup in China. He also earned a four-year scholarship to play basketball at William & Mary.
"I've always thought that soccer was my best sport," says Pride, "but I thought I had more of a future in baseball."
After high school, he signed with the New York Mets, playing in the team's farm system over summer breaks from college. Two years after graduating from William & Mary with a finance degree, he signed with the Expos and began a major-league career that would span 18 years with six teams. He became the first deaf player to play a full season.
"You don't need to hear to play baseball," says Pride. But unlike other outfielders, he couldn't rely on the crack of the bat to judge where a ball would land. He gauged its trajectory by the angle at which it came off the bat.
In a career where his batting average hovered around .250, there were some highlights. In 1997, he homered in his first at-bat with the Red Sox. When he was a 34-year-old journeyman with the Yankees, Pride's first hit was also a home run.
He made another big impression during an interview in 1994 with a sports reporter from Cleveland—his future wife. In 2001, Lisa Pride helped her husband start Together With Pride, a foundation that donates hearing aids and college-scholarship money to hearing-impaired kids.
He returned to Washington last year to coach at Gallaudet.
"I've always wanted to be a coach," he says. "I didn't have a role model who was deaf when I was growing up, and I know what these kids are going through. I've gone through it myself."
This article first appeared in the October 2009 issue of The Washingtonian. For more articles from that issue, click here.