Creativity counts for a lot when it comes to Halloween. Anyone can walk into a costume shop and come out with a prepackaged outfit, but what's the fun in wearing something you're guaranteed to see all over town? Armed with a desire to stand out and a need to do it for minimal cash, Washingtonian.com enlisted the help of Washington-based costume designer Justine Light. A member of the local theater scene with a penchant for fantastical attire and an emphasis on recycling, she struck us as perfect for the job. Her mission: Create three no-sew, non-labor-intensive looks, all pulled from items easily found in any Washington residence. Read on for her eye-catching ideas and step-by-step instructions for creating them.
WINDY CITY
Believe it or not, no wind was involved in the making of this picture—the breeze-blown tie and hair are made up. Creating this look, inspired by Justine's Chicago hometown, takes less than an hour and is a great last-minute idea. Find your standard business-casual attire (think slacks, button-down, and belt) and pull a quirky tie from your closet. Put on the tie as you normally would, then loosen the neck and slip it off. Undo a wire hanger and insert it down the back sleeve of the front part of the tie. Bend excess wire so that it can be inserted into the skinnier sleeve, then put the tie back on and twist the hanging pieces so they look as though they've just been hit by a gust of wind. Push an old umbrella inside out, gel your hair in the same direction as the tie, and put on your best down-trodden face. Voilà! You're officially dressed for the party.
DAY OF THE DEAD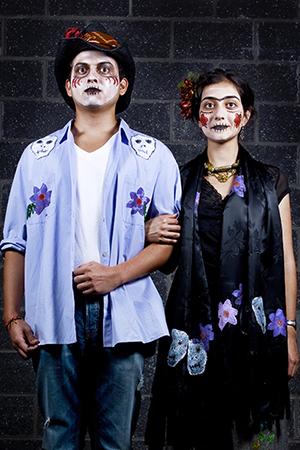 This colorful idea for couples takes a bit more planning but no sewing or high-level makeup skills.
Mark: Our model wore his own jeans, boots, white T-shirt, and belt. Justine provided the cowboy hat from her own closet, and the dress shirt was purchased at a thrift store for $3. Standard face paint (click here for our list of costume stores where you can find the stuff) was used to coat Mark's face in white. Cover your lips in black lipstick, and use eyeliner to draw half-inch vertical lines around your mouth. Blacken the area around your eye with face paint for an extra-dead look, and add an alternating pattern of dots and ovals on the cheeks.
Nikki: The black lace shirt, floor-length ethnic skirt, and artisan necklaces are from Justine's personal wardrobe, but thrift stores (Justine's favorites include Value Village) and friends' closets are also great resources. A folky scarf is easy to create from old tablecloths, curtains, or sheets. Cut a two-by-six-foot rectangle, then add fringe with six-inch vertical slits every half inch on the end. We pinned back braided pigtails of Nikki's extra-long black locks for the hairstyle, but no worries if yours is shorter. Gather three black trouser socks (or strips of extra fabric from the scarf), tie them together with a rubber band at one end, braid, then secure the other end. Create a second braid using three more socks, then use bobby pins to attach them to your head. Christmas decorations are a surprising resource for costume accessories—dig through wreaths and tree ornaments for plastic flowers (blood-red poinsettias are best) to wear behind your ear, or grab some off a household arrangement. Zombiefy this Frida Kahlo-inspired look with white face paint, connected eyebrows, and a face-painted red-and-black flower on each cheek.
Flower and skull patterns: Wearing the same pattern as your partner will tie the two costumes together, and it's astoundingly simple to create a custom design—all you need are scissors, paintbrushes, paper plates, dry sponges, everyday craft paint (tempera paint can be washed off later if you'd like to rewear your clothes), and a permanent marker. Draw a skull onto a sponge, then cut around its head and through the eyes and nose holes. Do the same for the flower and leaf patterns. Brush paint directly onto the newly created stamp, blot onto a paper plate, then evenly press onto the garment. Let it dry for 90 minutes, then paint on the skull mouths and add glitter outlines using white glue and a hefty dose of sparkle.
GHOUL-GIRL FRINGE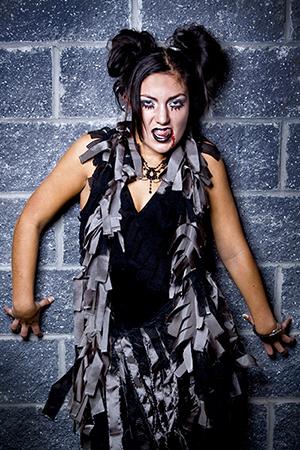 Justine created this back-from-the-dead punk rocker by adding a homemade accessory to an already trustworthy outfit. The best part? Using safety pins means that none of the pieces will be permanently altered, so you can pull from your own closet. Grab a black sleeveless dress and finish the look with fishnets, gothic-style jewelry, and funky black boots. Swirl your hair up into two high messy buns, or any other crazy style you like, and paint your face white for a ghoulish effect. With makeup, exaggerate your best smoky cat eye, draw lashes on with eyeliner, and cover your mouth with black lipstick. A do-it-yourself fringe accessory and yummy faux blood­—both explained below—round out the look.
Edible fake blood: Drop a few squirts of red food coloring into 1⁄6 cup Hershey's chocolate syrup, then add just a bit of Karo syrup to thin out the concoction. Paint it on your chin, but don't blame us if you end up licking it off!
Fringe scarves: Gather old clothes, tablecloths, and sheets in various shades and textures of gray and black. Choose one fabric and cut a ten-inch-by-three-foot rectangle. Fold rectangle in half lengthwise, snip the long side every half inch, then tear (for a frayed look), or continue to cut long pieces of fringe up to one inch away from the crease. Repeat process with a same-size rectangle of a different fabric, then knot the two scarves together every six inches. Experiment with different size rectangles and fabric combinations to achieve your favorite look, then use safety pins to attach the fringe scarves to the dress from one shoulder across to the waist, on boots, stockings, and sleeves. These do-it-yourself scarves can also be added to an all-black T-shirt-and-jeans combination for a male version. For extra sparkle, scrounge around Christmas-decoration boxes for a silver garland, and thread it loosely through the scarves.
MORE ABOUT THE CREATOR
Justine Light, our ingenious costuming consultant, has taught sewing classes in Bali and founded the San Francisco-based Sew-Op. She moved to DC in June, and her most recent work includes set design for Rorschach Theatre's Brain People. She also created one of the few artist-driven design proposals for the interior of the Arlington County Cultural Center. Ever the advocate of hands-on methodology, recycling and reuse of old materials, and community-driven endeavors, she hopes to start a nonprofit arts-and-reuse center (not unlike the San Francisco-based Scrounger's Center for Reusable Art Parts). For more information, head to justinelightdesign.com.

Photos taken at Georgetown University's Royden B. Davis Performing Arts Center. Special thanks to Ted Parker, the Georgetown University Department of Performing Arts, and Georgetown undergrad models Christina Cauterucci, Stephanie Snowden, Mark Valtierra, Nikki Massoud-Moghaddam, and Julien Isaacs.