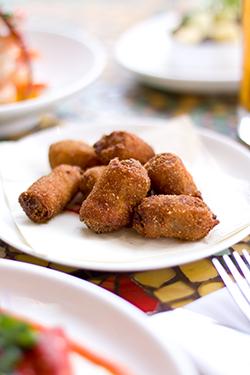 At the Penn Quarter outpost of the Spanish tapas-house Jaleo, the kitchen sent out nearly 600 orders of bacon-wrapped dates last month, according to executive chef José Andrés. It's no wonder, then, that a reader requested the recipe for the crunchy, salty/sweet snack. Andrés says he grew up eating lots of Catalan cooking, which often includes savory/sweet pairings—lamb with honey, pork with apricots—and the bacon-and-dates combination is a common one in Spain.
Andrés recommends searching for a high-quality bacon that's on the thin side. Use a toothpick to help secure it around the date.
Have a restaurant recipe you'd like sniffed out? E-mail [email protected]shingtonian.com.
Dátiles con tocino 'como hace todo el mundo'
Fried dates wrapped in bacon

Makes 10 dates
5 slices bacon
10 pitted dates
1 egg
1 teaspoon milk
2 tablespoons flour
2 tablespoons bread crumbs
Vegetable oil for frying

Cut the bacon slices in half width-wise. Wrap each date in bacon (securing the bacon with a toothpick makes it easier). Place the dates on a baking sheet and chill in the refrigerator for at least an hour or until you're ready to fry them. Heat the oil in a fryer to 350 degrees (if you don't have a fryer, you can do this in a skillet with a candy thermometer).
In a small bowl, beat together the egg and milk. Roll each date in the flour. Shake off the excess flour and dip the dates into the beaten egg mixture. Remove and roll each date in the bread crumbs. Drop the dates into the hot oil for 1 to 3 minutes until they're golden. Transfer the dates to a plate lined with paper towels and drain. Serve immediately.
Related:
Recipe Sleuth: Tallula's Cavatelli With Sausage, Escarole, and Chili Flakes
Recipe Sleuth: The Majestic's Coconut Cake
Recipe Sleuth: The Source's General Tso's Chicken Wings
Recipe Sleuth: BlackSalt's Caramel-Apple Streusel Pie
More>> Best Bites Blog | Food & Dining | Restaurant Finder
Follow the Best Bites Bloggers on Twitter at twitter.com/bestbitesblog