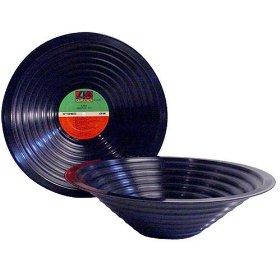 >> To see our full holiday guide, click here.
More gifts. . .
Under $30 Gifts | For the Eco-Friendly | Holiday Food Goodies | For the Capitol Hill Staffer | For Techies | For Fashionistas
Vinyl Record Bowl
$24.99
Designer Jeff Davis found a neat way to reuse old records: He turns them into bowls. The 12-inch vinyl records, which come with their original labels, are protected with a Mylar coating. The bowls can be used for dry snacks or decoration. Although you can't specify an artist, you can choose from music genres including crooners, jazz, '70s/'80s pop, and country. Also available are a set of six coasters ($17.99) and a snack tray ($24.99).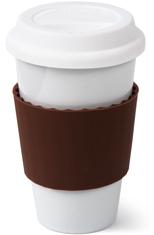 Porcelain Coffee Cup
$14
No, you're not seeing things. This porcelain coffee cup is made to look like the paper kind, but it's reusable and even dishwasher-safe. The faux-cardboard holder comes in two colors—white or brown—and it's made of silicone, just like the top. Add a sack of organic, fair-trade coffee ($7.45 to $9.95 for a 12-ounce bag) from Grounds for Change to complete this coffee lover's gift.
Coffee-Sack Pillow Covers
$24.99
Speaking of coffee, how about pillow covers made from reused coffee sacks? This crafty Etsy seller has a few handmade ones in stock. The burlap comes from a coffeeshop near her home. The back of the cover is made from all-natural linen. It fits a 16-by-16-inch pillow, which isn't included.
Kitchen Composter Starter Kit
$60
Gardeners might like this indoor-composting kit, which turns food waste into nutrient-rich plant food. The system includes a five-gallon bucket—complete with an airtight lid for odor protection and a spigot to drain liquid—that can fit under most kitchen sinks. A packet of compost starter is also included. Once the bucket is full, it takes about ten days for the waste to ferment into a usable product.
Wine Barrel Chair
$165
This folding chair is made from salvaged 70-gallon oak wine barrels. Handmade in Northern California, the chairs can fold flat for storage. They're stamped with the winery name under the seat and sealed with linseed oil.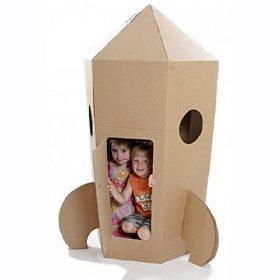 Recycled-Cardboard Rocket
$60.99
Kids can blast off in this pint-size spaceship that's made of 100-percent recycled cardboard. Turn it into an art project by letting them customize it with markers or paint. The spaceship mails in a reusable flat box that can be used for storage.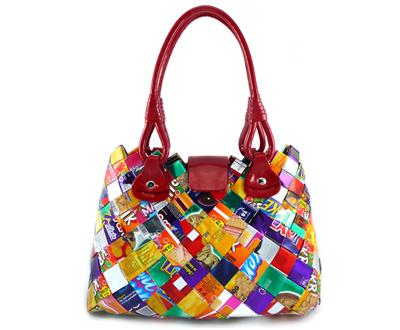 Ecoist Purses and Handbags
$12 to $180, depending on size
Ecosit's handbags are made from pre-consumer waste—for example, misprinted food labels—that factories that would otherwise throw away. Ecoist repurposes these materials and turns them into bags that make a statement. We especially love the wristlets made from newspaper and the shoulder bags made from candy wrappers.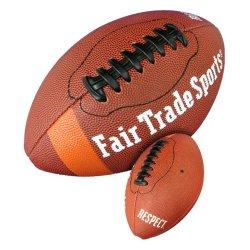 Vegan Football
$39.99
How about a pigskin minus the pig? This "vegan" football is made from synthetic leather and uses adhesives that are free from animal by-products. It's the same size and weight of regulation footballs, so it's good for training. The ball is also fair-trade-certified, meaning it was made by adults earning a livable wage and working in good conditions. The company also sells soccer and rugby balls, volleyballs, frisbees, basketballs, and apparel.
Recycled Map Stationery
$20
For jetsetters, this stationery made from recycled maps might be a welcome gift. The sampler pack comes with 25 sheets of standard-size paper and 85 envelopes in assorted sizes. No two sheets or envelopes are alike, and the paper is plain on one side in case the map is too dark or bold to write on. The paper can be used in printers or copy machines, too.
Adopt a Species
From $40 to $1,000
Animal lovers might like the National Zoo's Adopt a Species program. Choose from 18 animal species—from giant pandas to bald eagles—and your tax-deductable donation will go toward animal care and conservation efforts at the zoo. Sponsorship levels start at $40 and include benefits such as stuffed animals, tote bags, and guided zoo tours. Place orders by December 15 to ensure delivery by Christmas Day.
More gifts. . .
Under $30 Gifts | For the Eco-Friendly | Holiday Food Goodies | For the Capitol Hill Staffer | For Techies