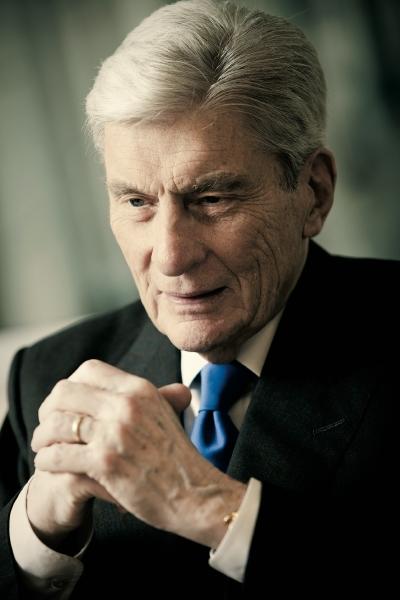 They called him "the senator's senator." John Warner represented Virginia for 30 years and earned a reputation as a lawmaker who chose principle over party, comity over confrontation.
For most of his five terms, Warner was either chairman or ranking member of the Armed Services Committee. As a former Secretary of the Navy and a veteran himself, he identified strongly with men and women in uniform.
"We are all the land of the free," he often told the troops, "but you are the home of the brave."
Veterans' benefits paid for his education—Warner enlisted in the Navy in World War II and enlisted again, this time in the Marines, during the Korean War. He used the GI Bill to pay for college at Washington and Lee and his law degree at the University of Virginia.
Warner worked with fellow Virginia senator Jim Webb to ensure that men and women in service get better benefits. Their cooperation was a classic example of the connections that characterize public life in Washington: When Warner was Secretary of the Navy in the Nixon administration, the commandant of the Marine Corps told him about a young captain who had distinguished himself. "He asked me to find a spot for the young man," Warner recalls. That captain was Jim Webb.
The National Wildlife Federation recently honored Warner as Conservationist of the Year for his leadership on climate change and energy conservation. But Warner's global vision never obscured his focus on Virginia issues.
When the Woodrow Wilson Bridge was in danger of crumbling, Warner was able to get Democrats and Republicans to agree to allocate $900 million for its repair.
Warner served in all three branches of government—he started out as an assistant US Attorney before he was lured into private practice by Nelson T. Hartson. Since deciding not to seek a sixth term, Warner is back at Hogan & Hartson—"They considered me AWOL for 37 years," he says.
But Virginians would say otherwise. The three congressmen who represent Northern Virginia recently praised Warner's "integrity and independence and his leadership of a united bipartisan delegation that worked for the good of Northern Virginia and the commonwealth without regard to political party."
As Democratic congressman Jim Moran put it: "He is a consummate gentleman and a true leader."