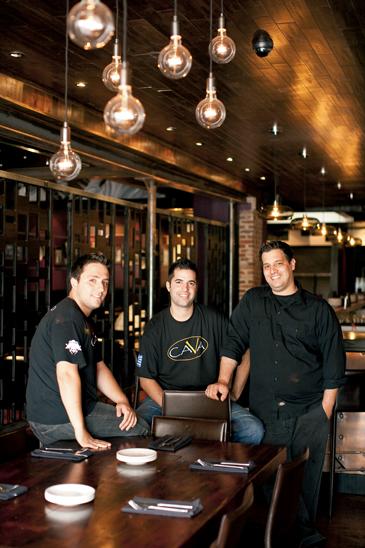 As celebrity chefs continue their love affair with the nation's capital and try to turn the city into a dining version of Vegas, the two mezze lounges called Cava begin to look like antidote ventures—as remarkable for what they aren't as for what they are.
The spaces are dark, moody, and stylish but stop well short of haughty self-consciousness. The kitchens go to great lengths to procure good ingredients but don't make a big deal of their sourcing. You won't find the restaurants amid the buzz of Penn Quarter, U Street, Clarendon, or Bethesda but at the northernmost edge of Rockville and on Capitol Hill's Barracks Row.
Rockville natives Ted Xenohristos, Ike Grigoropoulos, and Dimitri Moshovitis say the furthest thing from their minds when they opened the first Cava three years ago was to become big players on the scene. This appealing modesty is joined to an equally appealing sensibility—one built on sturdy values of family, community, and tradition. The friends credit their Greek roots with providing them a foundation for the kind of assured but unassuming restaurant too little in evidence these days.
The two Cavas don't lack for style, but they never devolve into trendiness, and the cooking remains rooted and real. In an echo of a now-vanished generation of immigrant businesses, the restaurants have established themselves as neighborhood anchors.
Whether there will be a third Cava, or even a third restaurant, the owners aren't saying. For now, they've extended their influence by pairing with Whole Foods to produce a line of the superb dips and spreads that are signatures at the restaurants—a convenient and addictive way to bring some of Cava's Old World/New World style and substance into your life.
In recognizing Xenohristos, Grigoropoulos, and Moschovitis as Restaurateurs of the Year, we applaud not just the little engine that could; we also recognize the importance of independent, homegrown talent in Washington's rapidly evolving restaurant world.