It started when Lauren Schreiber began writing poetry in middle school. Having been in her church choir, Schreiber found it only natural to pair melodies with her words, and then she progressed to collaborating with musicians, who added instruments. But that wasn't enough.
Frustrated that she couldn't fully communicate how she wanted her music to sound, Schreiber picked up a guitar and taught herself basic chords. "I had no formal training," she says. "I figured out some chords and then put them together as fast as I could. I wanted to perform right away."
Shreiber took her guitar and began performing at local venues at 18, becoming a self-described "coffeeshop girl."
It was the DC-based rapper and promoter Tyrone Norris who thought she could branch out. After hearing her sing, he invited her to perform with him at Palace of Wonders—Schreiber's first-ever gig at a bar: "It was a hip-hop show with emcees, a flame thrower, and a sword swallower—which is normal for Tyrone, but when I got there, I was like, 'How does my music fit in?' "
Luckily it did—in fact, it struck such a chord with the audience that the crowd found a jar to pass around to leave tips for her.
Deeply involved in the DC hip-hop scene, the pink-haired singer has now made her mark among MCs and rappers as a vocalist, performing in a style that marries acoustics with soul and R&B. She's currently working on two new projects, tentatively titled Love Sequence and Basement Dreams.
To find out more about Schreiber and her music, read on: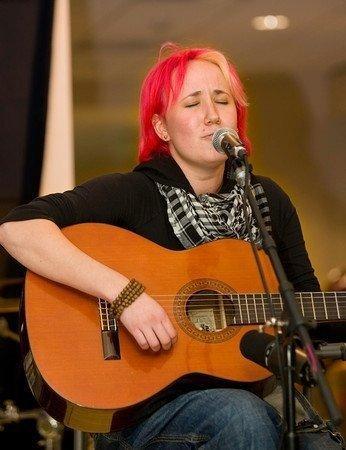 Name: Lauren Schreiber.

Age: 22.

Best local venues:
"Black Cat, BloomBars, DC9, that awesome little stage in the back of Busboys and Poets."

Best bars to hear music:
"The live jazz at Bohemian Caverns on U Street and the Cake & Kisses open-mike event at Asylum in Adams Morgan. Those are my two favorites, for sure. Atmosphere is everything."

First song that made you want to play soul and R&B music:
" 'Can't Take My Eyes Off of You,' the Lauryn Hill version off The Miseducation of Lauryn Hill. I remember hearing it and being like, 'You can do that to music?' I was familiar with the Frankie Valli version, but to me, what Lauryn was doing with the vocal line was revolutionary. She made it playful, and she made it her own. That cover was the song that really inspired me to actively go searching for more music that pushed the limits and really blurred the lines between hip-hop and soul. For me, it bridged the gap between what I knew to be music before and what I know music to be now."

Favorite local band or musician:
"Can I do top five? There's no way I can narrow this down any further! My favorite local bands are the Five One, Ndelible, the Mighty Heard, Future, and Cornell West Theory."
Best thing about the Washington music scene:
"The amount of talent tucked away in DC never ceases to amaze me. I literally can stock my iPod with local artists and be satisfied for weeks on end with the variety of quality music. Eighty-five percent of the hip-hop I'm listening to these days comes from artists I know personally from the scene. And the best part about it is that I'm discovering and meeting new dope artists in my own backyard every single time I go out."

Worst thing about the Washington music scene:
"If our talent is the best part about DC artists, then the worst thing is definitely our organization and connections, or lack thereof. Considering how small DC is, it's crazy to me that out of all the singer/songwriters and amazing vocalists that call the scene their home, I can maybe name like three off the break. And that shouldn't be the case. I think that although certain pockets of artists are working well together in the city and really use each other as resources for success, most of us are floating out here alone and trying to hold onto something. I don't think that music scenes are that way in every urban center."

Craziest gig/tour memory:
"The last-minute gig I did in 2007 with Tyrone Norris from Rosetta Stoned. He asked me to play at this crazy show he was hosting, insisting that the audience would love me. I was underage, and it was my first time playing at a bar that was 21-and-over. I was nervous because it was so loud in there and I knew I'd be drowned out by the crowd—which didn't look like it'd be interested in a little pink-haired singer/songwriter. To my surprise, as soon as I started playing, everyone got real quiet and just waited for me. It ended up being the best crowd I've ever played for. I learned from that to never underestimate my crowd—music is music and can speak to all sorts of people in all sorts of ways."
Finish this sentence: "When not making music, you can find me . . . "
" . . . hanging out with my aunt doing yoga and practicing Buddhist meditation. She's the best influence ever!"

Rolling Stones or the Beatles?
"Beatles—it's the hair and matching outfits!"

Digital download or hard copy?
"Tough one—lets go with digital. Although there's no satisfaction in opening up the plastic and actually holding something tangible in your hand, there's also no scratching or cumbersome process of getting the CD onto the computer. Vinyl is in a category of its own."

Rolling Stone or Spin?
"Rolling Stone—it's the cover art."

Club show or festival?
"Festival. More is more!"
If you could listen to only one album for the rest of your life, which one would it be and why?
"D'Angelo's Voodoo. Every time I hear it, it's like a new listening experience. I can always find a new layer of vocals hidden in the background that reinvents the whole feel of the track for me. The album is so perfectly laid out and transitions from song to song in the kind of way that makes it a sin to skip over songs. Plus, there's always the added bonus that Redman and Method Man are featured on there, too. Can't ever get tired of that."

Describe your dream gig/tour.
"Headlining at the Black Cat or opening up for someone like Eric Roberson at the 9:30 Club."
Do you have a day job or are you full-time musician?
"I have two part-time jobs at the moment. I've been working at the Herbert Wells Ice Rink in College Park since I was old enough to hold a job. I'm a manager there and do the majority of the graphic-design work. I also intern at Words Beats & Life, a nonprofit in Columbia Heights that works to transform individuals and entire communities through the elements of hip-hop culture. They officially brought me on board there last week, and I couldn't be happier—I'm learning the ins and outs of a nonprofit and am surrounded by artists and really cool kids. I love both my jobs—especially since neither of them is forcing me to dye my hair a 'normal' color!"

Is new music in the works?
"Most definitely. I have about 20 songs that I've written on guitar since the release of my first project, The Likeness: Mixtape Vol. 1. The project will be split into two parts: one album that'll be available to download for free online and another album that'll be hustled backpack-style. I've got a bunch of new songs I'm currently working on. It's a constant process."

Tell us about your first mixtape and what the process of making it was like.
"I released my first mixtape in 2006 with the help of my boy Cincere Logiq. I got the idea stuck in my head that I could make a mixtape of my own after hearing Raheem DeVaughn's projects—something very few singers seem to do. So we recorded all 13 tracks in his home studio using some affordable software with the bare minimum to get the job done. I remember having to stop and rerecord parts due to a phone ringing in the background or a door closing or a dog barking. It was memorable, to say the least. After just a few weeks of recording, Cincere and I walked our copies to the Library of Congress to get the lyrics copyrighted. Getting on the Metro with that receipt in hand was the best feeling in the world. I felt like music was something that I could actually do. Although the project feels so outdated compared to my new stuff, it was a really meaningful thing and marks a big step in the development of my music. It's up online for free download here if you want to check it out."
When's your next show?
"My newest album is going to be ready for release Janua
ry 10, and I'm actually having a release party at Herbert Wells Ice Rink (5211 Paint Branch Pkwy., College Park; 301-277-3717) from 1 to 3. I'll be selling CDs and performing."
Subscribe to Washingtonian
Follow Washingtonian on Twitter
More>> After Hours Blog | Arts & Events | Happy Hour Finder | Calendar of Events