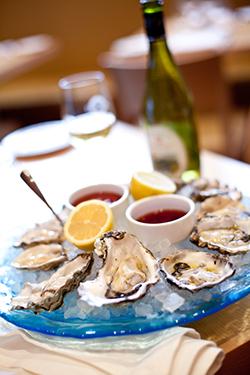 BlackSalt
At this market/restaurant, popular with Palisades families, oysters on the half shell ($1.50 to $2.75 each) are available both in the dining room with mignonette or as takeout in the front retail shop, where helpful staff can guide you through the day's selection.
Black's Bar and Kitchen
Visit the bar at this low-lit Bethesda dining room weeknights from 4 to 7:30, when Chesapeake Bay oysters are $1.99 a pair. There's a changing roster of other oysters, which are $1.95 to $2.95 each.

BLT Steak
New York chef Laurent Tourondel's steakhouse greets customers with a lavish display of raw seafood near the bar, which is a happy-hour favorite of nearby law and lobbying firms. There are two types of oysters ($18 for six, $34 for 12)—one from the East Coast and one from the West—every day.

Central Michel Richard
While the provenance of the oysters ($16 for six, $32 for 12) at Michel Richard's hip bistro changes daily, they're always beautifully shucked and paired with a traditional mignonette.

Hank's Oyster Bar
In addition to being served raw (price varies), the crustaceans at the two locations of this neighborhood fishhouse come in a sake shooter ($3), simply fried as an appetizer ($11), broiled and spicy ($13), and tucked into a roll for a po' boy ($15).

Hell Point Seafood
The more casual and affordable Annapolis sibling of DC's Kinkead's often sources its oysters locally. They're served raw (price varies) or fried with a cornmeal crust and dipped in chipotle/tartar sauce ($5).

Hook
This see-and-be-seen Georgetown seafood spot, which emphasizes sustainablity and local sourcing, offers three types of oysters ($12 for six, $24 for 12)—Bar Cats and Old Salts from Virginia and Blue Points from New York—served on the half shell with coriander mignonette.
J&G Steakhouse
The raw oysters ($2.50 each) at Michelin-starred chef Jean-Georges Vongerichten's popular restaurant in the W Hotel are sourced from both the East and West Coasts. Like most everything on the menu, they're simple but luxurious.
Johnny's Half Shell
Hill staffers pack Ann Cashion's bustling, tile-floored restaurant, where oysters come raw ($2.25 each), fried with pickled vegetables ($9.25), and in a creamy, made-to-order stew ($9).
Kinkead's
Bob Kinkead's Foggy Bottom temple of seafood has five or six types of oysters ($14 for six, $28 for 12) each day, and the list always includes both East and West Coast varieties. Snag a seat at the bar and slurp them as you listen to the jazz pianist.

Old Ebbitt Grill
At this downtown DC institution, you can mix and match from the restaurant's six types of oysters ($12.95 for six, $21.95 for 12), which change regularly but have included selections from Rhode Island, British Columbia, and more. At each of its four bars—where oysters are available until 2 AM Sunday through Thursday and 3 AM Friday and Saturday—there's an oyster shooter ($7), which comes with Absolut Peppar vodka, horseradish, and cocktail sauce. Every winter, the restaurant hosts the Oyster Riot, an all-you-can-eat extravaganza.

PassionFish
At chef/owner Jeff Tunks's polished Reston Town Center seafood room, oysters—displayed on a mound of ice alongside lobsters, clams, and crab claws—are available on the half shell ($13 for six) as well as with Ketel One vodka and Bloody Mary mix in a trio of shooters ($7). Fried oysters ($11) come the way most places prepare chicken wings, with Frank's hot sauce and a blue-cheese-and-celery slaw.

Urbana
Daily from 5 to 7, this subterranean Dupont Circle restaurant/wine bar serves oysters on the half shell for $1 apiece—a 50-percent discount off their normal price.
>> Want to see the rest of our Valentine's Day guide? Head here.