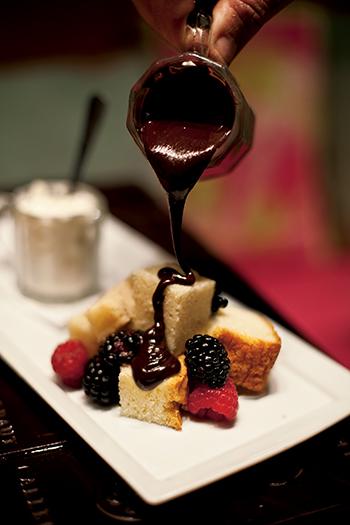 Cedar Crossing Tavern and Wine Bar
With only a handful of beers and a few reds and whites, the "tavern and wine bar" part of the name is a stretch. But good neighborhood spots often have quirks that become endearing—if the food's good. And the food at this place in DC's nearby Takoma neighborhood is. Try the beef kebab topped with chimichurri, the samosas with mildly spicy cilantro dip, or the cured-salmon-topped latkes. For dessert, there's an apple "blossom"—a turnover crossed with an apple dumpling—or a plate of four mini-cheesecakes.
341 Cedar St., NW; 202-882-8999. Small plates $6 to $11.
The food in this honey-hued dining room—the epitome of a red-sauce joint—is a quick, cheap fix when you're hankering for straightforward Italian cooking. If it's a comforting bowl of pasta you're after, the house-rolled options are the most satisfying, especially fettuccine with a bacony amatriciana sauce or porcini mushrooms and olive oil. Start with cheesy fried-polenta rounds with marinara, and finish with filled-to-order cannoli. On Tuesday, the restaurant puts out super-thin-crust pizzas—we like the one with house-made sausage and the white pie with potatoes and rosemary.
8662 Colesville Rd.; 301-588-6999. Entrées $11 to $18.
Chef Gillian Clark has the culinary chops of some of Washington's top chefs, but she shows her skill with flavor rather than with flair. Her menu, which reads like the table of contents of a 1950s church-recipe book, is a no-frills list of American favorites: fried chicken, meatloaf, chicken pot pie, and mashed potatoes with gravy. The downstairs Post Office Tavern—a pub with a four-stool bar and a handful of booths—has smaller versions of guilty pleasures such as nachos, Frito pie, and wings. The space doesn't have much seating, but takeout travels well.
6 Post Office Rd.; 301-562-8787. Entrées $6 to $13.50.
Jackie Greenbaum's dining room, a brick warehouse that's been stripped to its studs and filled with '60s-chic furniture, is about as fun as a restaurant gets. Chef Frank Morales, in place since October, takes some cues from the atmosphere with dishes such as grilled cheese and mini-burgers, but he maintains a refinement that keeps the food from veering into tired American cuisine: A lime jelly injects steamed mussels with originality, butter lettuce with anchovy-lemon dressing and sheep's-milk cheese is an improvement on Caesar salad, and pot roast is elevated by house-dried tomatoes.
8081 Georgia Ave.; 301-565-9700. Entrées $10 to $25.
A relative newcomer to the kebab-house scene, this order-at-the-counter operation in the Cloverly neighborhood has established itself as a prime destination for grilled meats. The skewered chicken tikka (ask for it on the bone), soaked in a yogurt-based sauce and spiced with cumin, coriander, and ginger, is unfailingly succulent, while the lamb chops, treated to an 18-hour marinade and aggressively seasoned before hitting the grill, are superior to more-expensive renditions at many fine-dining establishments. All plates come with rice or bread (our preference is for the hot, baked-to-order round of naan) as well as a spicy chickpea curry known as channa, cooked down with garlic and onion and as complex as any meat stew.
15521 New Hampshire Ave.; 301-879-0044. Entrées $5.99 to $19.99.
This spacious restaurant stands out among Silver Spring's ethnic spots for its well-done Burmese food, a collision of the cuisines of that country's Indian, Chinese, and Thai neighbors. Exotic ingredients (ever had fermented tea leaves in a salad?) are accessible and homey in the hands of the Myint family—Mom is the chef, and two of her sons run the dining room. The long menu, a gold mine for vegetarians and bargain hunters, can be overwhelming, but there's consistency to the ginger salad, pork with sour mustard and cilantro, and ShweJi, a Cream of Wheat–based dessert. For extra heat, ask for dishes done "College Park style," a reference to the restaurant's original location.
930 Bonifant St.; 301-585-0500. Entrées $8.99 to $13.99.
In business nearly 50 years, this Silver Spring institution has lots of regulars who pack the place on weekends and at lunch, filling turquoise faux-leather booths and crushing the deli counter for stacked sandwiches and a dose of Jewish comfort food. The Parkway doesn't have the cachet of a New York deli, but the Reuben sandwich is stuffed with a satisfying heap of house-made corned beef, the whitefish is creamy and smoky, and there's a complimentary pickle bar with crisp beets, cauliflower, and peppers.
8317 Grubb Rd.; 301-587-1427. Sandwiches $6.95 to $8.99, entrées $9.55 to $13.95.
This clubby dining room probably won't impress visitors—unless you're trying to show off your nose for a good value. Like restaurateur Michael Landrum's first venture, Ray's the Steaks in Arlington, the atmosphere here is sparse. Steaks—we like the house-aged Hereford, entrecôte, and hanger—come with sides of homey mashed potatoes and creamed spinach. The kitchen also does well with such Maryland classics as crab bisque and its signature crab royale. Cap it all off with a slice of Key-lime pie.
8606 Colesville Rd.; 301-588-7297. Entrées $15.95 to $33.95.
Samantha's
Oversize portions of Central American home cooking come out of the kitchen at this storefront, where white tablecloths and faux-vintage artwork make it an upscale version of Washington's Mexican/Salvadoran hybrids. Fish is often done well, especially a grilled red snapper with red peppers and a whole trout, pan-fried and finished with a sauce of onions and tomatoes. A crock of gambas al ajillo (garlicky shrimp in a white-wine broth) and salty chicharrones are solid starters, while a stellar carne asada and a very good version of carnitas (braised hunks of crispy pork with oranges) are entrées that could easily feed two.
631 University Blvd. E.; 301-445-7300. Entrées $11.95 to $36.95.
This one-year-old hole in the wall doesn't have much in the way of furniture (there are 19 seats) or atmosphere, but the fiery, inexpensive food is good. A plate of drunken noodles with shrimp, draped in chili and basil, is the star of the menu. Other reliable choices include the heat-packing green curry with chicken and crunchy vegetables and seafood pad see eaw—rice noodles with a mix of mussels, shrimp, and calamari. Appetizers are a weak point, but top-notch summer rolls—two tightly bound packages of shrimp, cilantro, and lettuce—are an exception.
8650 Colesville Rd.; 301-495-1234. Entrées $8.95 to $11.95.