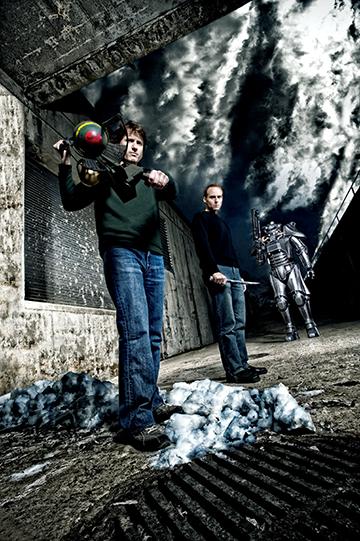 In Todd Howard's Washington, no trees line the Mall, and the monuments are in ruin. Bandits prowl Georgetown, and waist-high scorpions stalk Arlington. Grotesque mutants haunt the Red Line.
This is the wasteland Howard created at the video-game studio Bethesda Softworks. His team's Fallout 3 imagines Washington more than 250 years in the future. Says Howard: "It's fun to wreck your hometown."
Howard is the highest-ranking person at Bethesda Softworks who works on games. When he arrived 15 years ago, it was a mom-and-pop studio, but today it's a major player. Game Developer magazine ranks Bethesda Softworks seventh on its list of the world's top game publishers, ahead of Microsoft and Disney Interactive.
Video games are a big business. Gaming brought in $22 billion in 2008, almost as much as the film industry's worldwide box-office take of $28 billion.
In 2009, the game Call of Duty: Modern Warfare 2 made history when it took in $310 million in its first 24 hours. Its release eclipsed both the biggest movie launch ever, 2008's The Dark Knight, which had a $158-million opening weekend, and the final Harry Potter book's launch, which brought in around $200 million.
Fallout 3's debut in 2008 wasn't quite as big. But the company shipped 4.7 million copies of the $60 game in its first week, making it one of the year's top sellers. Now, following the release of the latest edition, the studio's hallways are buzzing with excitement and the sound of saws expanding the workspace. Says Howard: "It's a good time to be making games."
Picture yourself in a post-apocalyptic Chevy Chase, the streets lined with bombed-out houses. In the distance you see a group of wanderers cornered by bandits who want the clean water they carry. The game presents you with a choice: Will you come to the wanderers' aid or stay back for your own safety? Or maybe you decide to enter the fray, dispatch bandits and innocents alike, and take the water for yourself.
Howard wants players to make tough decisions. Fallout 3 responds to your choices between the righteous path and the selfish one. Characters you meet down the road may thank you with gifts or avoid you. It's a living landscape that reacts to your every move.
Howard fell for gaming back in 1977 when the Atari 2600 came out. The games you could play on it—Pac-Man, Space Invaders—didn't allow players many choices; you advanced through a series of levels until you reached the end or ran out of turns. Howard remembers the 1983 game Ultima III: Exodus as a turning point: It was a role-playing adventure that introduced the type of strategic decision making that's now the core of games such as Fallout.
Ultima III and its follow-up, Ultima IV, inspired Howard to try making his own games: "I was in junior high when I said, 'I want to figure out how this works.' I read everything, learned the programs, and figured out how to make my own games."
Howard majored in finance at William & Mary. During winter break in his senior year, he decided to turn his pastime into a profession: "I was thinking, 'What am I gonna do when I graduate?' My wife, whom I was dating at the time, bought me a game called Wayne Gretzky Hockey 3 for Christmas."
That game was made by Bethesda Softworks. Howard had driven past the studio's original location in Bethesda on trips between his home in Emmaus, Pennsylvania, and William & Mary: "I knocked on the door and said, 'I want to work here one day,' and kept pestering them."
Since then, video games have grown to reach a much broader audience. The average age of players is now 35, and 40 percent of gamers are women. Video games are ubiquitous—about half of American homes have at least one console. Says Howard: "Now even the President has a Nintendo Wii."
At the Bethesda Softworks offices in Rockville, artwork from past games adorns the walls, and shelves are packed with figurines of dragons and knights, characters from the company's own creations and those that have inspired them. In a 150-seat theater, employees can gather to play the latest games.
There's a long room with rows of testers wearing thick earmuff-style headphones, staring into computer screens to pick out software bugs and make Bethesda Softworks' next project perfect before it hits stores.
The development labs, the studio's core, are in the basement, a few floors below the parent company, ZeniMax Media. It's dark and quiet there, the only light a dim glow from about 100 computer screens tucked into cubicles. Fallout 3 started here as a few lines of code.
In 2003, after several years of work on a medieval sword-and-sorcery series called The Elder Scrolls, Howard and his team decided they wanted to try something new. "We made a list of worlds we were excited about and wanted to explore," he says. "And Fallout was at the top of that list."
A California company had developed Fallout and Fallout 2 in 1997 and 1998. When that studio put the title up for sale, Bethesda Softworks bought it. Howard and his team then decided to swap the West Coast setting for something a little more familiar.
"We saw that DC as a video-game location hadn't really been done before," says Fallout 3's lead designer, Emil Pagliarulo. "And if we can't do it justice—we live here, we know the city—then who can?"
In 2004, the studio began a four-year process of recreating parts of DC, Maryland, and Virginia, studying everything from the pillar design at the Jefferson Memorial to the mezzanines at each Metro station.
"Two of our guys got thrown out taking pictures around the Capitol," says Pagliarulo. "They don't like it when you're trying to figure out the structural integrity of the monuments."
The team included sites such as the National Archives, which Howard says is one of his favorite places in Washington. When creating their rendition of the Archives lobby, they considered reusing generic interior architecture to save time.
"We thought it wouldn't really matter because people weren't as familiar with the building," says Pagliarulo. "So we put it in and it was very square and blocky, whereas in reality the Archives' rotunda has a distinct rounded look. We took one look at it and changed it."
Their post-apocalyptic Washington also includes looted supermarkets, an irradiated Potomac, and one upside: less Beltway traffic. Crumbling downtown office buildings are set against a permanently overcast sky, and the steps of the Capitol are a battleground for factions attempting to gain power. Democrats and Republicans have been replaced by a shadow government and green-skinned mutants.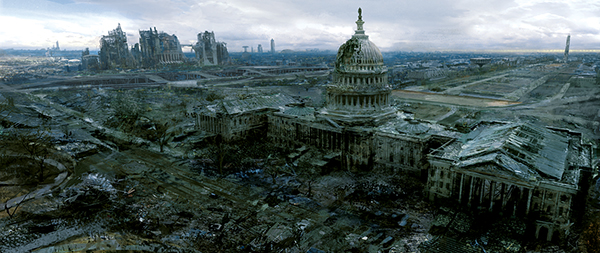 Creating a realistic vision of Washington in ruins for Fallout 3 took four years. "Two of our guys got thrown out taking pictures around the Capitol," says Emil Pagliarulo. "They don't like it when you're trying to figure out the structural integrity of the monuments." Images courtesy of Bethesa Softworks.
Howard and Pagliarulo chose which sites to include based on what would be the most fun as a player. Says Pagliarulo: "Every morning, one of us would have a new idea."
Setting the game in a real-world city stirred up controversy. Before the game's release, the Washington Post printed a letter from a DC resident angered by ads for the game showing the city in ruins.
And concerns over Fallout 3's imagery turned into national news in 2008 when early concept pictures of the game's ravaged DC landscape circulated on an Al-Qaeda–affiliated Web site.
"The intelligence group that found the picture put it out saying, 'The terrorists made it, and this is what they want to do to us,' " says Howard.
The Fallout 3 team recognized the picture once it hit the news. Howard was nervous about how Bethesda Softworks would be portrayed.
"We actually ended up looking pretty good," he says. "Keith Olbermann made fun of the mix-up on his show. We were worried it would bring up the whole 'video games are evil' argument again, but everybody took it in stride."
Just before the release, Bethesda Softworks took over DC's Metro Center station with a big ad campaign featuring shots from the game, including a caved-in Capitol dome and a banner reading prepare for the future. Pete Hines, Bethesda Softworks' head of public relations and marketing, says morning commuters stopped in their tracks.
"How often do you see people standing there staring at an ad?" says Hines. "At that point, I knew this was going to be good. It felt like an event instead of just a game."
The success of Fallout 3 has allowed the studio to build a 30,000-square-foot expansion for a gym, a kitchen, and space on the second floor for the basement programmers. "These guys are pretty excited to get out of this dungeon and upstairs into the light," Hines says.
In October, Bethesda Softworks released a special edition of Fallout 3 with new content, including a spooky version of Maryland's Point Lookout State Park, and anticipation is building for the studio's next step. There are rumors about a Fallout movie or television series.
"There's not a day I don't wake up and laugh and think it's all a big cosmic joke and I'm in a dream," Pagliarulo says. "I wish I could go back in time to my 13-year-old self, when life sort of sucked, and say, 'Don't worry, everything's gonna work, this is where you're gonna end up.' "
Says Howard: "The fact that we get paid to do this is pretty ridiculous. It's the ultimate creative/technical/geeky outlet. Best job in the world."